Subscribe to Waste Management World
Subscribe to Waste Management World or order a sample copy to an address of your choice, to the office or to your home.
Features
Free Registration
Digital Subscription
Digital & Printed Subscription
Free
€ 59
€ 98
free forever
per year
per year,
international shipping
Register for free
Subscribe now
Subscribe now
Access content for registered users
Newsletter subscriptions included
View epaper archive
Only current issue, 4 weeks after publication
Access selected premium articles
Download magazine issues as PDF
Receive 6 printed issues per year
Looking for a hardcopy of current issue?
Order now a single hardcopy of our current issue. Worldwide shipping available!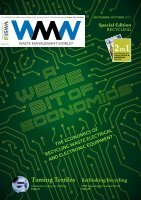 A WEEE Bit of Economics
The economics of recycling waste electrical and electronic equipment
Taming Textiles
Chemical recycling for clothing
Rethinking Recycling
MRF upgrades for National Sword
One-time payment, no subscription. Worldwide shipping.
Order now for just € 18