Subscribe to Waste Management World
Subscribe to Waste Management World or order a sample copy to an address of your choice, to the office or to your home.
Features
Free Registration
Digital Subscription
Digital & Printed Subscription
Free
€ 59
€ 98
free forever
per year
per year,
international shipping
Register for free
Subscribe now
Subscribe now
Access content for registered users
Newsletter subscriptions included
View epaper archive
Only current issue, 4 weeks after publication
Access selected premium articles
Download magazine issues as PDF
Receive 6 printed issues per year
Looking for a hardcopy of current issue?
Order now a single hardcopy of our current issue. Worldwide shipping available!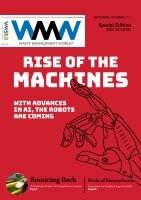 Rise of the Machines
With Advances in AI, the Robots are Coming
Bouncing Back
Veolia Reopens Plastic Recycling Plant in London
Pride of Pennsylvania
Flying Start for TotalRecycling's First MRF
One-time payment, no subscription. Worldwide shipping.
Order now for just € 18