Subscribe to Waste Management World
Subscribe to Waste Management World or order a sample copy directly to your desired address, office or home.
Features
Free sign up
Digital
Digital & Print
Print only
Free
€ 59
€ 98
€ 97
Forever free
annually
annually,
International Shipping
annually,
International Shipping
Register for free
Subscribe now
Subscribe now
Subscribe now
Access to content for signed up users
Newsletter subscriptions included
Viewing e-paper archive
Only penultimate issue
Only penultimate issue
Access to premium content
Download magazine issues in PDF format
Receive 10 printed issues per year
Receive the latest issue free of charge
All prices incl. taxes
Are you looking for our current issue?
Order your single printed issue of Waste Management World now. Worldwide shipping available.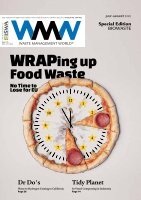 WRAPing up Food Waste
No Time to Lose for EU
Dr Do's
Waste to Hydrogen Coming to California
Tidy Planet
In-Vessel Composting in Indonesia
One-time payment, no subscription. Worldwide shipping. Incl. taxes.
Order now for only € 18