Paid Engagement
Recycling
:
Mattiussi Ecologia: trendsetter in waste presorting systems since 1983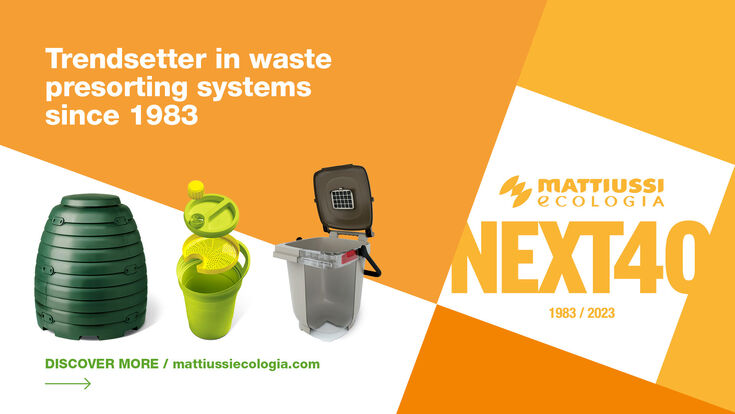 Mattiussi Ecologia began in 1983 as a pioneering endeavour in the presorted waste collection sector, establishing industry standards and introducing product innovations.
The acquisition of the Friuli-based manufacturing site Mepla completed the drive in innovation and technology through in-house process management.
With a keen eye focussed on the future, NEXT40 today, in celebrating the Company's 40th anniversary, provides an opportunity for reflection. This initiative embraces future environmental sustainability challenges by engaging young eco-designers through the second "CREATable RESOURCES CONTEST - NEXT40 edition".
Innovative by choice: 40 years of eco-design
As early as the 1980's, the Company was looking towards sustainability. Thanks to Mattiussi Ecologia "waste bins" have evolved into professional and furnishing tools able to convince residents and facilitate operators. These eco-design values have been recognised by ADI and Green Good Design Awards.
COMPOSTER: the revolution in home composting
Introduced by the Company into Italy in the 1980s, Composter has transformed home composting from a hobby activity into an established practice, becoming the industry benchmark and obtaining ADI recognition (Composter 660, 2001).
Food waste collection: the widest range of food waste caddies
The right tools for establishing best practice: Mattiussi Ecologia has developed the widest range of food waste caddies currently on the market for the collection of food waste.
From MINIMAX to ZERØMAX: pioneering waste presorting in Italy
Since 1999, Minimax, Italy's first presorting bin, has become a trendsetter and widely imitated progenitor of a family of products, boosting presorted waste collection.
Zerømax, a 2021 innovation with spherical base, eliminates the need for a bag thereby reducing micro-plastics whilst simplifying washing.
Ergonomics: a health and safety value
A tangible focus on safety at home and in the workplace led in 2017 to the development of Easy Trolley, a European patent with wheels and an extended "trolley" type handle, balanced manual grip and comb front.
At the forefront in designing integrated systems
There is no single ideal solution for presorted waste management and Mattiussi Ecologia works alongside public and private waste management companies to study the implementation of functional and technological solutions best suited to specific urban settings: from the innovation introduced by Biox to the evolution of the Iglus banks fitted with volumetric sensors, through to Smart MGB access control systems for introducing PAYT charging.
BIOX: rethinking the city as a human ecosystem
A focus on decorum and aesthetics for a people-oriented city environment: the sturdy, attractive and technologically cutting-edge Biox line was developed for areas with a high visual impact, such as historical city centres and squares.