Paid Engagement
Recycling
:
TOMRA presents the New INNOSORT™ FLAKE for unrivaled flake sorting performance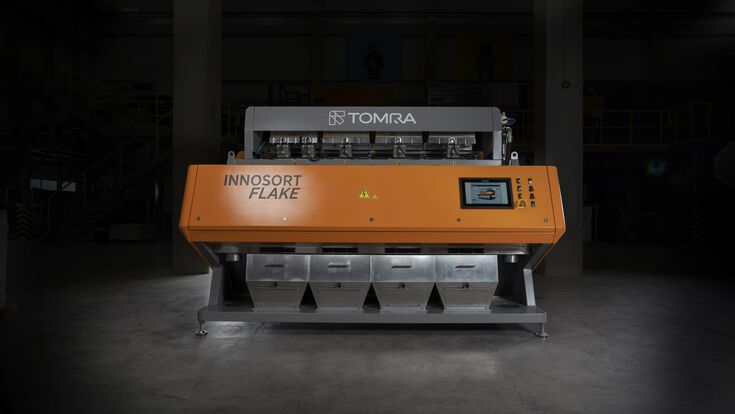 In the industry's quest to increase recycled content by producing post-consumer recyclates for high-end applications, TOMRA has leveraged its 50 years of experience in circular waste management and developed the next-generation flake sorting technology. With the introduction of the new INNOSORT™ FLAKE, TOMRA provides the ideal flake sorting solution to help the industry recover more recyclable materials from any waste stream with maximum yield.
Alberto Piovesan, Global Segment Manager Plastics at TOMRA Recycling Sorting, explains: "Given recycled content targets in Europe and elsewhere, the market needs to prepare for future demand. Recyclers need solutions to produce high-quality post-consumer recycled content in sufficient volumes. At the same time, they strive for reliable sorting results and operational flexibility. With the new INNOSORT™ FLAKE, this is now possible."
Any color. Any polymer.
Equipped with a powerful sensor combination, the new INNOSORT™ FLAKE sorts polymers by material type and color, removing any impurities to create pure fractions. Thanks to its advanced near-infrared (NIR) spectrometer, the machine precisely detects various polymers, allowing for the recovery of recyclable materials from highly contaminated infeed. With this technology, plastics recovered from mixed waste, for example, can be sorted for recycling, giving access to more recyclable materials that otherwise would be lost or downcycled for lower-grade applications. For instance, polyolefins (PO), such as polyethylene (PE) and polypropylene (PP), are often found comingled in the same waste stream. With the new INNOSORT™ FLAKE, mixed plastic fractions that have been shredded and washed can be sorted into clean fractions of PET, PP and PE and other materials that meet the quality requirements for extrusion and the creation of high-quality post-consumer recycled (PCR) content.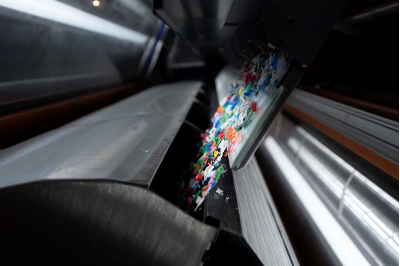 Moreover, plant operators profit from the machine's unmatched color sorting performance. Its enhanced optics, with a changeable color background and dual-sided high-resolution cameras, detect millions of colors and create single-color fractions. Its high contrast imaging can even differentiate between white opaque and natural, transparent and translucent flakes, reducing material losses and maximizing yield.
Piovesan adds: "The new INNOSORT™ FLAKE is designed to sort any color, any polymer, at the same time. It levels the playing field for recyclers and gives them maximum flexibility to respond to the respective market demands. If an operator wants to purify PET this month and produce a clean blue PP next month, it is technically possible with the new machine. What's more, it is cost-effective."
New design with multiple benefits
William Zeng, Product Manager TOMRA Sorting Recycling, describes: "We developed the machine with the requirements of our customers in mind. With its integrated cooling system and robustness, it delivers an even more stable performance in challenging environments and delivers reliable results for maximum output and profitability. Furthermore, with the enhanced technologies, recyclers already achieve very high purity levels after the first sorting step. Depending on the contamination level of the input material and the target purities, fewer sorting steps might be required."
The new INNOSORT™ FLAKE comes with up to four chutes and a changeable illumination background. This level of flexibility makes it possible to run multiple sorting and recovery steps in a single machine, leading to considerable time savings and less material handling.

As a system only performs best when all components work seamlessly together, maintenance is crucial. The new design gives unrestricted access to the machine's components enabling smooth maintenance with little downtime.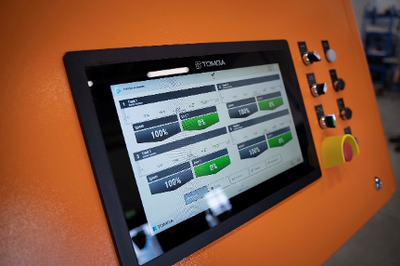 Data-driven analysis
In addition, TOMRA Insight can be installed as an add-on service. The cloud-based data monitoring platform contributes to improving sorting performance. On the one hand, it helps optimize processes through data analysis. Identified inefficiencies and predicted maintenance further support the reduction of machine downtime and productivity losses. On the other hand, its real-time monitoring gives plant operators access to data anywhere and anytime to maintain process stability.

Piovesan concludes: "Thanks to the enhanced technologies, the new INNOSORT™ FLAKE revolutionizes plastic recycling. Customers testing our system are convinced of its capabilities and ease of use. Now, they can mitigate higher levels of contamination and create the highest purity fractions by running multiple sorting steps simultaneously. This adaptability combined with state-of-the-art technologies makes the new INNOSORT™ FLAKE a future-proof flake sorting solution for any recycler who aims to produce extrusion-ready flakes."
TOMRA Recycling Sorting
TOMRA Recycling Sorting designs and manufactures sensor-based sorting technologies for the global recycling and waste management industry to transform resource recovery and create value in waste.

The company was the first to develop advanced waste and metals sorting applications use high capacity near infrared (NIR) technology to extract the most value from resources and keep materials in a loop of use and reuse. To date, more than 9,000 systems have been installed in 100 countries worldwide.

TOMRA Recycling is a division of TOMRA Group. TOMRA was founded on an innovation in 1972 that began with the design, manufacturing and sale of reverse vending machines (RVMs) for automated collection of used beverage containers. Today, TOMRA is leading the resource revolution to transform how the planet's resources are obtained, used and reused to enable a world without waste. The company's other business divisions are TOMRA Food and TOMRA Collection.

TOMRA has approximately 105,000 installations in over 100 markets worldwide and had total revenues of about 12 billion NOK in 2022. The Group employs 5,000 globally and is publicly listed on the Oslo Stock Exchange. The company headquarters are in Asker, Norway.

For further information about TOMRA, visit www.tomra.com and follow TOMRA Recycling Sorting on Facebook, Twitter, LinkedIn and on Instagram.