IFAT Eurasia 2023
:
Strong new start for the environmental technology sector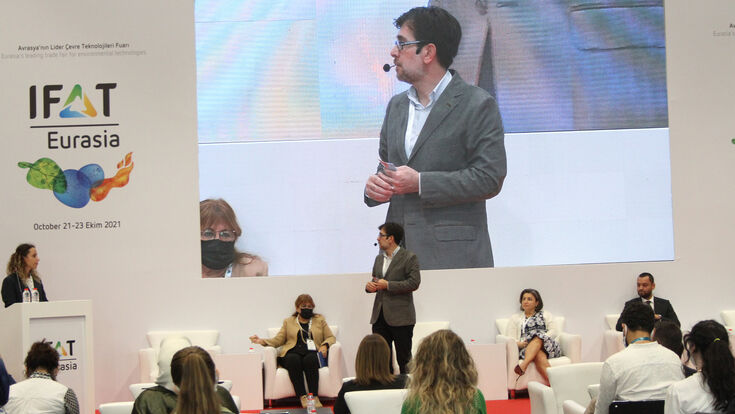 The Government of Turkey is investing heavily in drinking water and waste infrastructure, with a current development plan to build 1,400 new wastewater treatment plants and 30,000 kilometres of sewers, for a total investment of more than €18 billion. After the earthquake, the focus in many places is on rebuilding infrastructure.
"The need for information and networking in the face of these challenges is great, and this is reflected in the participation at IFAT Eurasia in Istanbul. the number of exhibitors has almost doubled," reports Ilker Altun, Managing Director of organiser EKO MMI Fuarcılık.
IFAT Eurasia is growing
203 exhibitors from 10 countries presented themselves with a total of 381 brands on 28,800 square metres, in 2021 there were 106 exhibitors from 6 countries on 18,000 square metres. International joint stands from Germany, Austria, Switzerland and China were also present. The top 3 exhibiting countries were Turkey, China and Germany.
Extensive Supporting Porgramme
In addition to the exhibition, there was an extensive supporting programme, which Zero Waste Management, German-Turkish solutions for digitalisation and automation in the water sector as well as waste management in the health sector. The partners on site included, among others, the Turkish Ministry of Environment, Urban Development and Climate Change the German Association for Water, Wastewater and Solid Waste (DWA) and the International Solid Waste Association (ISWA).

To support reconstruction after the earthquake, a special information and networking programme was offered. Another highlight of the programme was the International Conference on the Environment, or IREMCON for short. Under the motto "Combating Global Climate Change and Strengthening International Cooperation in Waste Management", the leading Turkey and the entire Balkan region took place for the fourth time as a partner of IFAT Eurasia.