Waste handling
:
Rome is again faced with acute garbage problems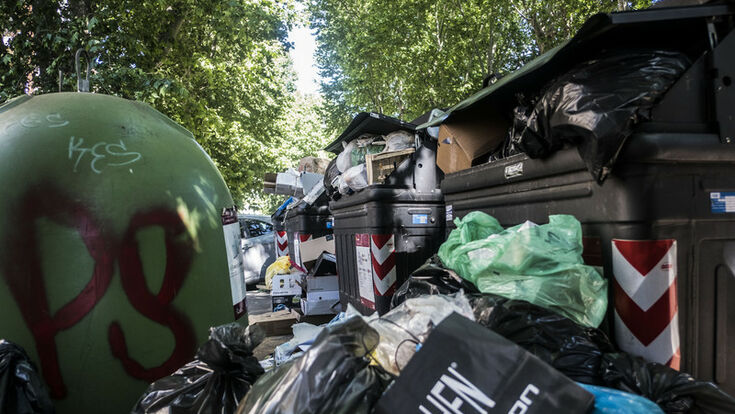 Rome is once again faced with acute garbage problems. Romans complain about huge mountains of garbage in the streets. Next to the garbage containers, meter-high, stinking accumulations of sacks and cardboard boxes are piled up, from which food leftovers spill. With temperatures regularly exceeding 30 degrees, the garbage smells particularly unpleasant.
The reason for the new garbage emergency in the Italian capital is the closure of several landfills outside the region where the refuse of the metropolis of three million inhabitants is disposed of. Disposal bottlenecks have existed since Europe's largest landfill in Malagrotta, on the outskirts of Rome, was forced to close in 2013. It was illegal according to European environmental standards. However, no alternatives have been created since then.
Incinerators are rejected by the populist Five Star Movement, which has been in power in Rome since 2016. In recent years, Mayor Virginia Raggi has instead stepped up her efforts to separate waste and recycle it - but with little success so far. The municipal waste management company Ama has to collect 3,000 tons of garbage every day. In 2017, the city of Rome had disposed of its waste at the waste incineration plant in Dürnrohr near Zwentendorf (Tulln district). 70,000 tons of Roman garbage were incinerated at Zwentendorf in Lower Austria in 2017.
Meanwhile, the Romans are furious. They fear public health problems in times of pandemic. The waste problems could also have a negative impact on the image of Mayor Raggi, who is hoping to be re-elected in Rome's local elections scheduled for October. The mayor complains that behind the decision to close some landfills is a maneuver to damage her politically and prevent her re-election.
Raggi is running for re-election against center-right candidate Enrico Michetti and ex-economy minister Roberto Gualtieri, top leader of the Social Democrats (PD). Another candidate is ex-Industry Minister Carlo Calenda. According to polls, 42-year-old Raggi, who in 2016 became the first woman elected as Rome's city chief, is unlikely to be confirmed in office.