Paid Engagement
Waste Management
:
Sutco builds Chile´s first waste treatment plant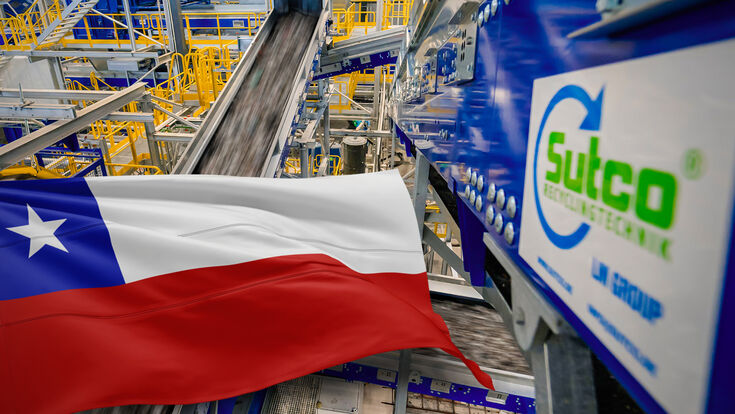 Sutco® RecyclingTechnik GmbH, the builder of the plant, renowned for its expertise in the development of innovative sorting and treatment systems, was awarded the contract for construction of the first automated waste treatment plant in Chile.

The innovative project, on which Sutco has already been working for some years and whose concept was defined in close cooperation with the client, AMBIPAR SERVICIOS DE VALORIZACIÓN LIMITADA, known formerly as DISAL Ambiental Holding, covers the construction of a plant for treating selectively collected packaging, trade and industrial waste. With a capacity of 7 tonnes per hour, the plant is intended to provide a sustainable waste disposal operation in Santiago, Chile's capital, which will form the basis for recycling secondary raw materials.

The international project marks a milestone in waste management for this South American country and meets the RFP (Responsibility for the Extension of the Life Cycle of Products) code. In practice, the REP code means that manufacturers and importers in Chile are responsible for the proper recycling or disposal of their products at the end of their life cycle. Furthermore, actions must be taken to minimise waste production and promote recycling.

Installation work will begin in autumn 2023, with the plan being to bring the plant into production early in 2024. This investment is an important step on the path to achieving the country's sustainability goals and reaffirms the commitment of Sutco and AMBIPAR to environmentally friendly solutions. AMBIPAR, a Brazilian company, is noted for its global presence on five continents and on 350 sites.

The fully automatic Sutco waste treatment plant will be the first of its kind in Chile and can serve as a model for projects in other countries that are introducing laws similar to the REP code.

With more than 480 reference plants worldwide, Sutco is one of the largest manufacturers of processing plants for the waste management industry. Together with the 6 subsidiaries, Sutco Polska, Poland, Sutco UK, Great Britain, Sutco Iberica, Spain, which serves the Iberian and Spanish-speaking regions, Sutco Brasil, Sutco Singapore and its Asian representation in Singapore as well as Sutco Sweden, Sutco RecyclingTechnik is successfully established worldwide and knows to take into account the specifics of each country.