Recyced PET & Other Plastics to Replace Virgin Materials in New Cars
:
VIDEO: Volvo Cars to Use 25% Recycled Plastics by 2025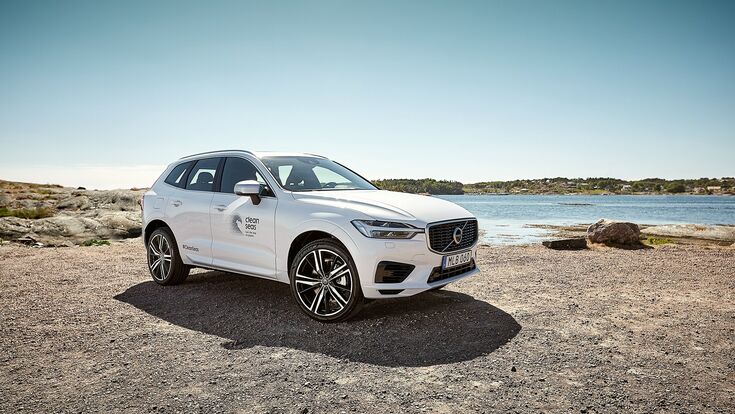 Swedish car manufacturer, Volvo Cars, has set out its ambition that at least 25% of the plastics used in every newly launched car will be made from recycled material.
The company also urged auto industry suppliers to work more closely with car makers to develop next-generation components that are as sustainable as possible, especially with regards to containing more recycled plastics.
To demonstrate the viability of this ambition, the Volvo unveiled a specially built version of its XC60 T8 plug-in hybrid SUV that looks identical to the existing model, but has had several of its plastic components replaced with equivalents containing recycled materials.
The special XC60's interior has a tunnel console made from renewable fibres and plastics from discarded fishing nets and maritime ropes. On the floor, the carpet contains fibres made from PET plastic bottles and a recycled cotton mix from clothing manufacturers' offcuts.
The seats also use PET fibres from plastic bottles. Used car seats from old Volvo cars were used to create the sound-absorbing material under the car bonnet.
"We already work with some great, forward-thinking suppliers when it comes to sustainability," explained Martina Buchhauser, Senior Vice President of Global Procurement at Volvo Cars.
"However, we do need increased availability of recycled plastics if we are to make our ambition a reality. That is why we call on even more suppliers and new partners to join us in investing in recycled plastics and to help us realise our ambition," she added.
The recycled-plastics XC60 was revealed at the Ocean Summit during the Gothenburg Volvo Ocean Race stopover. The race's focus on sustainability centres on a partnership with the United Nations Environment Clean Seas campaign, focussing on the call to action 'Turn the Tide on Plastic'.
"Extensive recycling and reuse of plastic is vital to our efforts to turn the tide on plastic pollution," said Erik Solheim, Head of UN Environment. "
According to the manufacturer, its recycled plastics ambition represents another demonstration of its commitment towards reducing its impact on the environment across all operations and products.
Last month, Volvo Cars committed to eradicate single-use plastics across all its premises and events by the end of 2019.
A video explaining more can be viewed below.
https://youtu.be/-PYtfTmnLM8
Read More
IN DEPTH: Microplastics, the Volvo Ocean Race and the CleanSeas Campaign
The Volvo Ocean Race Science Programme has found the highest levels of microplastics in the South China, UN Environment has published videos on its CleanSeas Campaign and New Zealand has joined.
Smarter Plastics for a Circular Economy
Trying to achieve a circular economy with existing plastics is like trying to fit a round peg into a square hole. Zoë Lenkiewicz explains why doing better means embracing change.
Plastic Waste – New Approach Outlined in Resourcing the Future Report
A use-phase model to categorise plastic products has been advocated in a report by the Resourcing the Future partners at a conference entitled Eliminating avoidable plastic waste by 2042: a use-based approach to decision and policy making'.