Paid Engagement
Biowaste
:
Vyncke bilds RDF-fired heater for nordic energy provider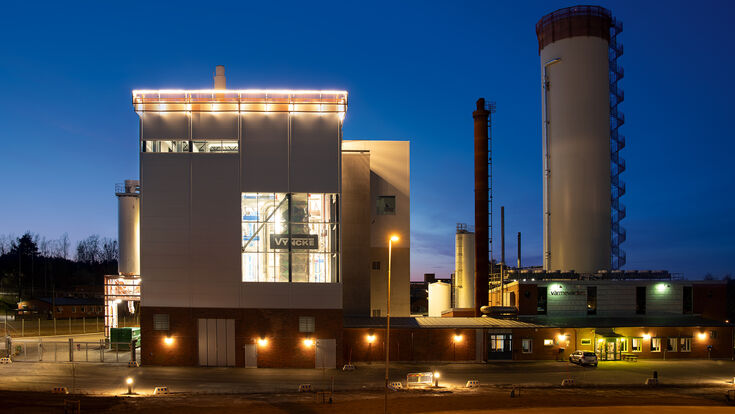 Since 1912, Vyncke designs & builds industrial energy plants to create clean energy from biomass or sorted commercial and industrial waste. Vyncke's solution range includes steam boilers, hot water heaters, thermal oil heaters, hot gas generators, CHP plants and multimedia energy plants ranging from 1 to 100 MWth or 1 to 20 MWe. Vyncke provides solutions for the agriculture and food industry, the wood industry, and in general all industrial energy consumers worldwide who want to reduce their carbon footprint by moving away from fossil fuels. Each solution is tailor-made to the unique needs of each customer. Vyncke is experiencing an increasing demand for RDF (Refuse-Derived Fuels) installations from customers including energy supplier Adven for their brand new district heating plant in the Swedish town of Säffle.
Sustainable district heating
Adven and Värmevärden came together under the name Adven in 2022. Värmevärden as a company was created in 2010, but the operations have extensive experience in district heating since the mid-1950's. As a strong Swedish energy company and one of the ten largest suppliers of district heating in Sweden, Värmevärden has made more and more municipalities see the benefits of being part of a larger context. The journey of Adven goes back to the 1980's when oil and gas were the enablers of the society and catered to households and businesses in Finland and Estonia as part of Neste and later Fortum. Adven was born in 2012 as a business carve out from Fortum. Along the transition from heavy fuel oil to sustainable solutions, Adven has rapidly grown as a company both organically and through acquisitions, expanding in new geographies.

In 2017, Värmevärden acquired full ownership of the district heating company Säffle Fjärrvärme AB renaming it Värmevärden Säffle. In 2019, it announced that it would invest around 280 Million SEK in a new 10 MW Refuse-Derived Fuel (RDF) fired boiler plant at the existing site to future proof the heat supply. Up until then, the primary source of heat for Värmevärden Säffle had been biomass-derived residual heat from Nordic Paper Säffle's production processes, along with two 5 MW pellet-fired boilers, as well as two oil-fired peak and reserve boilers. On an annual basis, Värmevärden Säffle supplies around 55 GWh of heat, with fossil fuels (2018) accounting for less than 6 percent.

The demand for district heating in Säffle is relatively stable, however the long-term outlook suggested that significantly less residual heat will be available and in 2021, Nordic Paper decided to close the pulp mill. While the paper machines remain in production, there is much less heat available to be recovered. At the same time, Värmevärden Säffle wanted to be in a position to expand its heat supply business while increasing its fuel flexibility. This prompted them to look at future-proofing their position. They kept their pellet boilers, peak-load oil boilers and waste heat collaboration with Nordic. Recycled fuels will be the primary source, then waste heat and pellets for peak loads, with the oil boilers kept as back-up and reserve.
VYNCKE, Clean Energy Technology
The heart of the new heat plant is a step grate boiler from Belgian solid biomass and waste combustion technology specialists, Vyncke NV. "Vyncke was selected as they best met our requirements from both a technical and economic point of view and the requested environmental performance. An important parameter for us is the turn-down ability of the boiler in relation to variable load", according to Håkan Andersson, CEO of Värmevärden Säffle. For Vyncke, Värmevärden was a 'first-of-its-kind' project in Sweden. While the company has supplied biomass-fired boiler plants to Sweden – for instance, Bergkvist Siljan in 2016 – this plant uses Refuse-Derived Fuels (RDF). Although RDF is a rather new fuel for Vyncke, its application comes very close to the many projects they have built in the past where they processed demolition wood. Practically all of Vyncke's boiler deliveries are 'waste' fired, the waste being biomass residues in some shape or form. The difference with RDF is that it typically contains both post-consumer biomass-based materials, such as recycled wood, paper and cardboard, as well as fossil-derived plastics. Swedish multi-fuel burner specialists and Vyncke subsidiary, Petro Bio AB, is the provider of the all-important start and auxiliary load burner system for the boiler. The fuel conveying system and bottom ash handling system are supplied by another Vyncke partner, Italian bulk material handling and storage solutions provider, Trasmec.
Comprehensive post combustion flue gas treatment
On the topic of emissions, Vyncke also integrated a comprehensive post-combustion flue gas cleaning system. The system consists of flat-bag filters, sorption processes, and selective catalytic reduction (SCR) treatment. The flat-bag filters remove dust and are characterized by long filter fabric service lives, low space and maintenance requirements. Using sodium bicarbonate (NaHCO3), the system neutralizes acidic pollutant gases such as hydrochloric acid (HCl), hydrogen fluoride (HF), and sulfur dioxide (SO2) (chemisorption), and removes dioxins and mercury (adsorption) by means of activated carbon. Finally, for nitrogen oxide (NOx) abatement, selective catalytic reduction (SCR) using ammonia (NH3) is deployed.
Fuel flexible combustion system
The new plant in Säffle can handle several types of biomass and recycled fuels while complying with ever-stricter environmental regulations. This is due to Vyncke's Dynamic Water-cooled Step grate (DWS) multi-fuel firing system known as DWS-Hybrid grate. This grate is a combination of the semi water-cooled (SW) grate used for fuels with high moisture levels and the fully water-cooled (FW) grate used for dry fuels. The DWS Hybrid grate is the world's most fuel flexible combustion system. The new boiler in Säffle is robust and flexible enough to handle many different types of renewable and recycled fuels. This is an important future-proofing parameter given the uncertainty of the market situation in ten years' time.
Challenging biomass
In addition to RDF, Vyncke has traditionally specialized in custom-built combustion plants that convert biomass into electricity, heat or cold. Not the increasingly expensive, high-grade biomass used as raw material for the wood processing industry or possibly for biofuels, but the more challenging biomass. Call it residual biomass, which is often no longer used: tree bark, pruning waste, coffee grounds, sunflower or rice husks. In distant Kazakhstan, Vyncke is building a plant that burns sunflower husks, and the steam generated from it is used to produce sunflower oil. The installation allowed the client to reduce its energy costs by 30 percent. Vyncke holds the number one position in that market and has similar installations in Russia, Greece, Hungary and Moldova. We recently commissioned a third installation in Ukraine for the sunflower oil giant Kernel. Additionally, for Nestlé Vyncke built four plants that convert coffee grit into steam for the production process in their factories. For AAK, a Swedish vegetable oil producer, Vyncke recently won the order to construct a plant in the Danish city of Aarhus. It converts residual fractions of crushed shea nuts into energy for the production of shea butter for cosmetics. AAK had been seeking a suitable solution for their residual stream for years. To test our technology, at our suggestion, AAK sent 15 trucks loaded with this fuel to Greece, where Vyncke has been successfully converting olive pulp into energy for another customer's production process for five years. Through this test, Vyncke achieved a breakthrough. AAK is an example of the way Vyncke works: being highly flexible and thinking along with the customer. This sets the company apart from many other players. For the Swiss company Bühler, a global player in the food industry and the preferred supplier of machinery for the food processing industry, Vyncke recently won a contract to build an incinerator for a 'test plant'. This test facility aims to encourage food companies to use waste streams to reduce their CO₂ emissions.

In Uruguay, Vyncke partnered with Bühler to build an energy plant for renowned malt house, Malteria Oriental. This boiler utilizes residual waste from processed barley, supplemented with wood waste from nearby wood processing companies, and generates heat to dry the malt. This energy solution assists in reducing approximately 35.000 tons of CO2 from the air, each year!