Anaerobic Digestion
:
Anaergia's OREX helps MSW processors unlock green potential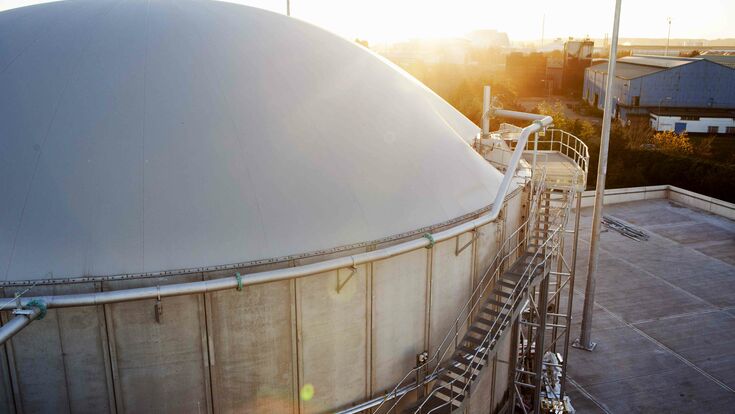 Based in Flintshire, Wales, the EQTEC Deeside RDF (refuse-derived fuel) project received planning permission in October 2021. The facility will combine a 182,00-tonnes per annum waste processing plant with a 9.9 MWe advanced gasifier and a 2 MWe anaerobic digestion (AD) plant. Anaergia is currently developing the engineering design for the waste processing and AD plants with the intention of providing full technology turnkey solutions for both, as well as supplying the OREX extrusion press.

Diverting organic fines from landfill
Traditionally, organics such as food waste in MSW end up in the under-size, or 'fines' fraction that is separated and rejected during RDF production. While a proportion of fines material can be added back into the final RDF, this is only possible in small quantities as fines are high in moisture and heavily contaminated, meaning the plant may fail to meet RDF quality specifications. Fines can be dried to address their high moisture content, but this is an energy-intensive and expensive process, and even after drying, fines can still be heavily contaminated and unlikely to meet RDF standards. For these reasons, most fines from MSW processing in the UK are sent to landfill – both a failure on sustainability and a major cost for the processing business.

In contrast, Anaergia's OREX technology offers processors a sustainable and economical alternative, enabling them to generate revenue from the organic fraction within their MSW. A robust extrusion press, it reliably and efficiently separates solid wastes into wet organic and dry fractions, recovering up to 90% of putrescible waste. In MSW treatment, the OREX processes the fines fraction to extract the wet organics, significantly reducing the quantity of rejects that are sent to landfill. The separated organics can instead be fed to an AD plant, as in the case of the Deeside project, where they are used produce biomethane; a sustainable RNG fuel.

Realising AD's carbon mitigation potential
As a leading AD plant developer, Anaergia has vast experience within the waste processing sector, including a portfolio of 13 AD facilities in the UK and over 1,800 reference sites worldwide. The company is not alone in recognising the impact that anaerobic digestion can make on the UK's carbon emissions. According to trade body ADBA, if AD was used to process the country's unavoidable waste currently left to emit methane into the atmosphere, it could deliver a 6% reduction in UK GHG emissions by 2030 – 30% of the carbon savings required to meet our 2030 target. By recovering the organic waste fraction within MSW and processing it through AD rather than gasification, the OREX therefore has a major part to play in helping the country to meet this goal.

Press release