Collection and Handling
:
New Smart Deposit System launched by Veolia in the Middle East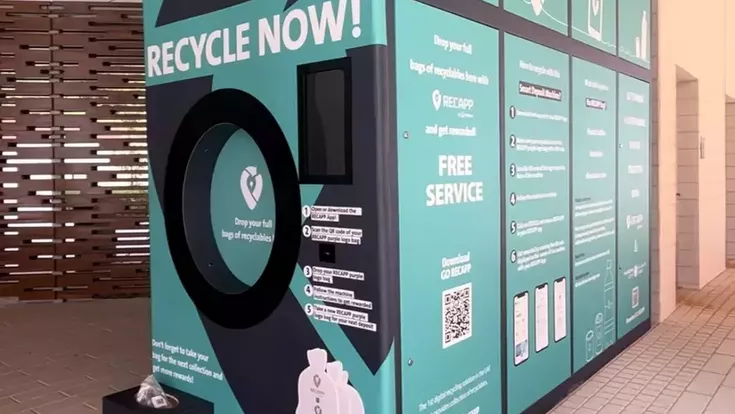 RECAPP will deploy its complete range of distinctive recycling solutions via a RSDM situated in Masdar City for bags of recyclable plastic bottles, containers and cans, alongside a Reverse Vending Machine (RVM), which will instantly recycle both plastic bottles and cans.

RECAPP's new digital recycling solution is being introduced as a complimentary service to their existing door-to-door collection service. This innovative solution enables users to conveniently drop off their recyclables, instead of scheduling a collection at their doorstep, resulting in a significant reduction in their carbon footprint.

Jérôme Viricel, General Manager of RECAPP at Veolia Near & Middle East, expressed his views on the agreement. "We are pleased to announce our partnership with Masdar City, a leading sustainable urban development organisation in the region, as we launch the debut of our RECAPP Smart Deposit Machine. This aligns with Veolia's strategic commitment to introducing innovative and rewarding digital recycling solutions that protect our environment." This partnership is based on our shared mission to promote ecological transformation and accelerate the journey towards a sustainable future. RECAPP is committed to utilising Veolia's vast expertise and proven track record in ecological solutions to ensure that this programme offers a convenient and rewarding recycling facility for everyone at Masdar City."

The RSDM will enable residents at Masdar City to drop off bags of recyclables at a convenient location, and is connected to the RECAPP app, where users can monitor their daily contribution. The RECAPP app rewards users with 1,500 points per kg of recyclables deposited, which they can redeem against attractive vouchers from a wide variety of categories, including groceries, fashion, and ecommerce.

A bit earlier in June, RECAPP officially launched its first Reverse Vending Machine (RVM) in Dubai and then 10 more in Abu Dhabi, all connected to the app and offering a lot of rewards. RVMs provide an instant recycling solution and can recycle all types of plastic water and beverage bottles and cans. They work by recycling bottle by bottle and can be placed indoors or outdoors in high-traffic locations. All RVMs are connected to the RECAPP marketplace in the app and reward users with 150 points per recycled bottle, which is eight times more compared to the door-to-door incentive.

RECAPP is available on iOS and Google Play as Go RECAPP, and the B2B recycling service is available at www.gorecapp.com.