Women in Waste Management
:
"Nobody wants to talk about the waste problem. But we have to!"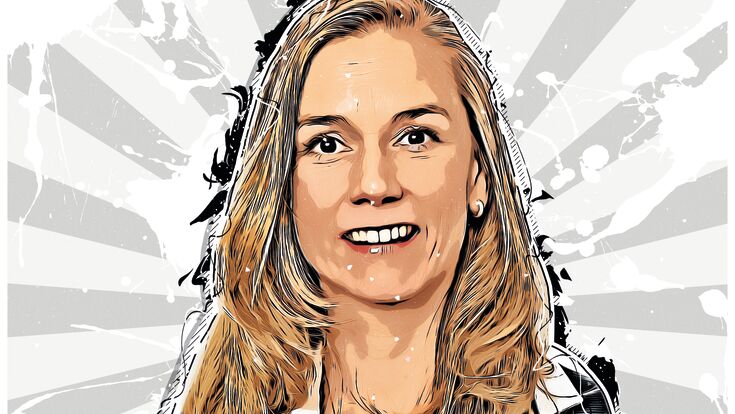 The conversation with Nathalie van de Poel starts as so many do nowadays: "Hello? Can you hear me?" After we managed to adjust our microphones and cameras – how is it that even after what feels like 200,000 video calls, there are still these technical hiccups? – we are ready to dive into Nathalie's impressive career.

It all began in the conventional way, with a business administration degree specialising in foreign languages at De Haagse Hogeschool in The Hague. Always drawn to technically oriented companies focused on sustainability, Nathalie started working as a junior purchaser at high-tech company Priva after graduating.

Missing the commercial aspect, she found – quite by chance – a job as a trader at the Dutch steel mill Nedstaal, where she soon became responsible for the purchasing department. This was definitely a male-dominated environment. "I went to international fairs and there were around 1,200 men and maybe 200 women, with only me and maybe two other female buyers," Nathalie van de Poel remembers. But the petite entrepreneur was not to be cowed. "In the beginning they would try to poke you. You need to stand strong and rely on your knowledge. When they see you know what you're talking about, you gain their respect very fast." Which seems essential in a relationship-driven business. "People need to have faith in you to give you the deals," the 39 year old says. And evidently, she not only had the respect but also the deals to make her successful.
Balance is key
So is there is a difference in the (professional) behaviour of men and women? "I feel that women are more open to non-verbal communication," she says. "I also get the impression that women rely on their gut instinct more than men." The dynamic is different at an all-male table. And although men initially tend to be tense when they are confronted with a woman at the table, in the end they are willing to open up more. "I think there needs to be a male-female balance to achieve the most constructive dynamics," Nathalie explains, adding: "I am also always aware of the fact that I'm a woman. I have a lot to bring to the table. And you need to deal with me as I have to deal with you," she explains confidently.
A new idea is born
This confidence was essential in her next career move. Working in the steel industry, she saw how much of this material is actually dumped in landfills. "Which seems like an incredible waste since you can recycle steel endlessly," Nathalie explains. Unfortunately, a significant proportion is contaminated with asbestos. But it got her thinking. After doing some research, she found out that asbestos is destroyed if you heat it up. "So I thought: we work with temperatures of 1500 degrees. If I throw that in the oven along with the steel, I'll save raw material and destroy the asbestos."

With her initial idea, she was able to inspire her colleague, Jan Henk Wijma, who has a technical background. They worked on the project in the evenings. Although they were using existing technologies, they applied for a worldwide patent. Which was granted, because the technologies were being used to build a new process. Now they had a business case and were ready to start a company. Bert Bult, a colleague with financial expertise, joined the team. In 2014, Nathalie van de Poel quit her job to focus on her new company, which they named Purified Metal Company (PMC).
If you want to create a circular economy, thes companies need to stop fighting and start cooperating. Because otherwise you can forget about transitioning to a circular economy.
Nathalie van de Poel
Kids and Career
She has never regretted her decision even though it has been hard at times. But she has been able to rely on moral support from her family and friends. When she met her now husband, she was in the process of getting the company off the ground. "I told him quite harshly: 'This is my dream. And I'm going to do everything that it takes to make it succeed. If you cannot handle that, we shouldn't date,'" Nathalie remembers with a smile. Then she adds: "You do need to make some sacrifices in order to get that far. But I have a very sweet husband who supported me all the way." And now the couple even have a child. Another challenge that Nathalie van de Poel mastered. Because let's face it: it is not easy for women to have children and a career. First of all, you never know how you'll feel during your pregnancy or after giving birth: "My pregnancy wasn't a walk in the park. It took me maybe a year to get myself back after giving birth," Nathalie explains. "The world around me is moving very fast, so you have to be flexible and adaptive. But I didn't have the energy."
Second, the expectations – from employers, society, on yourself – are high. "Women should be able to return to the position they had, if they so choose. Whether they want to work 60, 40 or 20 hours and the job allows that of course," she advocates. She would also like to see more governmental incentives for men to go on paternity leave. "We still have a lot of work to do."
But let's get back to her other baby, Purified Metal Company (PMC).
You need a strong business case
Right at the beginning she was able to convince acquaintances from her broad network to invest in order to pay the three partners' salaries. But it was clear that they needed more if they wanted to attract investors. "If you start putting numbers and figures to your idea that add up to an excellent business case, then people start to listen," the entrepreneur explains.
So they carried out feasibility studies on technical, economic and legal aspects. All came back positive. Still, some of the reactions of potential investors were quite disheartening. "A lot of people said: 'This is never going to work. The material is not there. Building a factory that size can never be done by three individuals. You need a large company which is willing to invest, but they are never interested in investing in innovations like that. It's too radical.' You need to overcome all these hurdles and you need to have strong faith. But in essence you also need to have a solid business case. And we had that," the 39-year old says. Finally, all those hours of hard work paid off and in 2018 they had enough money to start building their recycling plant in the north of the Netherlands, which opened in September 2020.
PMC is the first company worldwide capable of turning steel scrap contaminated with asbestos and Chrome-6 into high-grade raw material. The potential market is big. "There is room for five plants throughout Europe in order to prevent steel from being dumped in a landfill, to add value to waste."
Solving the waste problem
This, in essence, seems to be her biggest motivation: playing a part in creating a better future. "I'm a mother and, especially now that I work in waste, I see what we're doing to our planet. And it really worries me. I'm sure a lot of women feel the same. And they could flourish in this industry." An industry that is key for a circular economy. But only if waste companies learn to cooperate, Nathalie van de Poel believes. "Waste tends to go to the lowest point, which are third world countries. But we don't want to talk about the waste problem. We want to talk about winners and solutions and sexy things," she contends. Governments should enforce laws to stop illegal waste trafficking and treatment as well as offering financial incentives. "That's what I get from a lot of potential partners. If they don't gain from it, they don't do it. They bring it to landfills because it's cheap and it's easy.
"If you want to create a circular economy, these companies need to stop fighting and start cooperating. Because otherwise you can forget about transitioning to a circular economy."
About Nathalie van de Poel
Nathalie studied business administration at De Haagse Hogeschool in The Hague and holds a Master of Management and Innovation. After career stops as trader high-tech company Priva and purchaser at steelmill Nedstaal, she co-founded Purified Metal Company (PMC). PMC is a company that is developing a highly innovative procedure on the recycling of hazardous contaminated steel scrap into useful end products.