Recycling
:
Tandberg Engineering AS Appointed as ZenRobotics Distributor for Norway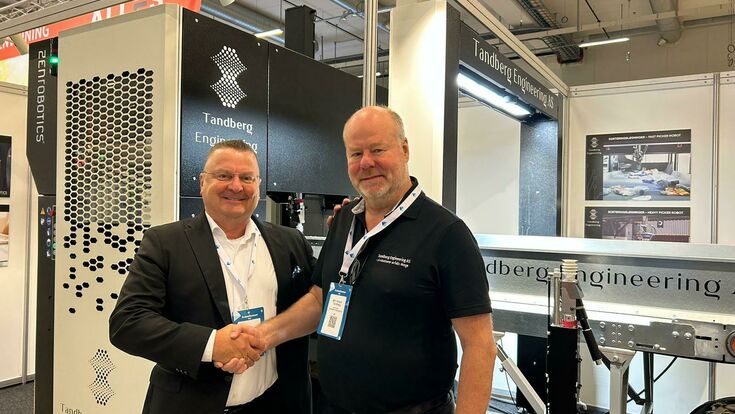 Tandberg Engineering AS is a highly skilled company with extensive experience in robotics. The company aims to become a leading player in the waste and recycling sector and ensure that recyclable resources remain in the circular economy. Tandberg Engineering AS has already showcased a ZenRobotics Fast Picker on behalf of ZenRobotics at Avfall Norge - Arskonferansen (Waste Norway - Annual Conference) 2023. They were thrilled to be nominated for the 'exhibition award' among 60 exhibitors. They have also established a fully robotised, efficient and cost-effective Material Recovery Facility (MRF) at Bjorstaddalen's plant in Norway, as per the agreement signed with ZenRobotics and Bjorstaddalen. Additionally, being located in Larvik, Norway, near Torp airport and the E18 motorway, grants Tandberg Engineering AS the ability to provide expedited parts, service and maintenance support to customers throughout the country.
"It has been exhilarating and fulfilling collaborating with ZenRobotics and their robots," expressed Jorn Tandberg, the CEO of Tandberg Engineering AS. "The ZenRobotics recycling robots exhibit exceptional skill in sorting materials with accuracy and rapidity, enhancing the productivity of recycling plants, while effectively minimizing contamination and increasing the standard of recycled materials." "By processing more materials and repurposing them, we can reduce waste, conserve valuable resources, and ultimately decrease our carbon footprint, alleviating the strain on the environment.
"We already have various prospects in Norway where we believe the rise of robots will continue to accelerate," he continued. "Our schemes have also gained significant global recognition, which is quite motivating. Looking forward, it is beyond doubt that recycling robots are in the lead of a more sustainable future.

Their support in reducing waste, conserving resources and making the environment cleaner is truly commendable. We are delighted to be a part of this revolution." Rainer Rehn, ZenRobotics' Regional Sales Manager, stated, "Our strong and continuing relationship with Tandberg Engineering is attested by several signed orders and successful deliveries. Tandberg's exceptional professionalism has made a lasting impression on us. Their aptitude in providing comprehensive turnkey solutions tailored to the Norwegian market makes them an outstanding partner for our forthcoming customers. We are keen on expanding our association with Tandberg."
About Terex
Terex Corporation is a global manufacturer of materials processing machinery and aerial work platforms. We design, build, and support products used in construction, maintenance, manufacturing, energy, recycling, minerals, and materials management applications. Certain Terex products and solutions enable customers to reduce their impact on the environment including electric and hybrid offerings that deliver quiet and emission-free performance, products that support renewable energy, and products that aid in the recovery of useful materials from various types of waste. Our products are manufactured in North America, Europe, Australia, and Asia and sold worldwide. We engage with customers through all stages of the product life cycle, from initial specification and financing to parts and service support.

About ZenRobotics

Founded in 2007 ZenRobotics is committed to automating the waste industry, enabling operators to upgrade their recycling infrastructure to meet modern requirements and lead the way towards a more efficient, circular future. ZenRobotics became part of Terex in 2022.