Waste to Energy
:
Hitachi Zosen Inova and CO2 Capsol to implement additional CO2 separation process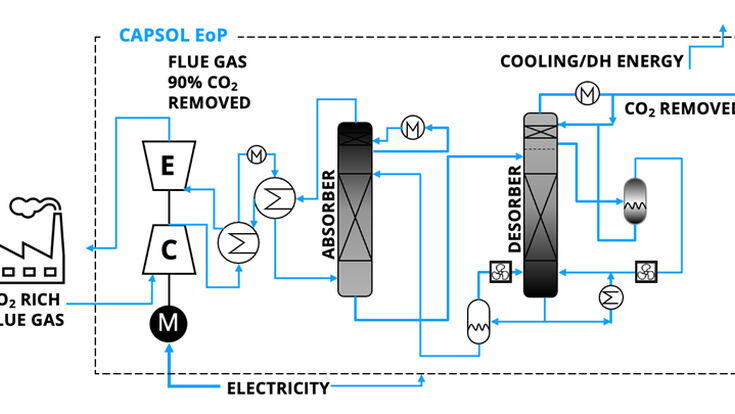 The Swiss-Japanese greentech company Hitachi Zosen Inova (HZI) and the Norwegian technology provider CO2 Capsol AS (CO2 Capsol) have signed a memorandum of understanding (MoU) to implement Capsol EoP (End of Pipe) technology in energy-from-waste (EfW) plants. This increases HZI's portfolio of CO2 separation technologies, each have their own specific advantages.
Safe Solvent, Cost-Effective Process
The Capsol EoP technology uses hot potassium carbonate (HPC), which does not pose a risk to people or the environment while being cost effective. The EoP process connects to the end of the EfW process and is powered either by electricity generated by thelant or by a combination of electricity and steam from the EfW facility. The standalone system can be installed and commissioned without interrupting the plant's operation. The CO2 can then be either liquefied, stored, or used to produce methane in downstream processes. Thanks to a patented heat recovery method, this technology is quite efficient with respect to operating costs. The energy requirement for separation is approximately 200 kWh per tonne, depending on the specific installation.

Jan Kielland, CEO of CO2 Capsol, says: "Capsol EoP is ideally suited to capturing CO2 from post-combustion. In HZI, we have found a partner with whom we can establish this solution in EfW facilities."

Fabio Dinale, Vice President Business Development at HZI, adds: "This technology allows us to offer our customers a third process for separating CO2. It is robust, efficient and particularly suited to EfW plants that feature district heat extraction, since the process makes it possible to extract more total heat."
Additional feature to HZI's Decarbonisation Concept
This agreement is another key milestone in the HZI's ambitious decarbonisation plan, and it comes in addition to its existing amine scrubbing separation (Aker-type) and mineralisation technologies for carbon capture (Carbonfree), storage and utilisation (CCS/U). Each process has specific advantages and disadvantages depending on a plant's location, connections, and operating methods. HZI aims to be in a position to offer the best possible solution for every specific requirement in order to support decarbonisation and implement circular economy landscapes globally.