State of Sustainable Fleets Market Brief
:
Funding, fleets and regulators focus on zero-emissions vehicles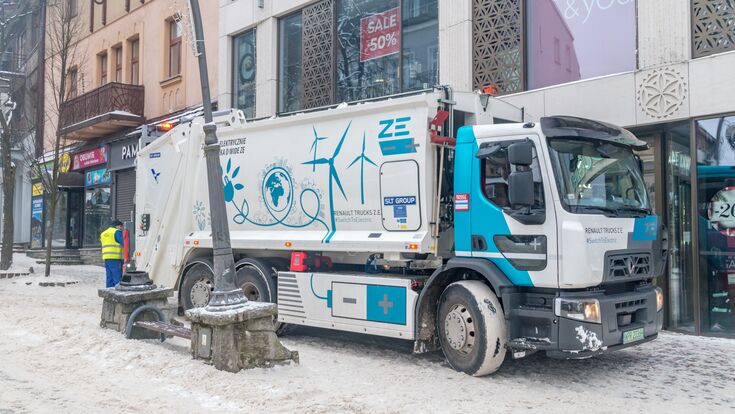 In their recently published State of Sustainable Fleets Market Brief clean technology consultancy Gladstein, Neandross & Associates (GNA) take a close look at truck fleets all across the US. The report is the primary source of information on the sustainable technology decisions being made by America's on-road fleets. The yearly analysis collects real-world data directly from early adopter fleets across the US to offer in-depth, industry-specific insights into the deployment of battery electric, natural gas, propane, and hydrogen fuel cell electric vehicles against a baseline of diesel and gasoline vehicles.
According to the researcher in 2022 a new trend is clear: public policy and funding has shifted sharply to build the zero-emission- vehicle (ZEV) market and accelerate the phase-out of diesel engines. "The past year has brought a historic amount of investment from the federal government, as well as from private industry," said Erik Neandross, chief executive officer of GNA. "Across clean fuel types, we're seeing accelerating momentum and an increasing commitment to low carbon fuels and zero emission commercial vehicles."
The main findings of the report are:
Federal and California regulations requiring an 80% reduction in NOx emissions from diesel engines, increasing the cost of new diesel engines by tens of thousands of dollars and likely requiring additional ongoing maintenance.
An average of more than $32 billion per year in public incentives for environmentally friendly vehicles and infrastructure will be available over the next 4-5 years.
In total, 13 states and the District of Columbia have enacted or are considering some form of California's ZEV sales mandate for manufacturers, with the same states expected to consider California's ZEV purchase mandate for fleets that passed last week.
Renewable diesel production in the US doubled to 800 million gallons between 2021 and 2022, and renewable natural gas replaced nearly all fossil natural gas in California transportation for the second consecutive year.
For 2022, CNG averaged $2.73 per diesel gallon equivalent and propane averaged $2.10 per gasoline gallon equivalent, while diesel and gasoline averaged $5.78/gallon and $4.79/gallon, respectively.
Medium and heavy-duty battery electric vehicle orders are up 640%, with nearly 30,000 medium-duty and 2,400 heavy-duty battery electric school bus orders in 2022.
The annual survey found that at least half of fleets in 11 different fleet types, including logistics, transit, school, freight and delivery fleets, are operating medium- or heavy-duty battery-electric vehicles, and 92% of those fleets plan to increase their use.
Disruptions in the supply chain have increased the price of medium- and heavy-duty battery electric vehicles, and delays in the electrical grid have led to multi-year delays in some deployments.
The number of public hydrogen refuelling stations grew by 12%, and the first plans to build refuelling networks outside California were announced for the Central, Mid-Atlantic and Southwest regions of the US.
Across clean fuel types, we're seeing accelerating momentum and an increasing commitment to low carbon fuels and zero emission commercial vehicles.
Erik Neandross, GNA
Waste sector leading the industry
The waste industry has an important impact on the market since it dominates the one for straight trucks. There is a keen interest in CNG (compressed natural gas) trucks but also in battery powered garbage trucks.

However, although there is interest in EVs across the trucking industry, the researchers report that adoption rates are still low. Only six fleets in the industry have an EV penetration rate of 10% or more, compared to an industry average of 4%.