Women in Waste Management
:
"As leaders we need to create an inclusive environment"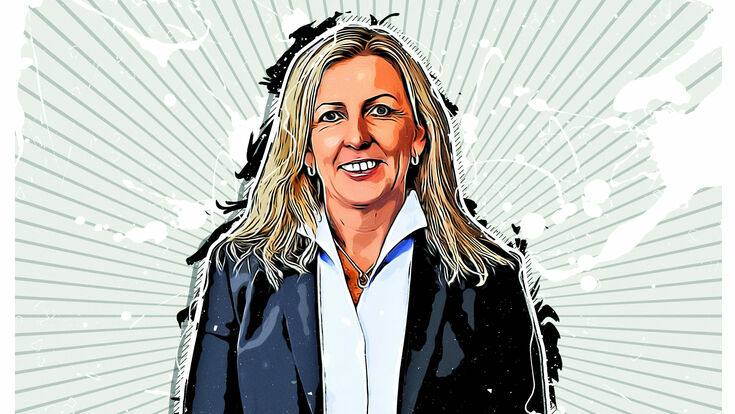 In August this year Tove Andersen began as President and Chief Executive Officer of sorting technology specialist Tomra. The 50-year-old Norwegian moved from global agricultural products and environmental protection agent provider Yara International, where she held the position of Executive Vice President Europe. "I've seen the impact Tomra is making and to join this company with sustainability at the core of its strategy is a privilege," Tove said after being appointed. Waste Management World talked with her about her career path, the future of the waste industry and women in waste management.

You studied Applied Physics and Mathematics. What fascinated you about those subjects to make you choose them?
I'm a curious person by nature; as a child I was always wondering about why things are the way they are. For example, why is the sky blue, what is light and how can the radio pick up signals sent through air? This curiosity drove me into physics, while mathematics has always been a subject I love, and it is the backbone to everything in science.

What career did you have in mind? Did you have a "master plan"?
I wanted to be a research scientist and worked as one for three years after finishing my studies. However, I quickly realised that I didn't have the patience for it. So, I took an MBA and moved into business. I never had a master plan for my career, but I have always been ambitious and driven in the sense that I wanted to achieve results, I wanted to make a positive difference. In addition, it has been important for me throughout my career to continuously learn new things. I'm not good at doing the same thing over and over again.

How would you describe your career path and your choices to your 18-year-old self? What advice would you give yourself?
A professor I had at university said that you should not give advice to anyone over 18 unless they ask for it. I think that's true; if people are not receptive to advice, they will not take it on board. And one thing I have learned during my career is the value of asking for advice and support. I've realised that good leaders are those that are real, that dare to show their weaknesses, that do not pretend to have all the answers but draw on the expertise in their organisation.

How did you "end up" in the waste industry? What role do you see for the industry in a circular economy?
My passion for making a positive difference has increasingly become focused on environmental issues as I have gained more insight into the global challenges linked to climate change. That was an important element of my decision to join Tomra. Here I will get the opportunity to support the green shift our planet needs. And I'm optimistic about the future. I see a significant shift is happening and almost every company is looking at how they can improve the resource efficiency of their operations, including recycling. This is driven by the increased demands from consumers regarding sustainability but also legislation where the EU is at the forefront. In addition, investors and the financial market are starting to reward sustainable businesses, which will be an important catalyst.
The waste industry seems to be quite male dominated. Women in senior management positions are rare. Why do you think that is so?
I don't think that is specific to the waste industry; it's an issue you see in many industrial businesses. But it's interesting that in Norway there are several female senior managers in different waste industry/recycling businesses. There is no quick fix to increase the share of females. This requires focus and dedicated actions over time. We need to continuously challenge stereotypes and biases and we need to be better at getting the message out there about the importance of the waste management industry and the interesting opportunities it represents.

In what positions do you see women working in waste management and do you think it is necessary to increase their visibility?
I don't see a reason why we can't have women in all the different roles in the waste management industry. However, I do believe there is a knowledge gap among young people regarding what it means to work within this sector. We need to explain the importance of the industry in driving resource productivity and how this contributes to addressing the global challenges.

Was it or is it still hard(er) to be taken seriously as a woman in this business?
I'm afraid that almost all women of my generation who have worked in a male-dominated environment have experienced episodes where we had to fight to be taken seriously. However, I've always been supported by (male) leaders who have believed in me and supported me in my career. I'm quite a stubborn person and don't give up easily. If I felt I was not being taken seriously, it made me even more determined to succeed. As leaders we need to create an inclusive environment, where everyone is comfortable with raising their opinions and concerns. It doesn't help to have a diverse organisation if we don't listen and take on board the diverse views.

Would you encourage women to think about a career in the waste industry?
YES! The way we use resources today is not sustainable. We will not combat climate change unless we reuse and recycle significantly more than we do now. The waste industry is at the core of this, leading the way on how to turn waste into valuable products. This is a hot topic in all industries which will drive significant technology developments and market opportunities. In addition, it is an industry with competent and passionate people. So, for those who want an exciting job where they can make a positive difference in the world, this is the industry to be in.
About the Interviewee
Tove Andersen studied Applied Physics and Mathematics as well as Business Administration. Prior to Tomra she had a 24-year-long career at global fertiliser company Yara International, where she held a number of senior management positions, most recently serving as executive vice president in charge of European business activities. She lives with her husband and two children in Oslo, Norway.