Paid Engagement
Ecomondo 22
:
PUT WASTE IN – DRAW ENERGY OUT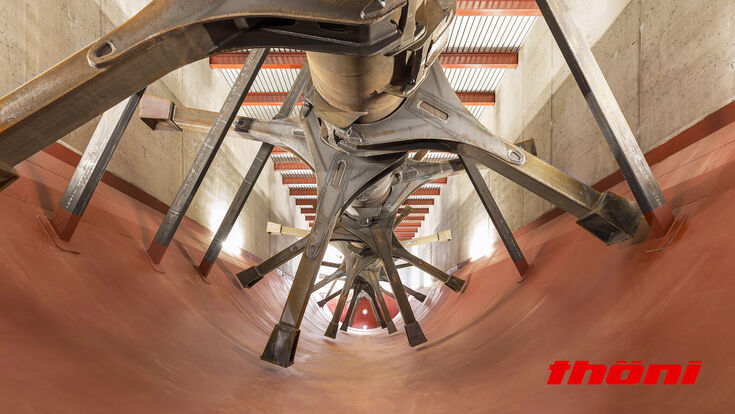 THÖNI Industriebetriebe GmbH is an Austrian based provider of biogas plants for treating organic waste and agricultural by-products. With track record of more than 30 years, Thoeni provides highly efficient plant solutions offering an excellent price-performance ratio. These systems are planned and designed by Thoeni's own engineering division; the key plant components are manufactured by the in-house metalworking facility. To date, Thoeni currently has more than 150 biogas plants in operation in Europe as well as in China.
TTV Thoeni High Solids Anaerobic Digestion
Waste has enormous potential. We at Thoeni use it to produce clean energy and valuable resources. TTV is a dry digestion process that is especially well suited for the anaerobic treatment of organic waste because it has a higher insensibility against impurities than other processes. The heart of the TTV process is the plug-flow digester equipped with a slow rotating paddle agitator ensuring the optimum mixing of the substrate and thus a high biogas yield. The Thöni paddle stirrer ensures highly efficient stirring as well as optimum prevention of swim layers and sediments. The dewatering of the digestion residues is effected by TSP Thoeni Screw Presses which are particularly characterized by low energy consumption and durability.
TNV Thoeni High Solids Wet Digestion
The TNV system ensures high flexibility in the use of organic input materials and is the result of many years of experience in High Solids Wet digestion. The core of the technology is the digester, which is continuously filled with liquid and solid input materials using special feeding technology. The digester is equipped with energy efficient Thoeni paddle agitators that efficiently mix different types of input material containing a very high level of dry matter. The material is kept in motion and homogenized with the specially designed paddles so that heavy impurities do not accumulate at the bottom of the digester and potentially suspended solids do not form any floating layers.
Outstanding features of Thoeni AD Systems
Robust system technology and the operational reliable design of critical components ensure maximum availability. Thoeni delivers turnkey, state-of-the-art facilities offering an excellent and trend-setting price-performance ratio:

High system and input flexibility, robust and durable plant technology

Operational efficiency, low operating costs and maximum availability

High biogas yields due to efficient stirring technology
About
Thoeni Industriebetriebe GmbH, founded in 1964, is a family-owned enterprise that is active in various business areas including environmental and energy technology, as well as machine and plant construction, focusing on growth and sustainable development Today, the turnover of the Thoeni group is about €300 million with over 950 employees. The company has its headquarters in the town of Telfs in the Western Austrian province of Tyrol and has further facilities in Landeck (Austria), in Kempten (Germany), Rovereto (Italy) and in Pleasonton (CA/USA).

visit us at our website

link us at our linkedIn-profile
watch us at our youtube-channel