Next Generation Sorting Robot to be the First in France
:
ZenRobotics to Supply Waste Sorting Robot to Veolia in France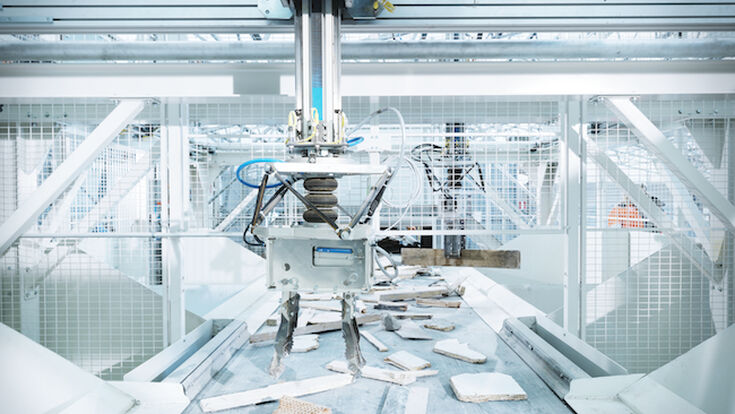 French environmental services provider Veolia has agreed to purchase a robotic waste sorting machine from Finnish robotics and artificial intelligence pioneer, ZenRobotics.
According to ZenRobotics the delivery of the waste sorting robots will take place in spring this year, and will mark the first delivery of its waste sorting robots in France.
Designed to increase the efficiency and reduce the cost of waste sorting, the technology was originally designed to sort C&D waste. However, in 2014 the company launched the Next Generation ZenRobotics Recycler, and has made further enhancements since.
The system features and grab for picking the waste and an electronic 'brain', or artificial intelligence to tell it what to pick and where to put it. Importantly, that brain can be trained and retrained to identify and pick different fractions from the waste stream.
According to the company, the technology has a unique recognition capability which can sort multiple fractions simultaneously in one spot, reducing complex pre-processing of waste.
This flexibility is said to allow waste operators to switch the sorting task on the go – opening up new opportunities for forward-looking waste operators.
"Robotic waste sorting is transforming the waste industry," asserted Timo Taalas, ZenRobotics CEO. "We are pleased to see that one of the largest companies in waste management has chosen our technology."
"This year will be the year of robotic waste sorting. As a result of our recent deliveries to Switzerland and Japan, we have witnessed increasing demand globally and therefore we're currently extending our distribution network," he added.
For more on ZenRobotics be sure to check out the Jan/Feb issue of Waste Management World for in-depth coverage of the technology.
Read More
Next Gen Robotic Sorting System for Heavy Weight Recycling from ZenRobotics
Helsinki, Finland based robotic recycling sorting specialist, ZenRobotics, has launched its latest robotic sorting robot for the recycling industry.
World's First Multi-Robot Recycling System for SITA Finland
ZenRobotics is to install the world's first robotic waste sorting plant to use multiple robots at SITA Finland's Helsinki C&I waste recycling facility.
Rise of the Machines: Why Robots Will Transform Waste Sorting Methods
Rainer Rehn explains that with increasingly intelligent multitasking robotic systems next year, 2016, will be the Year of Robotic Waste Sorting.