Paid Engagement
Collection and Handling
:
Terex charters Vessel to ship 30 Machines from UK to Australia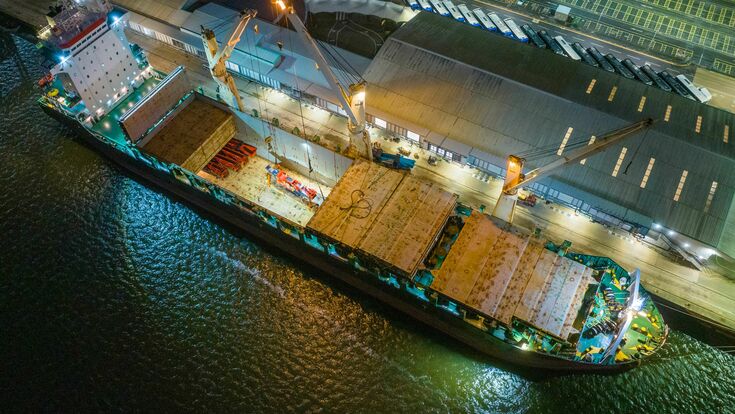 Terex - a global manufacturer of materials handling equipment and aerial work platforms - in conjunction with DHL Global Forwarding's Industrial Projects division, has successfully chartered a vessel to transport a shipment of 30 Powerscreen®, Finlay® and Terex Ecotec machines from Southampton, UK to Brisbane, Australia. The successful charter, a first of its kind for Terex, was designed to ensure customers receive their machines in these times of logistical and supply chain delays.

Claire Hamilton, Category Director - Metal Fabrications & Logistics, Terex Supply Management and Transport, said: "Towards the end of last year, our RORO (roll-on/roll-off) capacity to Australia was suspended due to port congestion, COVID backlogs and increased global demand. Vessels were overbooked and the backlog did not clear. Although we were given an allocation of slots, this did not meet the demand for our products.

We decided to look at alternative ways of getting our equipment to our Australian customers, which was a huge undertaking. Our equipment varies in size and weight, and not only is it difficult to lift on and off ships, but safety is always a top priority. After exploring various options, we found a solution that allowed our equipment to be tracked and secured on a platform that was lifted by cranes and lowered into the hull of the ship.
Successful operation
Prior to loading, the Terex Sourcing and Supply team worked with various stakeholders - including safety, engineering, logistics and operations teams within Terex, as well as external transport and shipping providers - with biweekly meetings to plan every detail. Specific technical information was provided for each machine and dates were agreed between all parties to get the machines to port. In total, 30 Terex machines weighing 1,092 mt / 5,012 cbm were delivered to the Port of Southampton.
Once in port, support was provided to move the machines from the warehouse to the dockside and to resolve any issues that arose, with Terex service engineers checking the machines prior to loading and assisting the stevedores at the dockside and on the vessel. Loading onto the vessel was carried out by tandem operation of the ship's cranes and aerial work platform. Embarkation and disembarkation to and from the ramp was carried out via quayside ramps and in the ship's hold. In total, it took eight days to safely load all 30 machines onto the vessel.

Claire concludes, "From the planning stages through to the huge operation of loading our equipment onto the ship, everyone involved worked proactively to ensure that our 30 machines were loaded safely onto the ship without any incidents or accidents. It was a huge undertaking - the constant collaboration between internal and external parties, working as a team, was a key factor in the success".
The machines are currently en route and are expected to arrive in Australia in early March.