ISWA World Congress
:
That was day one of the ISWA World Congress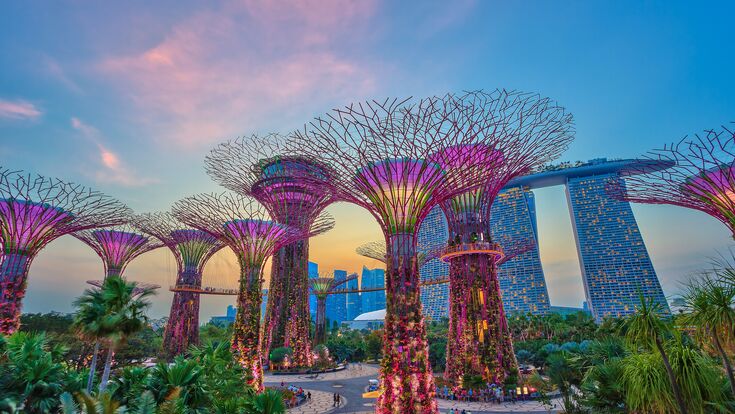 The first day of the ISWA World Congress in Singapore was packed with interesting presentations. The concurrent sessions focused on creating a sustainable living environment, new technologies, and circularity. Following here is a selection of some of the interesting and engaging presentations.

James D. Michelsen, Senior Industry Specialist at the International Finance Corporation (IFC) talked about global climate financing in potential dumpsite closures.
The IFC is a sister organization of the World Bank and member of the World Bank Group and is focused on the private sector in developing countries.
In order to give momentum to the closure of dumpsites it is necessary to raise the awareness of the economic and ecological advantages, he said. The IFC offers a risk-based approach to dumpsite closure, offers customized finance solutions and provides expertise. "There is a tailored solution hopefully for every customer," Michelsen said.
Plastic credits and side loading waste collection
Richard de Guzman, Standards and Compliance Manager of the Philippine company Plastic Credit Exchange spoke about the advantages of a plastic credits system. A system like that can activate the ecosystem to accelerate the impact at scale.
The advantages of the side loading municipal solid waste collection system was the topic of the presentation of Raúl Amérigo Torralba, Asia Pacific Regional Manager of Spanish company Contenur.
The system, already used in many countries in Europe and beyond is very efficient and offers advantages to all stakeholders involved:
For citizens:

easier to use
cleaner (pedal, no need to touch)
less noisy (use and discharge)
better accessibility for disabled citizens
quicker waste collection with fewer truck and traffic blocking. More parking areas.
For cities:
uniform aspect of containers
lower number of containers on the streets due to larger volume of the container
more endurance
different apertures for source separation improve the recycling rate
100% recycled product
easier to incorporate smart elements
For collectors:
lower operational cost (just one operator needed)
easier and less costly maintenance
bigger capacity therefore fewer routes needed
quicker waste collection
safer and cleaner for the operator
bigger personalization possibilities
Tackling textile recycling
Textile waste is a huge global problem. It is estimated that we produce 13 million tonnes of textile waste each year, 95% percent of which is recyclable but less than 1% actually gets recycled. Gunilla Carlsson, Public Affairs Director of Swedish public private company Sysav presented the Swedish Innovation Platform for Textile Sorting Siptex. In 2020 the first large scale textile sorting plant started operating sorting 24.000 tonnes of textiles per year. "We cannot rely on arable land to cotton production, we need it to grow food. So we need recycled fibres," Carlsson said stressing that large scale problems need large scale solutions.

How to increase source separation?
Another way to increase source separation and therefore recycling rates was presented by Henrik Siepelmeyer, PhD Researcher at University of Agder (UiA), Norway. Siepelmeyer and his team conducted a study on influencing household waste and recycling behaviour in a multi-residential setting through smart waste chutes and digital Interventions. The residents of an residential area where waste chutes are installed in the buildings instead of waste bins, were asked to use an app to document their waste collection. In the app they received feedback about their behaviour also compared to others. So the researchers were able to collect data not only through the use of the waste chutes but also through the app. Parallel the team also started a advertising campaign promoting the programme.

The study showed a significantly higher level of separate collected plastic and paper waste. A follow up study next year will be conducted with 4.000 households.