Electronic Waste
:
Canada's e-waste generation tripled in two decades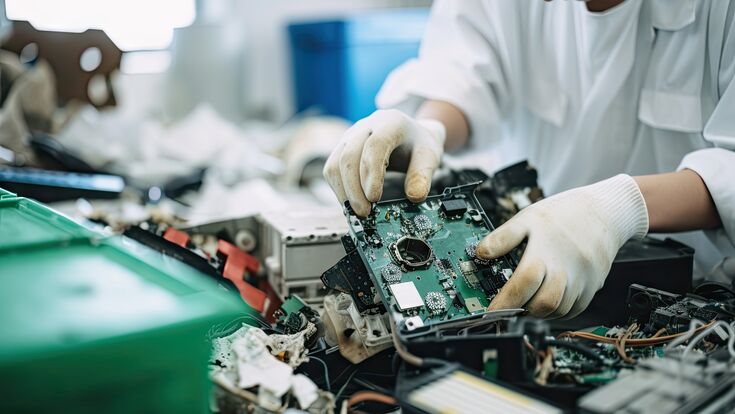 Electronic devices surround us. We use them daily. And we dispose of them rapidly. The amount of electronic waste (e-waste) is growing at exceptional speed.

A recent study now looked at the e-waste generated in Canada, where comprehensive and up-to-date studies have been lacking. But, according to the authors, a detailed analysis of the generation and composition of e-waste is paramount for properly managing the growing global e-waste stream, which contains both hazardous and valuable materials.

The study presents the first estimate of electrical and electronic equipment (EEE) placed on the market, EEE stocks in use, and e-waste generation in Canada from 1971 to 2030 for 51 product categories covering 198 product types.

Like our content? Subscribe to our newsletters!

E-Waste is growing rapidly
Based on a dynamic material flow analysis (MFA), put-on-market EEE is estimated using trade data from national and international import and export statistics, and in-use stocks of EEE and resulting e-waste are calculated using the Weibull distribution function.
The results show that the total mass of EEE over the 60-year period is estimated to be 42.3 million tonnes, with an average annual growth rate of about 0.5%.
By 2030, the total accumulated stock of EEE in use is estimated to be more than 13 million tonnes.
The estimated e-waste over the 60-year period is 29.1 million tonnes.
The total annual e-waste generation in Canada is calculated to be 252 kilotonnes (kt) and 954 kt in 2000 and 2020 respectively, reaching an estimated 1.2 million tonnes by 2030.
E-waste generation per capita increased from 8.3 kg in 2000 to 25.3 kg in 2020 and is estimated to reach 31.5 kg in 2030.
Canada of course is not the only country where e-waste generation is increasing rapidly. The amount of global e-waste is rising yearly by 2.7 million tonnes.
E-Waste: Hazardous but valuable
E-waste of course is regarded as hazardous waste, since it contains materials, such as lead, mercury, arsenic and cadmium. Many electronic devices also carry lithium-ion batteries that pose a fire hazard.
Despite this, the future for e-waste could be bright – if properly disposed of and recycled. It may contain significant amounts of iron, aluminium and copper, as well as gold, silver and platinum. Not to mention the value of selected raw materials found in e-waste, such as cobalt, indium and bismuth, is estimated to be around $57 billion in 2019.