Opinion
:
Going Round in Circles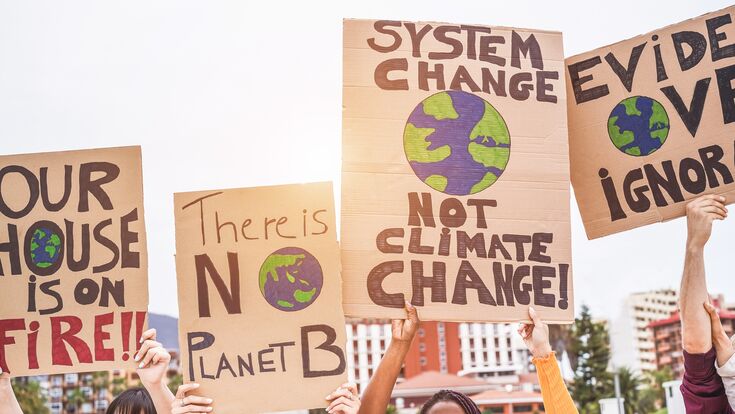 Happy New Year! Alas maybe a bit late. But still, it's a date in the calendar when we take stock of all we've achieved in the previous 12 months and make resolutions for what we intend to do in the next 12: go to the gym, eat fewer cakes, enroll on a course. Sounds familiar? For most of us it is, and by the end of the first month or two we're back to 'business as usual'. A cycle that tends to repeat itself year on year.

Cycles are, of course, part of us and our everyday world. Physiologically, our bodies rely on feedback loops to keep us alive and healthy; our IT and technical gadgets rely on coding loops to improve efficiency; whilst our natural environment relies on carbon, nitrogen and water cycles to reuse and replenish essential elements and molecules on which all life depends. A concept that is at the heart of James Lovelock's Gaia theory and, more recently, the circular economy.

So, what has this got to do with the new year? Well, everything and nothing. Let me explain. As humans, our natural tendency is to stay safe, meaning that the majority of us (excluding, perhaps, the Elon Musks and Steve Jobs of the world) like to stay in our comfort zones and maintain the status quo. Change does happen, of course, but it tends to be incremental and of a nature where we can see an obvious benefit to our lives, a benefit that is realised in the short term. We just have to think back to life without mobile phones and then smartphones. The benefits are obvious, and they are also instantaneous.

But, as waste and resource professionals, we know that all our societies (irrespective of where we live) need to undergo radical transformations before the decade is out if we are to collectively address the climate and biodiversity emergencies our world is facing. This cannot involve incremental change; it necessitates radical transformations in the way we live, grow our food, carry out business, warm our homes and move our goods around. Moreover, the resulting benefits are difficult to envisage in the short term. Changes made where I live in the UK, for example, may well benefit people living on the opposite side of the globe at a time in the future when I am no more and my children are grandparents themselves. This is difficult to visualise and even harder to implement.

But change needs to happen, and happen quickly. The environmental benefits of effective waste management services have been well researched and documented. ISWA's Closing Dumpsites Task Force has provided a foundation for countries to move away from uncontrolled dumping of waste, thereby significantly reducing methane and black carbon emissions, and preventing the leakage of plastics into soil and water resources. My own Working Group on the Biological Treatment of Waste has championed the benefits of applying compost to soil and highlighted the carbon sequestration potential that may result.[1] The benefits of both examples are obvious and quickly realised; that is, they can effect positive change before this decade is out.

So why is this not happening? The issues are complex and have been explained succinctly by Prof. David Wilson in his October blog.[2]
Although agreement was reached at COP26 to reduce global methane emissions, putting theory into practice will necessitate disrupting 'business as usual' circles and placing many people, and the livelihoods on which they depend, in new territory. Put simply, they will be forced out of their comfort zones, and it will not be easy.

As ISWA members we all have a role to play. We need to break away from our existing 'business as usual' circles and create new, more sustainable circles that embed the principles of sustainable development. The key will be to demonstrate that everyone benefits, irrespective of who we are and where we live, and that we will all benefit today, tomorrow and next year, let alone by the end of the decade. Think of it as a New Year's resolution: will it be another lapsed gym membership leaving our aspirations of a new, healthier you to the next annual cycle, or will it be an opportunity to break free from engrained 'normalised' behaviours and move to new and better cycles where we are happier and healthier? It will be a massive challenge, but collectively we can do it.

So, let's all reconsider our New Year's resolutions for the sake of the planet.

[1] https://tinyurl.com/2wzpkwc5
[2] Better Waste and Resource Management Can Contribute Significantly to Climate Mitigation https://tinyurl.com/bdde27nh
About Jane Gilbert:
Jane originally trained as a microbiologist before entering the world of waste. She is the current Chair of ISWA's Biological Treatment Working Group and has gained her International Waste Manager status. Jane is currently working on a number of circular economy projects in Australia, Mongolia and the UK.