Waste Management
:
Waste Management in Oman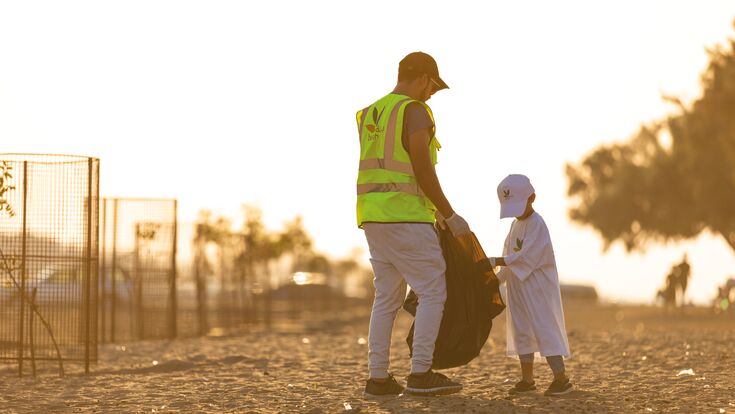 In 2006, a National Strategy Report laid down a cohesive plan to address waste management in the Sultanate of Oman, which depended largely on random traditional dumpsites and lacked the minimum environmental requirements for safe waste disposal. The Draft Strategy Report led to the establishment of the Oman Environmental Services Holding Company (be'ah) in 2007. The Royal Decree No. 46/2009 granted be'ah the legal status and mandate to undertake solid waste management in the Sultanate of Oman. Subsequently, be'ah's budget was approved by the Ministry of Finance in 2012 to bring the goals to fruition.

be'ah strives towards the following vision: "To Conserve the Environment of our Beautiful Oman for our Future Generations"
To achieve this vision, be'ah is working towards the following mission:
"Together we develop the Waste Management sector in Oman by providing safe, efficient and most economically and environmentally sustainable services in innovative ways, thereby contributing to the overall economy."
In 2009, a Royal Decree (46/2009) granted the Oman Environmental Services Holding Company S.A.O.C. (be'ah) the mandate and status as the entity responsible for solid waste management in Oman. Operating under the Oman Investment Authority (OIA), be'ah is in charge of managing municipal, industrial and healthcare waste in the country, providing waste management services from collection to disposal to both the private and public sectors.
Headquartered in Muscat, be'ah has an operations network spread across all 11 governorates of Oman with an expanding infrastructure to meet future needs and address the aim of a sustainable future through research and adherence to international best practices.
Today, be'ah operates numerous state-of-the-art waste management sites, including 10 engineered landfills and 16 transfer stations.

be'ah is committed to its long-term strategic goals. The four goals are to:
improve quality of life
create sustainable communities
develop the waste management sector
support Oman's economy
be'ah's strategic direction has been addressed in the early stages of its implementation plan, which identifies long-term strategies to achieve be'ah's long-term goals.
As part of its development, be'ah has divided its strategic direction timeline into three main phases, in which:
Phase I (2012-2015) focused on infrastructure establishment,
Phase II (2016-2020) focused on the commencement of operations, and finally
Phase III (2021-2025) focuses on be'ah's excellence and waste diversion.
be'ah provides optimal services through efficient operations and by staying connected with all stakeholder groups on multiple levels, thus using every opportunity available from its waste management operations to partner with all groups of society. be'ah has initiated and worked on various collaborative efforts with stakeholders in academia, the local market through SMEs, and also with international partners that have vast experience in research and innovation. In addition, be'ah aims to fulfill this commitment while ensuring that it is done in a sustainable manner and with the ultimate aim of achieving a circular economy business model.

be'ah carries the massive responsibility of maintaining Oman as a pristine country. Furthermore, this responsibility includes building toward a sustainable future with a healthier environment, a resilient community and a prospering economy that is powered through waste recovery.