Waste Education
:
"We want the Trash Lab to transform people's relationship with waste"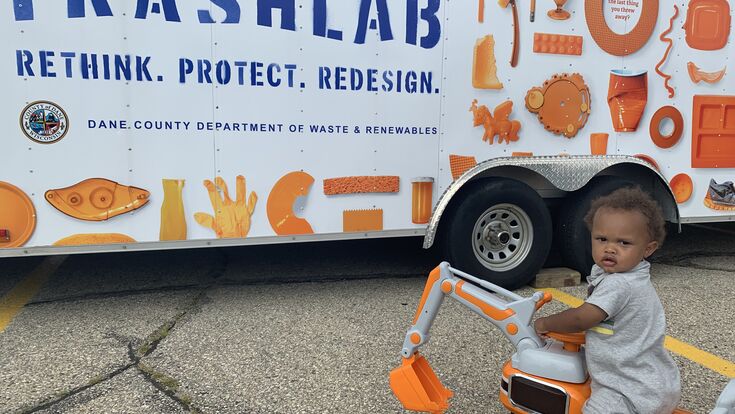 How did you come up with the idea to build the Trash Lab?
I joined the Dane County Department of Waste & Renewables team as an intern back in Fall 2019. Our Department leaders wanted to create some sort of innovative, mobile unit to use as an educational tool in the community around solid waste, recycling & sustainability, and thus I was tasked to lead this compelling and exciting project.
Who was involved in building it?
The Dane County Department of Waste & Renewables partnered with the Madison Children's Museum to build the Trash Lab. The Trash Lab was built using predominantly repurposed materials, including a reclaimed trailer, reclaimed wood and stone, and assorted objects and artifacts found in the Dane County landfill. The entire ceiling of the trailer is lined with colorful items found in the waste stream, all in perfectly good condition, including an old rake, children's toys, dinnerware, shoes, tires, jewelry, garden supplies, and car and truck parts. The overall weight of the project is 4,552 pounds, incorporating 4,100 pounds of reclaimed parts and materials (trailer, reclaimed hardwood, hardware, stone, objects, and artifacts) and 452 pounds of new materials (plywood, plexiglass, wood, hardware, and lighting). Reclaimed materials account for 90% of the exhibit's weight. The Trash Lab exhibits were also designed with modularity, meaning the exhibits can be taken out with relative ease. This design with the end of life in mind allows the Trash Lab to be used as a hauling trailer again at its end of life.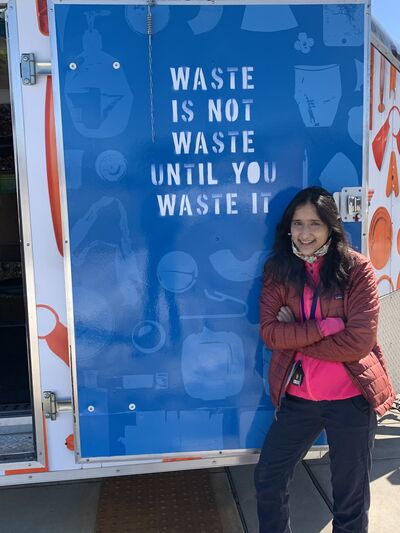 What is the goal of the Trash Lab?
The goal of the Trash Lab is to demystify what happens to trash once it is thrown away here in Dane County and encourage our community to rethink our relationship with stuff. The Trash Lab is housed in a fully accessible, 27-foot-long repurposed cargo trailer, and features more than 10 playful interactive stations, engaging stories, and a wealth of data, along with compelling photography and video footage. The exhibit explores the social justice, economic, and environmental effects of waste, connecting local experiences to both local and global outcomes. Additionally, the Trash Lab was designed to advance equity and inclusion of solid waste and recycling education. The Trash Lab can be hauled to events and taken to schools that may not otherwise have the means to travel to our landfill to learn about solid waste & recycling.
Who is your target audience?
Our target audience was everyone; we wanted the Trash Lab to be engaging and allow our community to better understand the implications of the waste they produce, how landfills work, and new opportunities for more sustainable solutions. Additionally, the Trash Lab is wheelchair accessible and there are also booklets available for visitors who wish for a Spanish translation of the exhibit materials.
How does it work?
When not traveling to community events, the Trash Lab is housed at the Dane County landfill, where it is has welcomed hundreds of visitors, since its debut in early 2021, as part of Dane County's public tours of the landfill and on-site renewable energy plant. Trash Lab fans can follow the Trash Lab's journey and tag their experiences exploring the vehicle at the Dane County Trash Lab Instagram page @renewaste. Fans can also continue learning online by reading through our Trash Lab booklet, available both in English and Spanish. This booklet contains information from the exhibits inside the Trash Lab.
How is your experience so far? Are people interested? Do they have a lot of questions?
Our experience using the Trash Lab as an educational tool has been phenomenal, and we have been recognized both regionally and nationally with awards for the Trash Lab's success. We've had visitors of all ages take away something from the Trash Lab, and it seems to leave a lasting imprint on people. It is hard to forget the colorful Trash Lab ceiling filled with beautiful objects that people have thrown away! My favorite question people often exclaim in surprise upon looking at the ceiling is "why would someone throw that away?!" We often ask ourselves that every day when working at our landfill here in Dane County. There have been many thoughtful conversations generated not just by the ceiling, but the exhibits and models in the Trash Lab that illustrate how waste is managed and how we harness landfill gas to produce renewable natural gas. We've even had school groups do really near post-Trash Lab visit projects inspired by what they saw in the Trash Lab.
Are you in contact with other municipalities to build more Trash Labs?
We've been contacted by several organizations, other waste districts, museums, schools, etc., who have been interested in replicating something like the Trash Lab in their community. We're always happy to share what the creation process was like for us, as well as other tips for creating a similar sort of mobile educational unit in your community.
About Sujata Gautam:

Sujata Gautam is a solid waste engineer for the Dane County Department of Waste & Renewables, where she stewards the outreach & education efforts and works on the Department's sustainability projects. She received her undergraduate degree in Civil & Environmental Engineering and completed her Masters in Social Innovation & Sustainability Leadership. Sujata finds joy in bringing mindfulness into the many aspects of life- including our relationship with stuff- and aspires to be part of the generation that creates a paradigm shift toward regenerative and respectful material use in our society.