Recycling
:
Shredding boosts sustainability agenda for John Lawrie Tubulars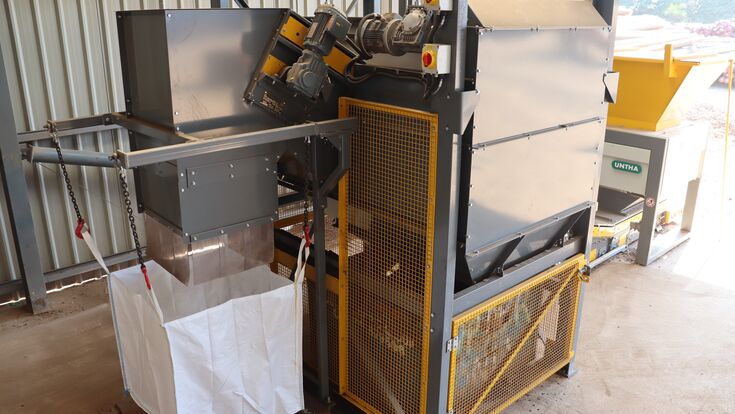 With operations in the UK and USA, John Lawrie Tubulars' 15-acre Montrose facility houses a full-service manufacturing, cleaning, recycling, and warehousing operation, supplying a truly international customer base.

Committed to the circular economy, the firm purchases steel tubulars from the oil and gas industry, before giving the products a new lease of life in construction piling. Repurposing the materials achieves a 97.21% carbon emission saving compared to using raw materials, with no detriment to quality.

But keen to continually improve its sustainability agenda, John Lawrie Tubulars has now also invested in an UNTHA plastic shredder. This globally-renowned technology can process half a tonne of screw caps — oil tube tread protectors — per hour, shredding the otherwise bulky material down to a homogenous 15mm fraction.

Drum and over band magnets affixed to the discharge conveyor then extract metal content from the output material, for local resale and recycling in Aberdeen, while the clean, high-quality plastic is also sent for remanufacturing. This results in the 100% reuse of material that was previously unusable.

Commenting on the investment, John Lawrie Tubular's UK sales and purchasing manager Iain Bell said: "We had heard that UNTHA shredders are valued for their longevity and reliability, which is something we value as a company. We therefore arranged a trial with a small sample of material, to see if the technology could tackle our input material. Impressed from the outset, we then arranged a second 'shred test' to see how the machine performed with a full load.

"We were really pleased with the output quality as well as the availability of UNTHA's expert support, should we need it. Their communication has been exceptional."

UNTHA UK's sales consultant Lewis Horne added: "As the RS40 was already in stock and immediately available from our North Yorkshire headquarters, we simply configured the technology to meet John Lawrie Tubular's specific requirements. That's the beauty of this flexible recycling system. Only the conveyor required manufacturing, which shortened the lead time to commissioning. We've invested heavily in stock machines for this reason.

"We recognise how many ambitious organisations there are in the UK, keen to advance their sustainability efforts at pace, and we are committed to supporting that. It was a particular pleasure to work with John Lawrie Tubulars as they further improve their environmental commitment, and we look forward to seeing what they can achieve next."

With a number of stock machines at the firm's test centre in Yorkshire, UNTHA UK encourages organisations to trial a shredder using their own materials, to understand exactly what is possible when it comes to processing materials for reuse, recycling and energy recovery.