Paid Engagement
Sustainability
:
9 Zero Waste Hacks you never thought of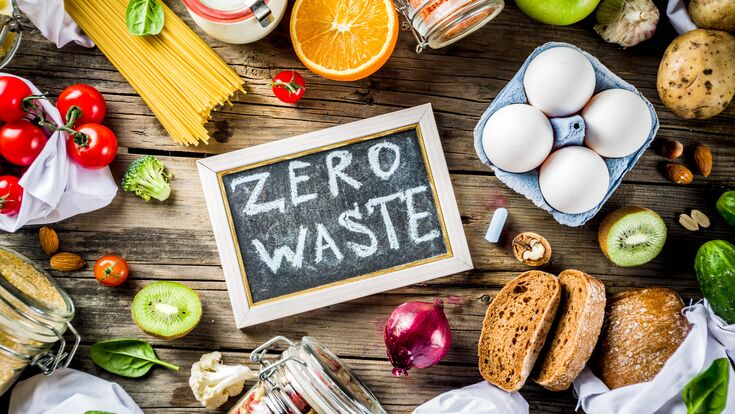 Whether you've just started your zero waste journey or have been embracing this eco-friendly lifestyle for a while, chances are you already know some sustainable swaps—washable water bottles, metal straws, reusable grocery bags, etc. However, while these alternatives are wonderful for making zero-waste living less challenging, you should also consider looking for ways to tackle your waste production beyond your purchases. Here are 9 zero waste hacks to get you started.
1. DIY with Vegetable Scraps
Reducing food waste can be both fun and tasty. Before reaching for the compost bin with your produce scraps, try one of these activities:
Grow New Plants: Place the bulbs from green onions and leeks in water and watch them sprout again. You can also do this with the base of celery and cabbage, as well as carrot tops to grow carrot greens for salads and pesto.

Cook Vegetable Broth: Gather all of your scraps from onion, garlic, and other vegetables in a container in your freezer. Once you have 2-3 cups, you can make your own waste free vegetable broth by boiling the scraps in water. It's a super simple recipe and makes a wonderful base for soups and sauces.

Make Tea: Boil banana peels to make a nighttime tea that will help you relax. Or, try steeping some orange peels to make a citrusy tea that will wake up both you and your tastebuds.
2. Nourish Your Plants
The next time you boil pasta or rice, don't toss the water. Instead, let it cool down and water your plants with it—just don't add any salt in the cooking process if this is your plan. The plants will get an extra boost from the starch and this tip can help you reduce your water usage.

Have banana peels? Consider soaking them in a jar filled with water for 2 days to create a potassium-rich fertilizer. Plants like roses, ivy, and tomatoes will particularly thrive with this concoction.

Alternatively, you can use banana peels to wipe the dust off of plant leaves. Just be sure to use smaller pieces for delicate plants like Pothos.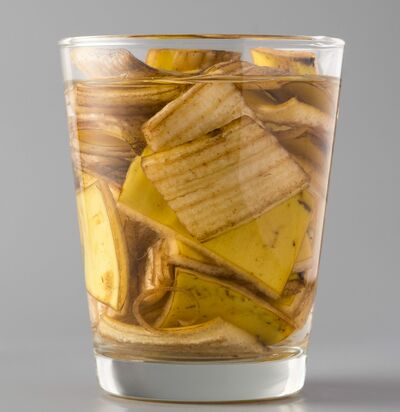 3. Preserve Herbs
If you are worried about your fresh herbs wilting before you can use them, stick them in the freezer. For best results, chop them up, place them into ice cube trays, fill the remaining space with olive oil, and freeze. From there, all you have to do is pop a cube or two out for stir frys, soups, and other dishes that call for fresh herbs.
4. Make Eco-Friendly Party Supplies
Zero waste doesn't mean zero fun! Try making compostable confetti by using a hole puncher on some leaves and collecting the punch outs—this is much more eco-friendly than plastic glitter or rice, which can swell birds' stomachs. For dishware, look to alternatives for single-use items, like swapping paper plates for real plates. Want to add some sparkle to the event? Pull out your holiday lights.
5. Use a Bathroom Compost Bin
To make composting in your home extra effective—and easy—put a small compost bin in the bathroom. This ensures that waste like nail clippings, tissues, hair, and cotton swabs make it in the compost, as opposed to the garbage.
6. Reimagine Furniture
Don't toss your old furniture or sofa because they don't fall in line with your design preferences anymore. Instead, give them a facelift with new finishes and fabrics. This can help keep furniture out of landfills and it's often a more cost-effective solution.
Resurfacing: Painting or restaining furniture can give it a whole new look. Go for a bold color to create an instant statement piece.
Covering: For cushioned furniture like sofas, there is always the option of reupholstering. Or, if you want a non-permanent and washable solution, you can always opt for a sofa cover.
7. Decorate with Necessities
You don't need a ton of new decor to get a wow-worthy home. Instead, look to what you have on hand and your lifestyle. For example, if you're a coffee drinker, then a DIY coffee bar can add a cozy touch that will help make your morning cup extra enjoyable. Here's how to create one.
Choose a Spot: This can be directly on your counter or you can revamp a secondhand cabinet or kitchen cart. A new coat of paint often does the trick.
Gather Coffee Necessities: Round up everything you need to make the perfect zero waste cup of coffee and display it in this area. This may include a jar of coffee beans, a French press, a coffee machine with a reusable filter, a few mugs, and a tea towel.
Add a Finishing Touch: Display a few recipe books or a vase of fresh flowers. Feeling a little quirky? Embellish your setup with a coffee plant.
8. Reuse Old Clothing
If you have clothing that is beyond repair, cut it up and use it around the house. Small squares of cotton fabric are an excellent replacement for makeup rounds, while material cut into larger sections is ideal for cleaning. If you have a lot of fabric to use up, you can even create a few reusable bags for your next grocery trip.
9. Get Crafty
Sometimes waste is unavoidable. So, when it happens, don't fret and make the most out of it by getting creative.
Mesh Produce Bags: The netted bags that onions commonly come in are perfect for making crochet pot scrubbers.
Water Bottles: Cut the bottle in half to make a mini-greenhouse to start seeds. Or, add a bit of cotton string into the mix to make a self-watering planter.
It is important to note that what works for one person on their zero-waste journey may not be a good fit for another. Don't be afraid to experiment with different methods and ideas to find what is right for you. After all, it doesn't matter how you reduce your waste as we are all after the same goal—to create a healthier future for our planet.