Data driven waste sorting
:
Bryson Recycling invests in four more AI-powered Recycleye robots in first robot re-purchase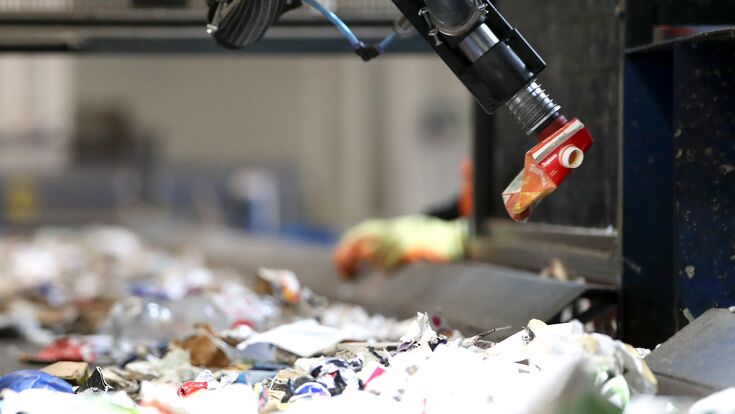 Bryson, an innovator in recycling for more than 30 years, has decided to purchase additional robots to build on the successful operation of an existing AI-powered Recycleye Robotics solution on its fibre line. The decision is expected to improve material quality, maximise recycling, reduce residual waste, and cut costs.

The four new robots will be retrofitted into the main sorting cabin at the company's MRF on the outskirts of Belfast, which employs over 100 people. Two of the four robots will be installed above a fibre line to pick non-paper items such as plastics, cans and cardboard to reduce contamination. The remaining two robots will operate on a residual line, where they will target the removal of recyclable materials, diverting higher volumes into recycling, rather than to EfW.
Ai powered waste-picking robots
The waste-picking robots, known as Recycleye Robotics, perform the physical tasks of identifying, picking and placing materials with consistently higher accuracy than human operators. The robots work alongside, but separately from, human operators who continue to work in the company's facilities.

The intelligent picking system is powered by an artificial intelligence (AI) computer vision system that recognises all individual items in the waste streams by material and object. The AI system sits on top of the plant's existing waste stream conveyors, providing the Engineering Manager with full visibility of the waste stream and helping to improve the efficiency and operation of the plant's sorting processes.
Stay connected. Subscribe to our newsletters!
Not only are leading waste management companies purchasing the equipment for the first time, but many are reinvesting in robots after experiencing real value-add to their businesses and continued guidance from our support team. AI successfully automates quality control for household waste streams and has potential to expand into limitless waste types and applications."
Christophe Parrot, Recycleye
New technology for highest recycling standards
Bryson Recycling collects and processes material from over 50% of households in Northern Ireland and employs over 350 people across 12 sites in Northern Ireland, Donegal, and Wales. This supports work for local people and the continued development of the UK's circular economy as the vast majority of its recyclates remain in the UK. This investment is another example of Bryson Recycling delivering on its mission to maintain the highest standards of recycling quality and to work with local recyclers.
Speaking about the investment, Jaroslaw Stanislawek, Engineering Manager, said "We have decided to purchase 4 further robots from Recycleye, following the great results from the first one – almost 8,500 run hours, with around 5,000 Kg of materials picked per week, and with an availability greater than 98%. We feel confident this new installation will further improve the consistency in our material quality."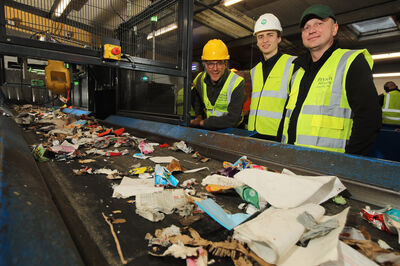 "Investments such as this enable us to stay on top of the benefits of new technology" added Katy Fulton, Director at Bryson Recycling. "We are a significant local employer and that means running a profitable business that is open to change and innovation. I am confident these additional waste-picking robots will bring material quality benefits to Bryson and to our customers".

Speaking about this investment, Recycleye CEO Victor Dewulf said "We are delighted that Bryson Recycling has chosen to continue working with us to build on their initial investment in our AI-powered waste robots. This is a strong statement of confidence in the value Recycleye robots bring to waste sorting and to the economics of materials recovery, and we are proud to be able to support Bryson."
Christophe Parrot, Recycleye's recently appointed Head of Sales, commented "Bryson Recycling's investment is indicative of an industry-wide step to trust AI-powered waste sorting robots. Not only are leading waste management companies purchasing the equipment for the first time, but many are reinvesting in robots after experiencing real value-add to their businesses and continued guidance from our support team. AI successfully automates quality control for household waste streams and has potential to expand into limitless waste types and applications."