C&D Waste
:
Construction and Demolition Waste: A bulky challenge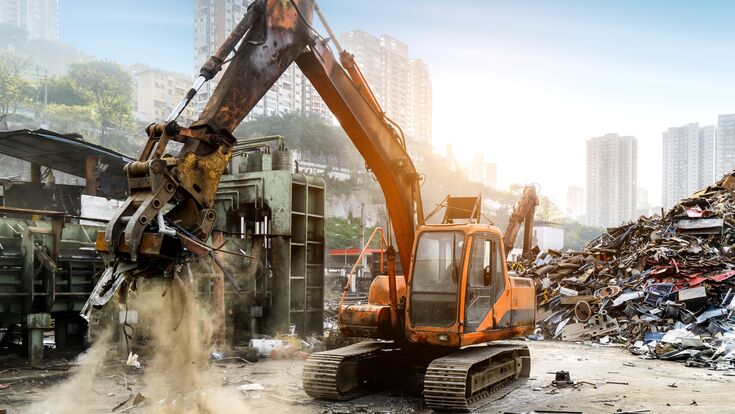 Like most industries, the construction and demolition (C&D) waste recycling market suffered during the COVID-19 pandemic, particularly in 2020, owing to the restrictions imposed to contain the spread of the virus. However, it is anticipated that the market will grow again in the future. Asia Pacific is anticipated to be the leader in the C&D waste recycling market in future. This is mainly due to the construction of buildings that are in the pipeline and an extensive focus on infrastructural development. In India, new recycling facilities are in development in various parts of the country, making it a possible contributor from among all Asia Pacific countries.
North America is also expected to see strong growth due to the rising need for eco-friendly construction operations in this region.

C&D waste makes up an enormous portion of the waste stream and comprises different types of materials such as plastics, bricks, wood, concrete, metals and timber, many of which can be recycled or even reused for various other purposes, leading the industry towards a more sustainable future, as Arne Ragossnig from Vienna-based consulting company Die Umweltkonsulenten says: "The construction sector is responsible for a major share of worldwide resource consumption as well as for the associated energy consumption that is also responsible for a high proportion of worldwide greenhouse gas emissions. Construction waste recycling allows greenhouse gases to be saved and resource consumption to be reduced at the same time."
Pollutants in Waste
The major challenge is to allow pollutants such as asbestos – known as legacy substances – to be separated, Ragossnig explains: "In the past – and in some parts of the world this is still the case – asbestos has been and still is used for various construction purposes. Also, other substances such as tar and insulation material that includes brominated flame retardants need to be separated to establish clean material cycles."
Thermal insulation materials, which are used widely to lower heating costs, pose a special challenge. In principle, these insulation materials must be separated during the deconstruction process. "Most of the time the polystyrene insulation must be thermally treated in order to destroy any brominated flame retardants used in the past. Recycling of mineral construction waste is only possible if non-mineral components are separated," says Arne Ragossnig. But how should an 'easy-to-recycle' building be constructed? "The most important thing is to make sure that building components can be separated when the building is deconstructed," Ragossnig explains. "And we have to raise the awareness and competence of planners and investors to construct the buildings that way and to pay attention to the end-of-life phase of buildings as well, not forgetting that the best way to avoid waste and to reduce resource consumption is to prolong the use phase of buildings."
Driving Up Recycling Rates
Due to legislative boundary conditions that require pre-demolition audits of buildings that are to be deconstructed, a fairly high share of construction waste is already recycled in Central Europe. "This allows pollutants and impurities to be removed, thereby enabling a high proportion of recycling for mineral construction waste. In addition, non-mineral construction products such as steel and glass can therefore be recycled as well," says Ragossnig.

But even though a high proportion of C&D waste is already being recycled in countries like the Netherlands and Austria – with the aim of further increasing the recycling rate – there are many regions where construction waste is not yet classified as waste and it ends up in uncontrolled dumping. "There is still a great need to increase awareness of the sound waste management of construction waste," says Ragossnig.
C&D Waste Recycling Solitions
Category: Autonomous AI-based robotic sorting for bulky C&D-type waste

Challenge: Costly and inefficient manual processes and rigid plant set-ups. Lack of data on waste and sorting results. Health hazards and injuries for employees.

Solution: AI-powered ZenRobotics Heavy Picker sorting robot that runs unmanned and uninterrupted 24/7. Autonomous operations extend sorting capacity and efficiency with low operating cost. Robot picks multiple high-quality recyclables like wood, plastic, metals and inert materials with up to 6,900 picks per hour and 99% purity. System is flexible to use and easy to install and operate.

Foto: Zen Robotics

Category: Industrial shredders

Challenge: Materials that are difficult to process and reduce in volume and are, in many cases, economically 'unshreddable'.
From problematic skip waste to demolition material – such as wood, non-ferrous extrusions, composite panel work and structures – this is typically unsorted, which can add an additional dimension of complexity for operators.


Solution: UNTHA's new two-shaft shredder: the ZR, unveiled in the UK in September 2021. The high-performance ZR series comprises two machines – the ZR2400H and ZR2400W – which have been specifically engineered for multi-shift, continuous pre-shredding, even when handling difficult materials. Modular, quick-change cutting table design. Supplied with the UNTHA Eco Power Drive with water-cooled synchronous motors to reduce energy consumption by up to 75%.

Foto: Untha

Category: New C&D system for USA Recycle, one of the largest independently owned and operated waste management companies in New England

Challenge: The client needed its own system to divert materials from landfills while obtaining high purity levels. The objective was to quickly and efficiently remove materials from the waste stream and reuse them in new products.


Solution:
Machinex 50-tonne-per-hour system: designed to sort recycling valuables such as cardboard, metal, wood, aggregates and fines from construction and demolition residue. System includes a vibrating conveyor, a MACH Trommel and two cross-belt magnets. Finally, an air separator removes light materials from heavy ones. The ability to pick wood at multiple sorting stations makes recovery of a large quantity of wood possible and the dense out units are excellent at removing lightweight contaminants and allowing for easy quality control of the heavy fraction.

Foto: Machinex

Category: Mobile crusher

Challenge: Demolition work in the inner-city area

Solution: Rubble Master's mobile crushers: high-quality recycling material for various applications is produced from C&D waste, concrete residues or asphalt. The crushed material can be used for the substructure of roads, for example, and also for admixture in the new production of concrete or asphalt. Mobile crushers from Rubble Master are used in inner-city areas in particular and enable on-site recycling, helping to save countless truck trips. With electric drives and new digital services, Rubble Master is setting standards for reducing energy and noise, and also for meeting current and future legal requirements.

Foto: Rubble Master