Paid Engagement
Recycling
:
Ecostar celebrates 25 years in the recycling sector
The company continues to bring its contribution to a more efficient recycling industry, by recovering and enhancing the value of materials, and is now present in 49 markets with over 600 screening machines worldwide.

"We are living in such times where the recovery and use of recyclable materials must overcome the creation of waste to not end up depleting Earth's resources. That is what we have been doing for the last 25 years, by designing solutions and technologies to enhance the value of resources and return them to the economy. We are keen to continue to invest in innovation that has been in our DNA since the founding of the company in 1997, to benefit the environment and customers all together" states Filippo Cappozzo CEO Sales & Marketing.
The company has developed and registered 5 technological patents from which have also been developed the three technologies known today as Dynamic Disc Screening (DDS), Hyper Dynamic Disc Screening (HDDS), and SWAT (Screening Width Adjustment Technology), each designed to treat specific materials and improve the quality of separation in any condition. Three are the screening machines designed and developed by Ecostar in the last 25 years: the Hexact stationary dynamic disc screen, the Hextra mobile screen launched in 2017, and the Easy One stationary screen added to the product range in 2021.

About the company's future R&D investments Fabio Cappozzo, CEO Production & R&D states: "Thanks to our dynamic disc screen we have witnessed positive results in different markets, both in terms of quality of screening and environmental impact, thus the outcome drives us even more into continuing our R&D investments. We have upcoming ambitious projects to complete our offer and respond to the ever-growing needs of the market."
In marking its 25 years, Ecostar opened the doors of a brand-new headquarters in Sandrigo, Italy, to foster team growth and innovation that includes company offices and the product line. The new building features a renewable energy system to cover company's energy needs.

"We are in constant growth with new colleagues entering the Ecostar team, thus marking our anniversary with a new headquarters makes us even happier. While having embraced more flexibility in the way we work, we feel that this investment in the new offices will help us become a stronger team, have a greater quality of life at the office, and bring more new ideas to life" says Emma Cappozzo CEO HR, Finance and Administration.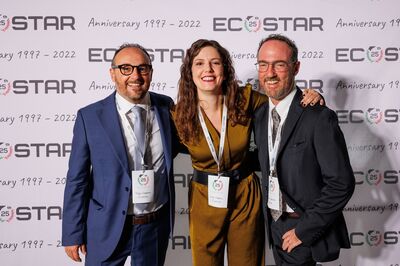 Ecostar. The beginning, the expansion, and the future
Ecostar was founded in 1997 by Domenico Cappozzo, following over 20 years of experience in the agriculture industry as a tractor and agricultural machinery dealership. In 1996, after having provided an Italian recycling plant with a screening machine brought in from abroad that was making the recycling process more difficult because of frequent clogging, ideating a solution that would reduce clogging to a minimum came to mind. That's how the Dynamic Disc Screening technology and the stationary screen were born and were soon to be integrated into recycling plants to bring better screening results and reduce downtimes.

In 2019, Domenico Cappozzo decided to delegate his children Emma, Fabio, and Filippo Cappozzo as new Board of Directors to run the company by designing and manufacturing new screening systems and technologies. Today, the company takes on new projects, partnerships, and new markets set to bring further value to the industry and the environment.

Ecostar was excited to celebrate its 25 years anniversary and success by also bringing together worldwide partners supporting the company on the path of growth, in a partner meeting in Italy. This has been an ideal occasion to initiate projects and inaugurate together the new company headquarters.
On this occasion, Ecostar would like to thank all customers, partners, and collaborators around the world that have made this journey possible.