e-Car Battery Recycling
:
EV Battery Recycling: Baby, I can recycle your car!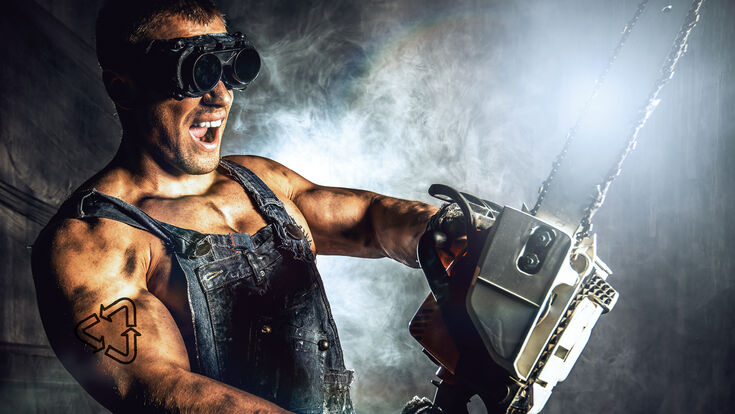 Batteries are everywhere. In our mobile phones, our notebooks, our vacuum cleaners and lawnmowers. And, of course, in more and more cars. Between 2010 and 2018, battery demand grew globally by 30% annually and reached a volume of 180 GWh in 2018. Global battery demand is expected to continue to grow by 25% annually, reaching 2,600 GWh in 2030. Apart from the ever-increasing number of electronic devices, it's the electric vehicle sector that is the key driver. In Germany, a record number of 356,000 new e-cars were registered in 2021. In Norway, almost two thirds of all new cars are already battery-electric. It seems that the Scandinavian country will be able to achieve its goal to launch emission-free passenger cars only from 2025 onwards.
Key factor in decarbonising transport
Batteries play an important role in decarbonising transport as well as helping to shift from fossil fuel to renewable power generation as a dispatchable source of electricity. But all those batteries will reach their end of life. "We need efficient recycling solutions in the next few years to be able to recycle the increasing quantities of e-car batteries," explains Andreas Opelt, board member and battery recycling expert at the Association of Austrian Waste Management Companies (VOEB). "Currently, there are hardly any facilities for this. This is because e-car batteries are larger and heavier than conventional batteries and the metals they contain are difficult to separate."
Although it is currently more economical in many cases to use natural raw materials rather than those obtained in the recycling process in Europe, resource scarcity could be a driving force to push the recycling of e-car batteries. The price of lithium is already rising. And it is expected that by 2030, 80% of the lithium mined worldwide will go into the production of e-car batteries, compared to 70% of cobalt and 25% of nickel. "Recovering these metals when recycling an old battery is the safest and most sustainable way to ensure that resource scarcity does not become a hurdle for electromobility," says Opelt
New players on recycling market
But the recycling of EV batteries is a special challenge, as Martin Reichstein, Managing Director of REDUX Recycling GmbH, explains. Recyclers therefore demand that manufacturers be held accountable and are already thinking about recyclable products when designing the batteries.

The battery recycling market offers huge opportunities, of course. Apart from recycling companies – REDUX Recycling GmbH (part of the Saubermacher Group) has developed a new method to recycle e-car batteries – car manufacturers have discovered this niche for themselves. Nissan is already recycling its own batteries, Mercedes-Benz will open its own car battery recycling facility in 2023, and Ford has invested in Redwood Materials to recycle EV batteries.
If you want to read more on what Redux Managing Director Martin Reichstein has to say about his company's innovative process read the whole interview here.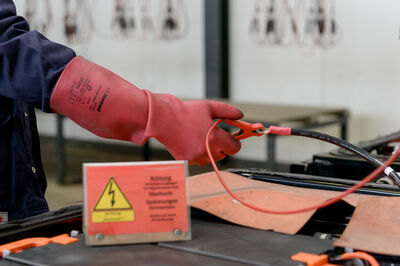 Updated EU regulations
The European Commission realised that there is a need for a new regulatory framework for batteries. After all, approximately 800,000 tonnes of automotive batteries, 190,000 tonnes of industrial batteries and 160,000 tonnes of consumer batteries enter the European Union every year. If not properly handled, the hazardous substances within the batteries pose a real threat to the environment. And, of course, many of the components of these batteries and accumulators could be recycled, preventing hazardous substances from being released into the environment and, in addition, providing valuable materials for important products and production processes in Europe.
According to the EU, all batteries placed on the EU market should be sustainable, high-performing and safe all along their entire life cycle. This means batteries that are "produced with the lowest possible environmental impact, using materials obtained in full respect of human rights as well as social and ecological standards." Batteries have to be long-lasting and safe, and at the end of their life, they should be repurposed, remanufactured or recycled, feeding valuable materials back into the economy, the European Commission stated.
Or as Frans Timmermans, Executive Vice-President for the European Green Deal, said: "Clean energy is the key to the European Green Deal, but our increasing reliance on batteries in, for example, transport should not harm the environment. The new battery regulation will help reduce the environmental and social impact of all batteries throughout their life cycle."

Recovering metals like lithium and cobalt when recycling an old battery is the safest and most sustainable way to ensure that resource scarcity does not become a hurdle for electromobility.
Andreas Opelt, VOEB
Some of the key points of the new regulation are:
the introduction, in the battery classification, of a new category of EV batteries alongside the existing portable, automotive and industrial battery classes
a recycled content declaration requirement; mandatory minimum levels of recycled content would be set for 2030 and 2035 (i.e. 12% cobalt, 85% lead, 4% lithium and 4% nickel as of 1 January 2030, increasing to 20% cobalt, 10% lithium and 12% nickel from 1 January 2035, with the proportion of lead remaining unchanged)
increased collection rate targets for waste portable batteries, excluding waste batteries from light means of transport (65% by the end of 2025, rising to 70% by the end of 2030)
a new obligation of battery replaceability for portable batteries
minimum electrochemical performance and durability requirements for portable
batteries for general use (applicable from 1 January 2027) as well as for rechargeable industrial batteries (from 1 January 2026).
However, according to the current draft, there will not be a Europe-wide deposit scheme for batteries, which is demanded by recycling companies. The new EU Battery Regulation will regulate the production and recycling of batteries from mid-2022.