Interview
:
MyGug offers an 'egg-cellent' solution for food waste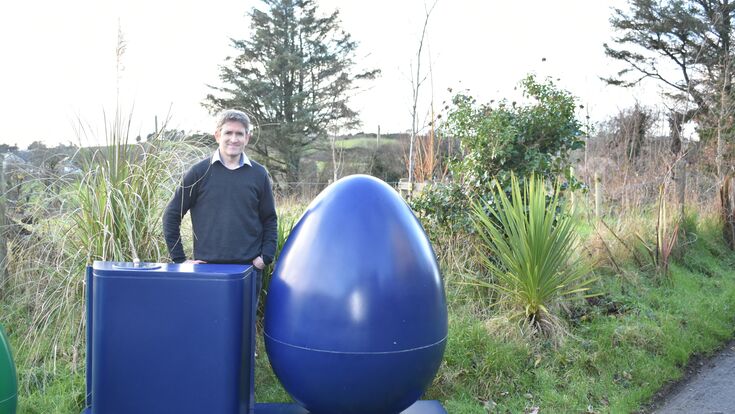 How did you come up with the idea of a micro digester?
There are reported to be over 30 million small-scale anaerobic digesters in China, most of them buried in the ground and many in rural areas. These digesters provide a way for communities to deal with all their organic wastes locally, creating millions of micro circular economies. When I began this journey, I asked myself whether this could be done for Europe and the US too but with a particular focus on the problem of food waste.

Why is it egg-shaped?
The egg shape has been used for decades in many large municipal wastewater treatment plants. The egg shape provides ideal mixing conditions as there are no corners within the tank and this aids excellent mixing. There are numerous other advantages too: the egg shape is extremely strong, reducing material usage in the product; an egg is ideally shaped for solar heating gain and probably most importantly as a consumer product; and an egg is a very attractive shape.

Is it hard to convince people to use it?
As with most new green technologies such as Tesla cars and solar panels, we are seeing a small cohort of people who are already convinced and are our early adopters, but as we scale and our prices reduce we see an enormous market for our products. Having one of our digesters is like having a bin that doesn't fill, a gas cylinder that doesn't empty and an unlimited amount of liquid bio-fertiliser for growing more food. We look forward to convincing many people of the benefits of micro anaerobic digestion!

What is the advantage of a micro anaerobic digester (AD)?
Micro digesters for treating food waste allow the technology to be available to customers using MyGug in small commercial and domestic contexts. We are making it possible for our customers to create their own micro circular economies by treating their food waste on site and eliminating the problems associated with the storage and transport of food waste as well as creating biogas and bio fertiliser for their own use.

What makes MyGug special?
All our digesters are heated and insulated, and operate at mesophilic temperatures. Both our premium domestic digesters and our commercial digesters are fully automated. This allows our digesters to operate year round in temperate and colder climates. We also have IoT capabilities designed into our units, which allows for remote monitoring and backup support to our customers. The IoT capabilities also provide us with valuable data to ensure our product is serving our customers well.

Are there special technical requirements for such a small digester in comparison to bigger ones?
There are no special requirements apart from basic training in the use of our digesters.

What is the minimum input your micro digesters need? How much output do they produce?
Our smallest domestic digesters are designed to treat 0.55 tonnes of food waste per year and will cater for a household of six persons. This equates to an average of 1.5 kg per day, but there is a balance tank so this figure can be between zero and up to approximately 15 kg of food waste per day. MyGug has various sizes depending on the needs of the customer.

Who is your target group?
Our target group for our commercial units includes small food producers, cafés, hotels, nursing homes, golf courses and schools. For our domestic digesters, the target group is home owners with outside space. Our digesters are ideal for those who are interested in gardening and horticulture as the liquid biofertiliser that our digesters produce is ideal for growing food and fertilising shrubs.

What are the advantages and disadvantages of small-scale digesters?
The advantages of small-scale digesters are numerous and include:

Convenient and quick food waste disposal for the user
Environmentally friendly
No odour or vermin issues as the system is fully enclosed
Nutrient value of the food retained and reused locally in the form of liquid fertiliser
Use of biogas for cooking and heating (offsetting use of fossil fuels)
Reduced carbon footprint associated with the transport of waste
Reduced disposal costs for the user
Reduced energy/gas costs as the biogas produced is used for cooking
No mixing of food waste with other municipal wastes (where there is no brown bin collection), resulting in zero contamination and emissions associated with segregation of wastes or landfilling
Less likelihood of contamination of waste as the householder or business owner is responsible for their own system.
The one disadvantage will be the space requirement so it will not be suited to homes and businesses with no outside space available.

Where do you see your biggest market growth?
We are seeing high growth in the commercial sector now as mentioned above. As the technology becomes more familiar, there will be significant growth in the domestic market.

Do you think small-scale and micro digesters will play an important role in the future?
Unquestionably! There is a great need to empower people to play a part in reducing the carbon footprint associated with traditional food waste disposal methods. Data from the EU tells us that food waste from domestic and small commercial settings contributes greatly to the emissions associated with food waste disposal. As well as creating the opportunity to reduce harmful food waste disposal methods at home or in a food business as described above, customers can avail themselves of the great benefits of micro AD. These include a clean abundant source of energy (biogas) which is available all year round to the consumer (unlike solar and wind), a reduction of waste disposal and associated energy costs, and provision of free and abundant on-site cooking energy and liquid fertiliser for one's own use.
About MyGug:

MyGug is a new micro scale anaerobic digester. It's a complete food waste solution that gives abundant renewable energy for cooking and growing. It will operate in all weathers and climates from -20 deg C to +40 deg C.
MyGug micro anaerobic digesters
Inventor Kieran Coffey with two of his MyGug mirco anaerobic digesters.


Foto: MyGug

A MyGug AD used for food waste from a café.

Foto: MyGug

"The egg shape provides ideal mixing conditions as there are no corners within the tank and this aids excellent mixing", Kieran Coffey, MyGug.

Foto: MyGug