Pyrolysis
:
PPE waste: The problem with throwaway protection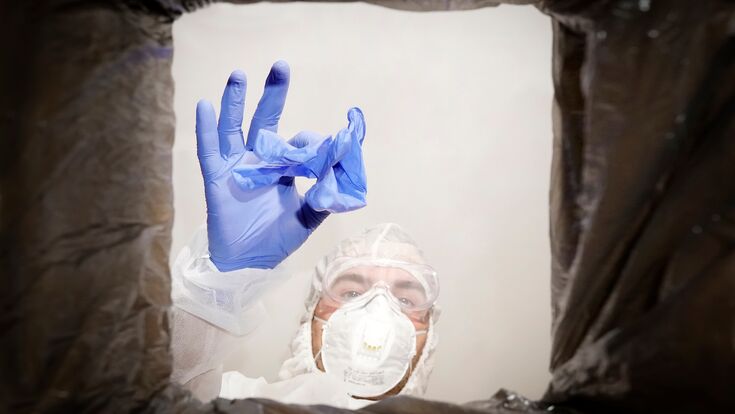 Even before the pandemic hit, safe waste management services for healthcare waste were sorely lacking globally – especially in developing countries. The latest available data (from 2019) from a World Health Organization (WHO) report indicates that one in three healthcare facilities worldwide does not safely manage healthcare waste. In the least developed countries (LDCs), only 30% of healthcare facilities have basic healthcare waste management services. This means a large amount of hazardous waste is subjected to uncontrolled disposal or open burning, or ends up in decrepit incinerators that fail to meet international standards.
The COVID-19 pandemic has led to an enormous increase in medical waste in the form of gloves, face masks, test kits, syringes and other products that are used and tossed away. According to the WHO, one and a half billion units of PPE (personal protective equipment), weighing approximately 87,000 tonnes, were procured between March 2020 and November 2021 and shipped to support countries' urgent COVID-19 response needs through a joint UN emergency initiative. This is equivalent to 261,747 jumbo jet aeroplanes. Not included in this number is the enormous amount of material that was acquired via other sources. All of this single-use PPE will eventually become waste. A study showed that more than eight million tonnes of pandemic-associated plastic waste have been generated by 193 countries as of August 2021. The pandemic is not just a global health crisis. It is also an environmental one.
No wonder scientists and companies worldwide are looking for ways to deal with the deluge of PPE waste. Social enterprise TerraCycle, for example, collects PPE through its Zero Waste Boxes, which are an "all-in-one solution to collect and recycle hard-to-recycle products and packaging," as Julien Tremblin, General Manager of TerraCycle Europe, explains. "The boxes allow anyone to recycle a range of waste that isn't included in traditional kerbside recycling collections, including PPE." Each box arrives with a pre-paid shipping label to send the waste back to TerraCycle to be recycled once the box is full. "The price of the box covers the entire shipping and recycling process, from us sending the empty box to the customer and the cost of the customer returning the box when it's full to the storage of the waste and the recycling process itself," says Tremblin.

The PPE Zero Waste Boxes are available to purchase in the UK, France, the Netherlands, the USA and Canada and can be bought by anyone looking for a zero waste solution to dispose of PPE. TerraCycle stores the collected PPE waste until the necessary volumes for processing have been achieved. "The waste is then sorted into categories based on material composition," says Julien Tremblin. "The different material types are then sent to third-party processing partners that recycle the materials into usable forms. For example, the polypropylene-dominant mixture from face masks is densified into a crumb-like raw material that is used in applications such as plastic lumber, and the elastane or rubber band portion is ground into a fine mesh regrind and mixed with recycled plastics as an additive to provide flexibility and malleability to products."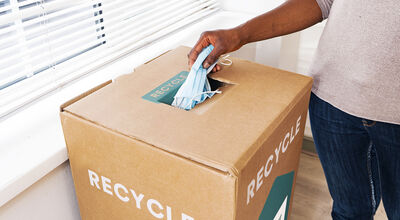 Is pyrolysis the solution?
For many, pyrolysis is the best way to get rid of the vast amount of PPE waste. It's by far the most widely researched conversion technology for plastic waste. Numerous companies around the world focus on plastic pyrolysis, including Plastic Energy, Recycling Technologies and Agilyx to name but a few.
Researchers at Cornell University in the USA have published a proposed technology framework for treating medical waste with pyrolysis. Scientists at Heriot-Watt University in Edinburgh are one step further. In collaboration with the UK's largest PPE manufacturer, Globus Group, they want to establish a new technique which will recycle 10 kg of waste PPE every hour. The Knowledge Transfer Partnership (KTP) project aims to turn the waste into a secondary raw material called pyrolysis oil, which can then be refined into new commercial products like new PPE products or fuels. As part of the initiative, Globus Group has implemented innovative sustainable thermal heating technology at its Alpha Solway factory in Golborne in North West England. Developed by Thermal Compaction Group (TCG), the machine has been designed to heat and compact the plastic polypropylene into large, reusable blocks. These are then collected and processed, providing raw materials which Globus Group can use to make new PPE products – reducing the company's PPE waste by an estimated 85%. The project, which aims to create a robust circular economy approach for plastics, will run for two years.
Potential contamination is an issue which is difficult to address when recycling PPE.
Aimaro Sanna, Heriot-Watt University
Hard to recycle

"Single-use personal protective equipment is hard to recycle due to process constraints such as energy intensiveness, labour intensiveness, separation problems and material properties/modifications because of the required thermal treatment that reduces the recycled material's durability and integrity," explains Dr Aimaro Sanna, assistant professor in chemical and process engineering at Heriot-Watt University and an expert in thermochemical conversion of biomass and waste material. "This makes recycling results more costly than the resulting materials are worth. Moreover, potential contamination is an issue which is difficult to address when recycling PPE."
Pyrolysis is therefore a promising technology for PPE from healthcare facilities too, since the contaminants do not withstand high temperatures. "In the process, dehydration, depolymerisation and fragmentation of the PPE produces volatile components, which are mostly quenched to produce liquid hydrocarbons (yield >90wt%)," the expert says. "The process under development at Heriot-Watt University takes advantage of heterogeneous catalysts to lower the operating temperature as well as enhance the quality of the recovered hydrocarbons by narrowing the carbon number range of the liquid product."
The main product of the pyrolysis process (oil) can then enter the petrochemical industry as an intermediate product for fuels, monomers and other added value products, serving the purpose of a circular economy.
Another advantage of pyrolysis is that it can process mixed plastics. "Although some sorting is still required (e.g. metal separation), it is not as labour intensive as for recycling," Dr Sanna explains.
After proving the technology at laboratory scale, Sanna and his team are now working in collaboration with Globus Group to assess the company's specific waste material and technical and non-technical issues to prove viability and scalability. Aimaro Sanna: "Many countries have been unable to process their plastic waste PPE properly. Our groundbreaking research aims to address these challenges, providing an exemplary technique for application globally."