Plastic Waste
:
State-of-the-art sorting of light packaging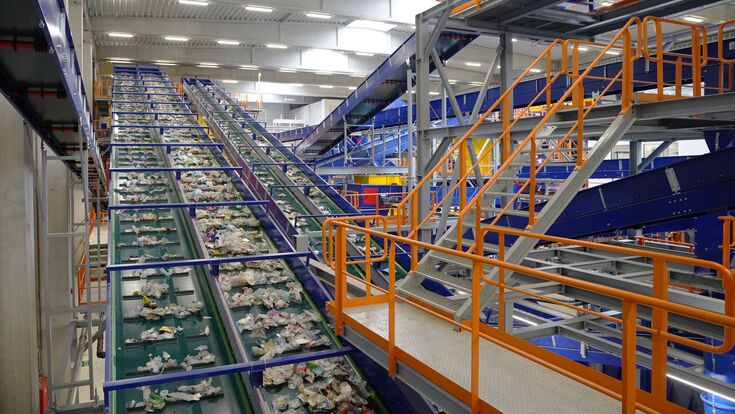 The new plant in Liège is designed for a throughput of 14.5 tonnes per hour. This means that 223 m3 of waste with a density of 65 kg per cubic metre will be processed every hour. The end result will be 17 separated fractions with purities ranging from 93% to 97%. At the same time, losses in the individual fractions will not exceed 2% to 5%. In addition to separation into different recyclable materials - such as aluminium, HDPE or PE film - the plant can separate different colours of PET into fractions. Among other things, the system will distinguish between clear, blue, other coloured and opaque PET types and sort them into pure fractions. Thermoformed PET trays are also identified and separated.
The extensive process technology required more than 1000 tonnes of steel and more than three kilometres of conveyors. Eggersmann Anlagenbau carried out the installation from May 2022 to January 2023 and was also responsible for the installation of all the electrical equipment and the control system.
Step into the future
Eggersmann Anlagenbau GmbH was not the only company involved in the project. Machines from BRT HARTNER and Eggersmann GmbH are also used as key machines in the complex sorting process. SITEL commissioned the engineering and architecture firms BSolutions and SEMACO to plan and coordinate the project.

"With this investment, SITEL has taken exactly the right step into the future. The amount of post-consumer waste continues to increase, while at the same time there is a growing awareness of the need for proper recycling of plastics. This, of course, increases the demands on sorting plants. In short, ever larger quantities have to be separated into ever more precise fractions," says Laurence Dauchy, Sales and Project Manager at Eggersmann Anlagenbau, summing up the current development. "We are very grateful to have been able to carry out this project for SITEL.

SITEL is part of the inter-municipal association Intradel, which includes 72 municipalities in the province of Liège. The construction became necessary because the facility previously operated by SITEL for the sorting of regional post-consumer waste could no longer cope with the increasing volumes and the addition of foils to the Belgian post-consumer waste collection system. As modernisation and expansion were not economic options, the construction of a new plant was put out to public tender.