Digitalisation
:
Vecoplan is consistently expanding its services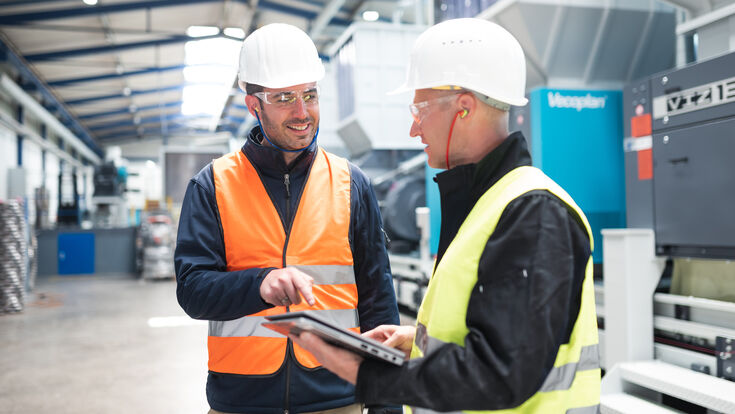 "The control panel plays a special role in the intelligent networking of machines and processes, because it's indispensable for optimal communication between man and machine," explains Jochen Pfeil, Head of Business Unit Service at Vecoplan.
Vecoplan also offers a powerful digitalisation concept with its Vecoplan Smart Center (VSC): One component is the modern communication interface VSC.connect. The integrated, intuitive VSC.control panel is a communication medium for the machine's control system and a live link to the Vecoplan technicians. By connecting to the cloud, Vecoplan technicians can use the panel to help employees with operation and service. "When service is required, our experts can use this to check the system and get it up and running again perfectly in more than 80 percent of cases," promises the Divisional Head.
Another option: With the help of cameras or data glasses, they look over the shoulder of the customer's service technician on site and help him to solve the problem step by step. Vecoplan has also created specially developed service tutorials that enable the customer to prepare optimally for the maintenance of the machine.
Vecoplan presented this digitalisation concept at LIGNA 2019. Since then, the company has added further digital services to its VSC. These include online commissioning, remote service, key performance indicators and access to a media database. To use these digital services, users simply need to network their machines via VSC.connect.
Stay connected - subscribe to our newsletters!

WLAN is also available
We designed a user-specific dashboard, which allows the operator to get an overview of all relevant values in real time at any time," says Pfeil.
There's also a news page that keeps users up to date with any upcoming errors and warnings. The message history helps users to resolve errors more quickly. Comments can also be added to messages. All lists can be exported as Excel or PDF files. The user is also supported by a data recorder that can record all actual values with a resolution of up to 100 milliseconds - and statistical data such as operating hours can be listed. As an option, the VSC can be equipped with a heavy-duty camera that provides live images of the shredding process to VSC.control and all other browser-enabled terminals on the same network.
"The user can connect to the VSC.control with any PC, tablet or smartphone," says Jochen Pfeil. "The device is automatically detected, and the risk of it interfering with machine operation is eliminated." Each VSC control panel brings visualisation to mobile devices. This means, for example, that the wheel loader driver can check the hopper level on his tablet at any time, and the plant manager has the current machine status on his smartphone at all times. Suppose there is no WLAN available at the customer's site. In this case, an access point is located directly on the machine - a central connection point for WLAN-enabled devices connected to the local network. Users can also connect to WLAN via a mobile network, so the customer doesn't have to provide his own network," explains the Vecoplan expert.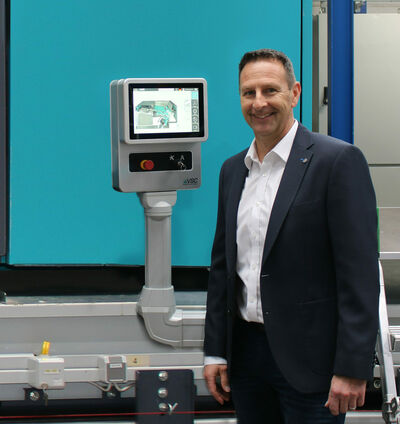 On site – worldwide
When it comes to designing and implementing customer systems, the personal presence of an employee on site makes the job much easier: Communication within the company is simpler and the number of interfaces is reduced. In recent years, Vecoplan AG has established subsidiaries throughout Europe. These are closely integrated into the Vecoplan Group, bringing sales and service even closer to the customer. The company currently has subsidiaries in the USA, the UK, Austria, Poland, Italy and Spain. "As of this year, we will also have a location in France," says Pfeil. By setting up Vecoplan France, the machine manufacturer is clearly focusing on service and sales. French customers now have local support.
"Experienced technicians and modern tools are available for service and the after-sales business," says Pfeil. "We also provide individual service level agreements tailored to customer requirements. Among other advantages, these also offer our customers extended on-call availability and increased operational availability of our machines and systems."
Optimised cutting crowns for safe processes
Good service also means supplying customers quickly with the right components, such as cutting crowns. These components must interact optimally with the counter knife and screen and be adapted to the respective input material. Vecoplan is constantly investing in its production and expanding its vertical range of manufacture. The machine builder also manufactures the cutting crowns and carries out material analyses in its own technology centre following shredding tests. The cutting crowns and rotor type are selected after an individual analysis of the specific material. "We offer diverse product groups with different properties," explains Jochen Pfeil.