Compost Fires
:
New technology minimises risk of compost fires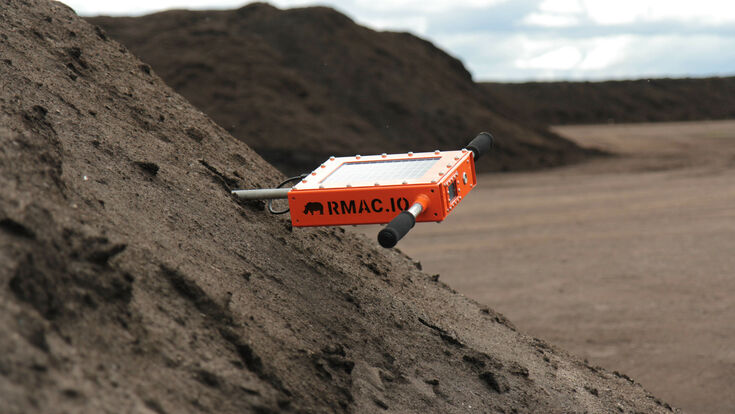 Compost piles produce an astounding amount of heat. This is essentially not a bad thing as temperatures of more than 55 degrees Celsius for at least 15 consecutive days is necessary to eliminate all pathogens and to turn food and other organic waste into valuable compost. But heat always bears the risk of causing fires. In order to better monitor compost piles the Australian City of Geelong awarded innovative start-up Rhino Instruments (formerly known as Sequence Digital) with a Clean Technology grant to develop special sensors that will reduce the risk of fires in the local biowaste processing facility.
High risk of fires
Combustible and recyclable waste materials (CRWM) are a risk for any waste and resource recovery facility (WRRF). In Australia each state and territory legislate the management of CRWM. Victoria, one of the most bush fire prone places in the world, has issued strict rules to minimize the risk and to monitor the waste material, arguing CRWM fires at WRRFs can take days to control and have resulted in evacuations of local communities, long-term health impacts, and first aid and hospital treatments. They can also cause short and long-term environmental harm.
The CRWM fire issue has been significant enough to trigger a Parliamentary Inquiry back in 2019. And too many fires at composting or recycling facilities have made it into the headlines.

Waste materials which may be considered CRWM include but are not limited to the following:
paper and cardboard
wood
plastic
rubber and tyres
textiles
biowaste
refuse-derived fuel (RDF)
electronic waste (e-waste)
metal and other materials with combustible contaminants
Temperature monitoring is necessary
"Poor temperature monitoring practices have led to many fires in Australia and so we set out to design a monitor with extremely simple operation in mind," says Patrick Blampied, Co-owner of Rhino Instruments. In 2018 the City of Greater Geelong approached the company because they were interested in remotely monitoring the internal temperature of the stockpiles in the local municipal council's Garden Organics Processing Facility. But existing solutions were not suitable for the harsh Australian conditions. "The site ran on generators so there was no reliable power or internet connectivity outside of operating hours," Blampied explains. "That's how we landed on developing an independent device, powered by solar and with its own modem for connectivity."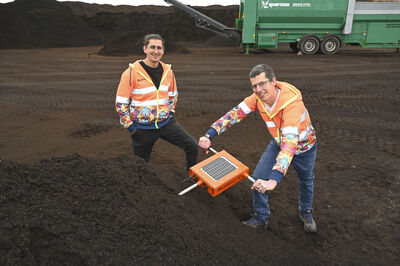 Easy to use sensor
The first prototypes had plastic enclosures and couldn't stand up to the conditions. "We found they were knocked around by contractors and faded quickly in the sun," Blampied says. Then they realized: There isn't much plastic at a rural site or farm. Everything is made of steel and for good reason. So, they came up with a an all-metal enclosure, Blampied explains: "The sensors are virtually indestructible now. The high-quality powder coating looks amazing and won't fade, but it's also functional. The bright orange stands out on the brown backdrop of compost reducing the chance of them being missed while work is carried out around the site."
The device called RM1 has a 4G LTE modem inside, is rated IP67 waterproof to withstand harsh weather, and is powered by the sun so there is no need to actively recharge it. It also is very easy to install and put into operation. "The RM1 only has one button. The operator can insert it into a stockpile, make sure the panel is facing the afternoon sun, press the button, and be monitoring temperatures round the clock, without the need for any training," Patrick Blampied says. "Day to day they are designed to be maintenance-free devices as they are charged passively by the sun. All batteries do lose capacity over the years though so we have designed the RM1 with repairability in mind. You can purchase replacement batteries from us and follow a simple DUY replacement guide."
According to the official guidelines by the Environmental Protection Agency of Victoria (EPA) the internal temperature of each stockpile is recommended. One unit per stockpile is ideal if you want to automate the temperature recording, however, the unit can also be moved around.
Although the sensor's use has so far been limited to compost, it can also be used for other materials and higher temperatures.
Planning on going global
Currently, they are available to purchase in low volume. After the completion of the pilot with the City of Greater Geelong in early 2023 Rhino Instruments plans to scale up production. "This will allow us to make any last-minute adjustments after monitoring their performance through another harsh Australian summer."
The RM1 has an industry standard 4G LTE modem inside allowing it to be used on the different LTE bands used globally. "At this point, we have only completed compliance for the Australian market however we intend to expand to other markets," Blampied adds.