Plastic Pollution
:
UN agrees on "biggest environmental deal since Paris"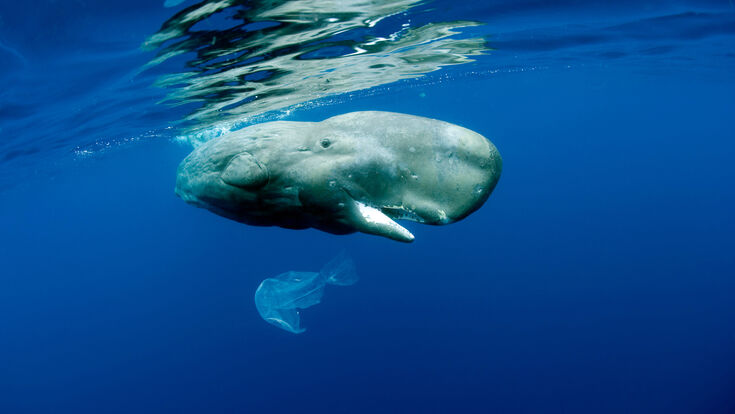 The 5th UN Environment Assembly (UNEA) concluded in Nairobi with 14 resolutions to strengthen actions for nature to achieve the Sustainable Development Goals. Undoubtedly the greatest achievement is the adoption of a resolution to develop a legally binding treaty to end plastic pollution by the end of 2024, on which UN member states unanimously agreed. Inger Andersen, Executive Director of the UN Environment Programme (UNEP), said this was the most significant environmental multilateral deal since the Paris Climate Agreement in 2015. Amina J. Mohammed, Deputy Secretary-General of the UN, added: "Today,
no area on the planet is left untouched by plastic pollution, from deep-sea sediment to Mount Everest. The planet deserves a multilateral solution ­that speaks from source to sea. A legally binding global
agreement on plastic pollution will be a truly welcome first step." Environmental organisations such as WWF (World Wide Fund for Nature) welcome the historic decision and call on governments worldwide to act.
UN member states have decided that the following elements should be considered in the development of the new treaty:
Global targets to combat plastic pollution in the marine environment and other areas, and their impacts.
Global commitments and actions along the entire life cycle of plastics, including product design, consumption and waste management
The inclusion of key, policy-relevant scientific information and assessments
A mechanism to provide financial support for treaty implementation, in particular to enable poorer countries to meet their commitments
National and international cooperation measures
National action plans and reporting on the prevention, reduction and elimination of plastic pollution
Assessment of progress in the implementation of the treaty
The resolution recognises the role of the private sector and civil society in the development and implementation of the treaty and emphasises that the problem should be solved through measures along the entire life cycle.
Along with putting an end to plastic pollution, a second key resolution supports the establishment of a comprehensive and ambitious science policy panel on the sound management of chemicals and waste and preventing pollution. The Ministerial Declaration recognises humanity's failure to date to manage chemicals and waste, a threat that is further aggravated by the COVID-19 pandemic through the widespread use of single-use plastics and disinfectant chemicals.
In the spirit of the UN Decade for Ecosystem Restoration, a third key resolution agreed by the Assembly focuses on nature-based solutions: actions to protect, conserve, restore, sustainably use and manage ecosystems. The resolution calls on UNEP to support the implementation of such solutions, which safeguard the rights of communities and indigenous peoples.