Interview
:
"Investments are needed to create proper waste management in the Caribbean"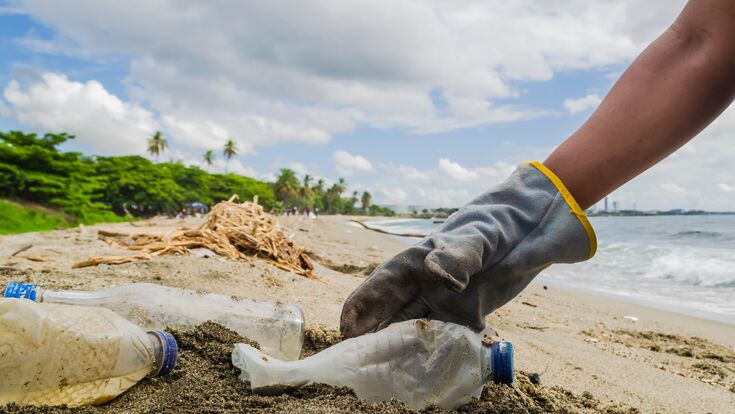 In their report "Circularity and blue economy in the Caribbean: Drivers and Business Opportunities" Patrick Dorvil and Clifford Louime take a look at the situation of waste management and circular economy in the Caribbean. Mismanagement of solid waste has become a serious threat to the climate, the environment, and economic development in the entire region, they write in their report. The necessity of proper waste management to be able to achieve the climate goals and meet mitigation targets is a point often made by experts. Read here and here.
Dorvil and Louime argue that there is an urgent need for a paradigm shift, where a new approach with sound waste management should be considered as pre-requisite to
sustainable economic development, gender equality and women's economic
empowerment. "Simply put, proper SWM is a human Right!"
To achieve that of course, investments are urgently needed. In our interview, they talk about the situation in the Caribbean and where investments are needed urgently.

What is the situation of waste management in the Caribbean?
When it comes to waste management, most Caribbean countries are facing what seems to be an insurmountable challenge. Not only, there is a lack of financial resources and technical knowledge but there is also no adequate waste treatment in place. In addition, over the past decades, the amount of waste generated in urban areas has been considerably increasing. Lately, this issue has been exacerbated by climate change. In addition, when one considers that most of these nations are dependent on a so-called natural resource-based economy, one can picture how bleached the future may look for them if this problem is not addressed properly. That being said, since this is a global issue, this will require a global response, where actors such as international organizations and the private sector should foster a new paradigm shift.
What are the effects of poor waste management systems in the Caribbean?

Poor waste management in the Caribbean means not only a low collection rate but also open burning dumpsites of waste. All these translate into health and environmental disasters. Cancer-causing dioxins are regularly emitted through plastic burning in the region. In addition, uncollected wastes find their way into canals or rivers' mouths and ultimately the open ocean where marine animals are subjected to ingestion of these objects. This has already led to the mass killing of fish and a reduction in marine biodiversity, the most popular characteristic of the region. Ultimately, poor waste management is affecting tourism, which the region's economy depends on.

Has the Caribbean been forgotten in terms of investing in and installing working waste management?
Waste management in the region has not been always part of the political agenda when it comes to public policy. The issue has always taken a back seat when it comes to government budgeting and priorities for national development. Nonetheless, due to Climate-Change related issues like the release of harmful gases in to the atmosphere, plastic waste into the ocean, etc. waste management –as public goods- cannot be considered anymore as a regional problem. There is an urgent need for a new financing landscape including different national and international stakeholders. However, money alone will not be sufficient; there is a lack of expertise on the issue. Thus, capacity building is equally important towards positive impact in the sector.

Why is it essential to improve solid waste management?
The COVID-19 pandemic has shown us that waste service is considered systematically relevant such as food and police services. Solid waste management in the Caribbean impacts all sectors of development: Healthcare, tourism, food industry, drinking water, etc. Therefore, most countries in the region need to establish a legal framework that deals with the issue. In addition, improper management of Solid Waste in the Caribbean has become an issue of global significance. This can no longer be ignored. SWM has direct implications for our global climate. At the local level, solid waste management has to be improved as it has far-reaching consequences. Improper solid waste management can only exacerbate the population health conditions, but also the natural ecosystems that the economy of the region relies on.
What are the most important steps to improve waste management? Where should the most investment be made first?
The challenge is immense. Especially, when you consider that many countries do not even have Solid Waste Management legislation to govern the sector. Concretely, we would propose a phasing approach. Due to the lack of financial means, one shall not expect to solve the problem all at once. Therefore, a 5-years programming period could be put in place to address first the basic infrastructures like the acquisition of collection equipment, the closure of open dumpsites, the construction of sanitary landfills while addressing the institutional reform urgently needed. In addition, we underline the necessity of Technical Assistance envelops dedicated to strengthening capacity in the sector. Finally, material and energy recovery from waste shall be part of any strategy in the region.
What would be the minimum overall investment required to achieve a real improvement?
The investment needs in the region are immense given in many countries, basic infrastructure like the waste collection is lacking. For the first phase of implementation (5 years) we have estimated that some 1.6 bn Euros are needed in addition to an envelope for Technical Assistance of around 10 m Euros. However, by considering the economic loss of bad waste management (5 % est. in some countries), this can be considered as viable. In other words, one shall not just only focus on investment needs but also the return for the entire economy (sustainable healthcare, more tourists, more biodiversity, more food production, less migration, etc.).

What business opportunities do you see for waste management companies in the Caribbean?
Endless!
Renewable Energy generation: Governments in the region spend millions of dollars every month to generate electricity from heavy oil, which is detrimental to our climate. Generating electricity from waste would have a double impact on the economy and the environment. Recycling is another one: It is currently being done on a limited scale. Electronic devices like mobile phones, computers, etc. contain precious metals like rare earth. Other recycling materials comprise plastics, paper, cardboard, and batteries. Due to the proximity of important markets like the USA, this business opportunity could be scaled up with proper sorting and recycling facilities.
What would be the effects of improved, proper waste management?
Proper management of solid waste could increase the GDP of a given country by up to 5%. As proper waste management is vital for health, the climate, and the economy. Substantial investments are needed in the Caribbean region. Projects promoting proper waste collection would have a positive impact on the climate and healthcare. Other positive economic returns include jobs creation, especially for women. Women are heavily involved in waste sorting. By providing a proper working environment and salaries for such labor, this effort could elevate most of these societies in ways never seen before.
About
Dr. Clifford J. Louime is an Environmental Sciences Professor at the University of Puerto Rico (UPR) in San Juan. His main research focus is marine biomass valorization, thereby capitalizing on the island's readily available marine resources. Before joining UPR, Clifford was a Fellow of the Broad Institute of MIT and Harvard, created the FAMU BioEnergy Group in Florida, and researched the Brazilian Ethanol Program. Dr. Louime graduated with a doctorate degree in Environmental Sciences from Florida A&M University and has been researching and teaching in the BioEnergy field for over a decade.
Dr. Patrick Dorvil has been working as Senior Economist in the Circular Economy Division at the European Investment Bank since 2008. Prior to joining the Bank, he worked as a consultant engineer for several international consulting firms in a variety of countries. Dr. Dorvil studied Civil Engineering in Stuttgart, Germany and holds a Ph.D. in Economics from St Gallen University in Switzerland. Dr. Dorvil currently teaches Master-level students in the field of Circular Economy and Environmental Economics at University College London, UK, and at the Institute "für Angewandtes Stoffstrommanagement – Hochschule Trier" in Germany.