Advanced Training
:
ISWA Study Tour: Collection – Sorting – Recycling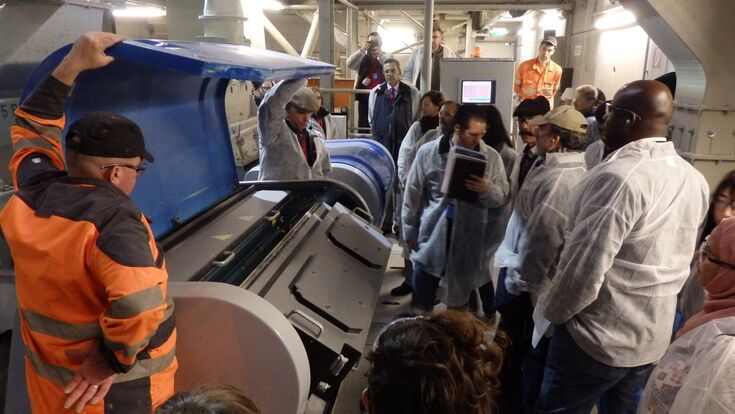 The fifth edition of the ISWA Study Tour on Collection, Sorting and Recycling will take place in Austria this year. So far, in the four previous tours in 2014, 2016, 2018 and 2019, we have welcomed more than 60 participants from four continents and over 25 different countries. After a Covid-related break, we are again offering this comprehensive hands-on tour on the topics of separate collection, sorting of waste streams, and preparation for the reuse and recycling of separately collected waste to interested waste management staff from all over the world. The tour will take place in and around Vienna, Austria from 8 to 12 May 2023. An insight will also be provided into current reuse activities. This intensive tour week will be rounded off by an introduction to Austrian culture and hospitality.
The idea behind the study tour
When we started to develop a new concept for a study tour on separate collection and recycling in Austria in 2013, we specifically wanted to focus on practical implementation, away from pure theory taught in the lecture hall to a tour that leads from one plant to the next and where you can see how separate collection, sorting and recycling are directly implemented in practice. The study tour also gives participants the opportunity to speak to experts who are deeply involved in everyday work with different kinds of waste streams.

The study tour will show how waste professionals in Austria deal with the challenges of a modern circular economy. What's important is real feasibility, in both technical and economic terms. Therefore, in addition to public facilities of cities and municipalities, the technical tours will primarily visit privately managed companies that are in active economic competition.
What's new in 2023
We will start with an online meeting two weeks beforehand to introduce participants to each other and to provide a brief initial overview of sustainable waste management. This will also be an opportunity for participants to raise any concerns they may have, which will be taken on board if possible. The content will be closely coordinated with the ISWA Working Group on Recycling and Waste Minimisation. The focus will also be on the development of a functioning waste management, examining which measures should be put in place in order to achieve defined goals. Participants will also have time to network after the tour.
…and what else to see in Austria
Beside our waste management topics, we will also try to see a little of Austria's culture. We will go on a guided walking tour through the centre of Vienna late Monday afternoon. As well as tasting some typical Austrian food in several restaurants, another highlight will be our overnight stay in a hotel near the famous Wachau: a landscape where the River Danube flows through a beautiful valley with many vineyards and colourful fruit trees – a world heritage site. From the windows of the restaurant, we will have a view of the Austrian mountains – and in previous years, our friends from the Arab countries were very lucky because there was still some snow on the higher mountains!
Programme at a glance
Monday, May 8th:
Seminar in Vienna: overview of Waste Management in Austria with a focus on Sustainability, Circular Economy and Extended Producer Responsibility. Guided Walking Tour through the City of Vienna.

Tuesday, May 9th:
On Tour around Vienna and Krems: Site visits to explore household and commercial waste collection, from composting and treatment of Biowaste to sorting of plastic packaging.

Wednesday, May 10th:
On Tour around Wels: Technical site visits learning about paper production and collection, Re-Use Shop and reselling secondary raw materials.

Thursday, May 11th:
On Tour around Pöchlarn and Amstetten: Technical tours of the complete process of glass recycling, followed by a technical tour on sorting and recycling of metals and electrical and electronic equipment.

Friday, May 12th:
Seminar in Vienna: rounding off the Study Tour with discussions on Financing Waste Management, waste prevention and a visit to a "Re-Use" Shop for a goodbye
lunch.
More information: www.iswa.org/study-tour