Business Talk Digital Deposit Return System
:
Let's talk about Digital DRS with re-universe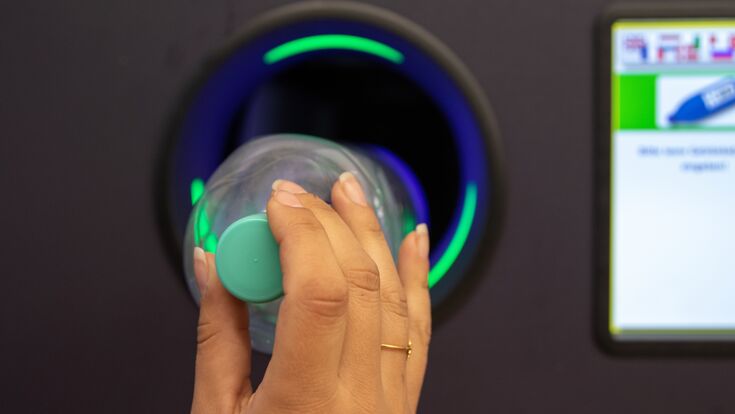 How does a digital deposit return system work?
A Digital DRS, such as re-universe, is a new approach to the drinks Deposit Return Scheme, using technology to bring convenience, engagement and traceability to the government led initiative.

Digital DRS enables the capture of in-scope drinks containers (of any size or material) at any digitally enabled recycling return point, which can include home kerbside recycling boxes, on-the-go recycling bins or instore return points.
To take part, a user simply scans the recycling return point, such as their home kerbside recycling box then scans the product unique code (such as a QR code). The codes match and capture the return, and the user receives their deposit back via the app.

What are the advantages compared to a regular DRS?
Traditional DRS systems rely on a return-to-retailer model and the use of fixed Reverse Vending Machines to automate the process, whereas a Digital DRS allows the point of deposit return to be closer to the point of product consumption, allowing a far greater range of return points to be offered to the consumer.

This also means that Digital DRS uses existing waste infrastructure, such as kerbside collection systems, resulting in lower implementation and running costs, and reduced carbon. In fact, Resource Futures found a digital DRS could reduce implementation and running costs significantly, by £3.3bn over 11 years when compared with an all-in reverse vending machine-based option as modelled by DEFRA.
Using serialisation, Digital DRS can track-and-trace items through the supply chain through unique coding, bringing transparency, traceability, and accountability.

Digital DRS is a simple to use, low effort scheme which will encourage increased consumer inclusivity, engagement, and convenience.
Within a Digital DRS there is also scope for widening the scheme beyond just drinks containers, and data capture will enable brand owners and retailers to further encourage recycling through reward schemes similar to loyalty cards.
What information is provided for the users and the clients respectively?
Digital DRS provides rich data, insights and modelling which can help clients monitor their products' packaging and recycling attributes. Unique coding enables track-and-trace of items and impact. This enables informed decisions to be made regarding sustainable packaging choices, product reach, distribution, and engagement with consumers.
Users will be able to source usage data which confirms their good recycling behaviour, such as their returned deposits and potentially accumulated loyalty points which in turn can be rewarded by brand owners and retailers. With re-universe, users can view their own and their communities' impact, and explore product provenance and brand sustainability values.
What are the costs for consumers and clients?
The re-universe platform is free of charge for consumers. Clients will be able to negotiate bespoke packages depending on the scheme.
How can it help to increase recycling rates?
It is well documented that Deposit Return Schemes reduce litter and increase recycling. By placing a monetary deposit on each drink's container, people see value in their used packaging and there is a greater return for recycle to redeem the deposit.

The Digital DRS takes this a step further, making the return of items as easy and simple as possible through a consumer facing app and the ability to use home kerbside recycling boxes. Reward4Waste pilots have seen an impressive 94% return rate.
Digital DRS is a simple to use, low effort scheme which will encourage increased consumer inclusivity, engagement, and convenience.
Tony McGurk, re-universe
How safe is the app for the users in regard to data protection?
re-universe harnesses the power of Industry 4.0 to facilitate the return and reuse of containers using unique coding and smart technology. The app uses green Blockchain and A.I. to prevent fraud, manage provenance, bring insights, and model data.
What sets your system apart from others on the market?
re-universe is unique in that it has delivered two world-first pilots on Digital Deposit Return Schemes and is recognised as a Digital DRS pioneer.

The first ever Return for Reward Digital DRS pilot was run by re-universe two years ago in Whitehead NI with Bryson Recycling and Mid East and Antrim Borough Council, supported by BRITVIC PLC NI, PepsiCo Encirc and SPAR Whitehead.

Independently researched by Queen's University Belfast, the pilot was run on all drinks containers, from plastic, glass, cans and cartons and users received a reward for their good recycling which included SPAR vouchers or the ability to donate to charity. Variable rewards ranged from 10p to 20p per container recycled.

re-universe saw very high consumer engagement in the pilot and there are now similar pilots taking place from other Digital DRS organisations. We are proud to have led the way.
The second re-universe pilot was run with the IWMA (Irish Waste Management Association) in conjunction with Panda, to prove the concept of a Digital DRS using participants from Panda's household waste collection in Dublin. This was a world-first pilot, testing citizen engagement and return rates for digital deposit and return technology.
The key difference with this trial in comparison to others is that customers paid a deposit on the items purchased and redeemed the deposit when they placed the containers in their recycling bin at home. The trial also tracked the containers from the point of purchase, to consumer, collector, and arrival at a sorting facility.
The aim was to prove that when using Digital DRS, the percentage return of packaging in the system is comparable to that achieved by the 'return to retail' conventional deposit return schemes that uses a combination of reverse vending machines and manual take-back.
The trial demonstrated an impressive 94% return rate.
What role do you think technology will play in the future of reuse and recycling?
Circular economy models are high on everyone's agenda. Citizens are quite rightly demanding change and expect organisations and brands to lead the way.
Technology and data help brands enable sustainable initiatives including reuse and recycling, connecting and engaging with their audience and bringing transparency to supply chains. Data can be leveraged to enable informed decision making.
By harnessing technology, we can change the way people think about waste and incentivise consumers to do the right thing at home. The UK is in a prime position to capitalise and be a global leader in this charge.
How can companies explore the benefits of reuse and recycling technology?
re-universe is a reuse and recycling digital platform which facilitates the return of items (such as drinks containers, coffee cups, food containers and clothing) for reuse or recycling using unique coding and smart technology.

Forward thinking organisations are already working with Reward4Waste to explore the benefits that a digital platform can bring.
Most recently, evian partnered with re-universe at Wimbledon to run a Recycle for Reward initiative, incentivising visitors to recycle their drinks containers with the opportunity to win tickets to The Wimbledon Finals 2023. Visitors simply scanned the product barcode and the recycling return point when recycling which captured the return to enter them into the free prize draw.

With several exciting projects lined up for 2022 / 2023, Digital DRS is set to revolutionise consumer recycling behaviour and push recycling rates up for the benefit of everyone.