Recycling
:
Polystyrene Recycling: Difficult but not impossible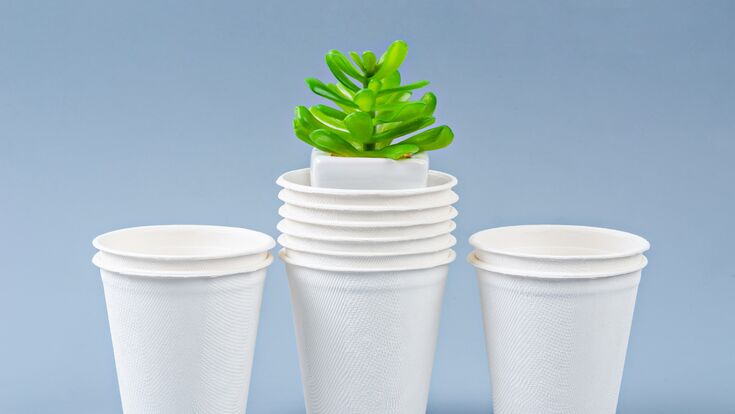 Today's plastics deliver numerous benefits, without doubt. And they are a key material in innovations. But they also are one of the biggest challenges for the waste management industry. They are responsible for the high CO2 levels in incinerators. They contaminate biowaste streams. And they present a certain challenge for recyclers. But never the ones to shy away from a challenge, plastics recyclers worldwide have come up with brilliant ideas to deal with the different sorts of plastics. And it seems the innovations keep coming. Especially in chemical recycling – a sector that is now also seen by plastic producers as worth further investment. In 2021, European plastic producers planned significant investments in chemical recycling technologies, increasing the planned amount from €2.6 billion in 2025 to €7.2 billion in 2030. This is a trend that can be seen worldwide. Japanese polystyrene producer Toyo Styrene recently started constructing a 10-tonne-per-day chemical recycling facility in Japan, enabled by Agilyx depolymerisation technology. The recycling plant will convert post-use polystyrene into a styrene monomer that will be purified using Toyo Styrene's proprietary purification process.
Weathering the crisis
The COVID-19 crisis did not pass the waste management industry by, with many companies struggling. Overall, recycling activities faced serious difficulties. But end-of-life management was able to increase the circularity of plastics. The recycling rate increased, in fact, while the quantities sent to waste-to-energy plants remained stable and quantities sent to landfill actually decreased. In 2020, almost 10.2 million tonnes of post-consumer plastic waste were collected and sent to recycling facilities in and outside Europe. (see Figure 1 and 2).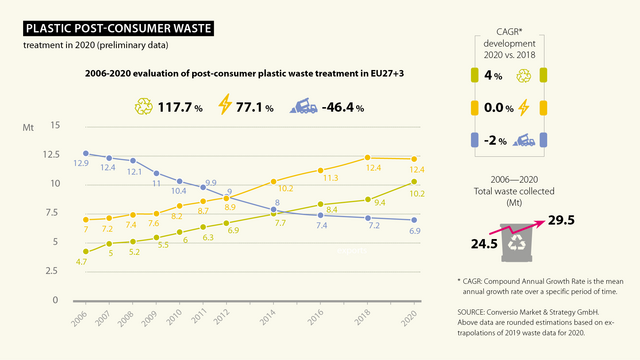 What about polystyrene?
While polypropylene (PP) accounts for the largest share of plastic produced, closely followed by polyethylene (PE), polystyrene is a relatively small fish for the recycling industry to fry (see graphic Grafik EU 27.3 plastic demand by polymer types). And not only that – the fact that it very often has a high level of contamination makes it hard to recycle, as Tim Stedman, CEO of advanced recycling company Agilyx, says: "Polystyrene is oftentimes found in food contact applications and is viewed by many as 'unrecyclable' because it can be very dirty and contaminated and would potentially require a significant amount of pretreatment for many recycling systems." But the addition of other materials also influences recyclability, as Sander van Donk, Head of Global Technology Business at Sulzer Chemtech, explains: "For example, PS that is used by consumers often contains additives to modify the properties of the polymers or to make it more flame retardant and these must often be removed from the material since they can no longer be used for new products. This step is the most challenging"

Want to read the whole interview with Sander van Donk? Click here!
Both companies have developed technologies to deal with even the most hard-to-recycle PS. "We are able to take dirty, contaminated plastic and feed it directly into our system to chemically convert," says Tim Stedman. Post-use polystyrene is converted back to its chemical building block as a styrene monomer oil. This material is then used to create new virgin-equivalent PS products. "Agilyx technology does not use a catalyst, which means that it can use the most distressed waste as a feedstock," Stedman adds. "It is also highly flexible – the same core technology can be used for multiple products according to customer needs."
However, both Stedman and van Donk agree that source separation is what really makes a recycler's life easier. And to achieve real circularity, it must be possible to recycle all different sorts of plastic. The recyclers are ready. But of course, it helps if materials can be created that are easier to recycle to begin with.