Marine Litter
:
The shark that collects waste and data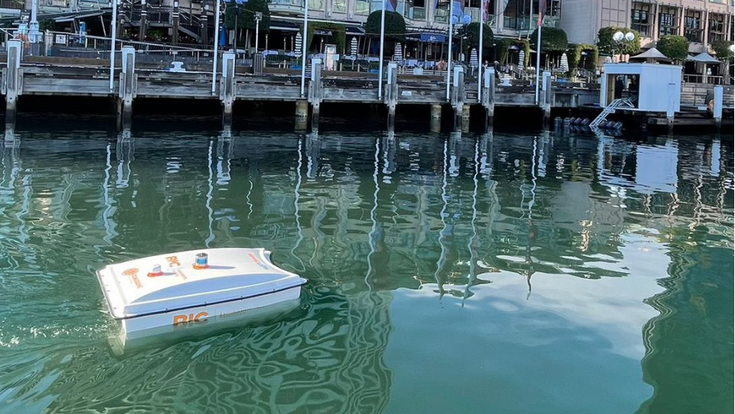 The idea for the WasteShark originated in South Africa, where developer Richard Hardiman comes from. "I saw two people collecting waste from the water with a fishing net. I thought: 'Surely this should be possible in a different way and, above all, more effectively?' With a product that can clean up waste without anyone being there. During this time I became a father and I became more aware of the aspect of sustainability. I wanted to do something good, also in my work. That's actually how the idea for the WasteShark came about. I am an engineer and started with the concept. After a while, I got in touch with the PortXL programme in 2016, so I was able to further elaborate my idea within my newly founded start-up RanMarine."
Waterrobot
Hardiman came to the RDM site where he further developed his shark: "The WasteShark is a mini water robot that floats on water and can drive autonomously. It searches the surface of the water for plastic, waste, pollution and other things that do not belong in the water. The WasteShark collects the rubbish in its "open mouth" and brings it to the shore. The Smart Shark can also collect natural material that affects water quality, such as duckweed, algae and aquatic plants. It also collects data on water quality. For example, it can monitor whether outdoor waters are suitable for swimming."
The WasteShark is controlled via 4G, has a range of 3 km, reaches a speed of 3 km/h and can swim for about 6 hours. The water robot is 1.57 m long, 1.09 m wide, 52 cm high and weighs 75 kg.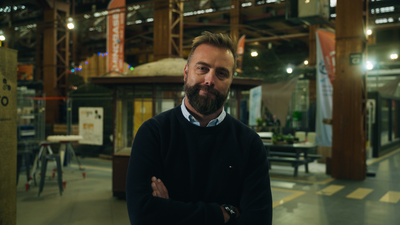 There are several people and organisations that collect waste from water with their inventions. How is the WasteShark different from others? Hardiman: "It is a simple, elegant and efficient solution. The WasteShark is emission-free, so it leaves no exhaust or other contaminants in the water. It is easy to use. That was also our concern: We wanted to develop a device that collects as much waste as possible in an uncomplicated, practical way. And that can be used in a simple way and by as many people as possible. If you have a bigger car, you can take it with you in the boot. This shows: The WasteShark is user-friendly and suitable for a large user group."

The WasteSharks are now on the road all over the world: from South Korea, Australia, the United States and England to the Netherlands where it is in use in the port of Rotterdam. They are used in marinas and recreational harbours, industrial ports, in the tourism sector and by government agencies or organisations such as WWF (World Wide Fund for Nature) and the United Nations that want to keep canals, lakes and rivers clean, for example.
Million sharks
How does Hardiman see the future? "I am not against plastic, it is a practical product. But we have an enormous mountain of waste that ends up in the environment. It's about how we can recycle plastic even better. We can still make great progress in this area and the WasteShark contributes to this. My dream is that millions of WasteSharks swim around the world. Not only to collect waste, but also to collect data. We need to know what is in our waters and not just look at what is floating on the surface. With this data we can learn how to improve and maintain quality!"