Interview Waste-to-energy and CCUS
:
Kenneth Juul: "We believe CCUS will be a license to operate for WtE in the future."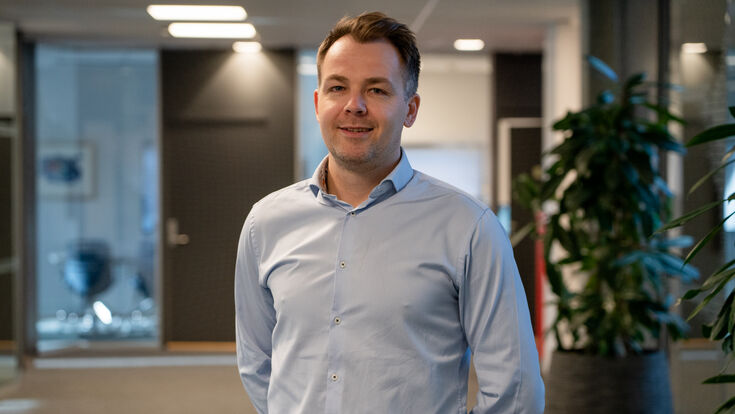 The International Energy Agency's (IEA) Sustainable Development Scenario sees carbon capture usage and storage (CCUS) as an important pathway for the energy sector to meet the targets of the Paris Agreement. According to the report, 15% of the global emissions reduction can be delivered by CCUS. But to be able to achieve this, the installed capacity of CCUS needs to increase one hundredfold by 2050. The waste-to-energy sector is especially keen on implementing the new technology, especially in hindsight of potentially being included in the EU ETS. Several new projects are now launched.

One is by the Norwegian start-up Carbon Centric. Established in 2021 by an entrepreneurial team and the power producer Østfold Energi, the company specializes in developing climate-positive projects with carbon capture from waste and bio-incineration. Now Carbon Centric together with Eidsiva Bioenergi, Norway's third largest district heating supplier, intends to establish carbon capture on the waste incineration plant at the Trehøringen Energy Center in Hamar, Norway.
From waste to resource
The Trehøringen plant is currently responsible for the treatment of residual waste from local municipally owned corporations and local businesses. The surplus heat is used for district heating, which supplies the City of Hamar and the surrounding area with renewable energy, industrial steam, and electricity. According to the partners between 50,000 and 70,000 tonnes of CO2 can be extracted from the flue gas. It will capture more than 80 percent of CO2 emissions from the combustion process. This will result in a capture volume equivalent to 5 to 6 tankers per day with liquid CO2, or the annual emissions of 11,000 to 15,000 fossil fuel cars. The goal is for the capture plant to be operational in 2025.
Initially, the captured CO2 will be used, but in the long term, it will be possible to store parts of the volume. In the meantime, carbon capture from sustainable sources ensures that more biogenic CO2 enters the market, which contributes both to displacing CO2 from fossil sources and the creation of new sustainable products.

Carbon Centric is also in the process of building a platform for carbon capture and handling of CO2. With the realization of this project, the company will reach a total catch volume of 170,000 tons.
In our interview, Kenneth Juul, Carbon Centrics Chief Commercial Officer talks about the future of CCUS and WtE.
Are WtE plants especially well-suited to be combined with CCUS technology?
Yes, absolutely. Firstly, I would like to point out that WtE plants have an important role in the material recycling and waste handling system. Energy recovery serves as the end station for waste that cannot or should not be recycled. If we compare this to the landfill alternative, a WtE plant reduces GHG emissions by approximately 2/3. Combined with CCUS technology, it is possible to further improve the emission numbers, and potentially reach net negative emissions.
WtE plants are well-suited to be combined with CCUS technology for several reasons:
WtE facilities have a high concentration of carbon dioxide in the flue gas.
A byproduct of this waste handling method is that it produces heat, which is necessary for the carbon capture process.
WtE plants handle waste year-round and, in many cases, there is a considerable energy surplus. Since carbon capture plants need energy all year, they can improve the overall energy utilization of the WtE plant.
The waste being treated contains a substantial portion of biogenic content: 1. Using carbon dioxide from biogenic sources (CCU) will often result in a displacement effect on fossil CO2 source. 2. Storing carbon dioxide from these fractions permanently (CCS) results in negative emissions, e.g., pulling CO2 out of the atmosphere.
What are the advantages for both technologies?
The main advantage for the WtE plant is improved energy utilization. In addition, a result of carbon capture is a reduction in the overall emissions to air, not only CO2 but also fly ash, SOX, and other compounds. For the plant owner, this means increased revenue and, if the carbon is sent to storage, it reduces any fossil taxes/EU ETS obligations.
The advantage for the CCUS technology, being used at WtE, is access to heat, and a high concentration of CO2. Concentrations of CO2 in the flue gas is typically 20-35 times higher than in ambient air. This is obviously an advantage with point source capture, in comparison to direct air capture. There are around 500 WtE plants in Europe alone, in addition to hundreds of bio incinerators, and with our standardized and modular capture concept, we can deliver cost-efficient plants, bringing the overall cost of CCUS down.
Are there disadvantages?
There is an energy consumption associated with carbon capture, but with increasing fossil taxes and the forming markets for carbon dioxide removal credits, it is possible to establish economically feasible carbon capture today. It is part of Carbon Centric's value proposition to finance and operate the CCUS part of the WtE plant.
To reduce the net energy consumption, it is possible to optimize heat integration. We can utilize the residual energy from the capture process and in the flue gas, and we can use high-efficiency heat pumps to reduce the net energy usage. In some cases, we have seen increased electricity production, and in other cases, we have seen increased heat production, as a result of adding a capture plant.
Do you think there will be a CCUS unit for every WtE plant in the future?
Yes, we believe CCUS will be a license to operate for WtE in the future. It is already on the path to becoming part of the best available technology reference document (BREF). In addition, we also believe increased fossil taxes will incentivize the incinerators to start with carbon capture regardless of the BREF. The EU parliament has voted to include WtE in the EU ETS, and this could come into effect after 2026. We believe ETS on WtE will increase the gate fee across the EU, making CCUS on WtE a viable system.
What is the CO2 used for in this facility?
We develop several production sites in parallel and it is our task to balance production and consumption. We would like to minimize dependency between one specific producer and one specific consumer and improve the regularity of both supply and offtake. Providing a CCUS and CO2 handling platform is therefore an important part of our value proposition.
We have announced an MOU with Norsk e-Fuel, a Norwegian company specializing in producing sustainable aviation fuel (SAF), that will get CO2 from our platform. We have also announced an agreement with Linde Gas that will purchase CO2 from another of our production sites. In parallel, we are always considering permanent storage options.
Why will it be stored in the long run? Is this the better solution?
In Europe, there are no commercially available storage facilities as of now, so in the short term, the only option is CCU. But when storage becomes available, it will be a case-by-case evaluation of whether it is better to store or use. The world needs both CCU if it leads to emission avoidance and CCS that stops fossil CO2 from reaching the atmosphere and/or removes biogenic CO2 from the carbon cycle. It will also be a question of EU ETS pricing, transport/storage costs, liquid CO2 price, and EU regulations.