E-Vehicles
:
Republic Services introduces industry's first fully integrated electric recycling and garbage trucks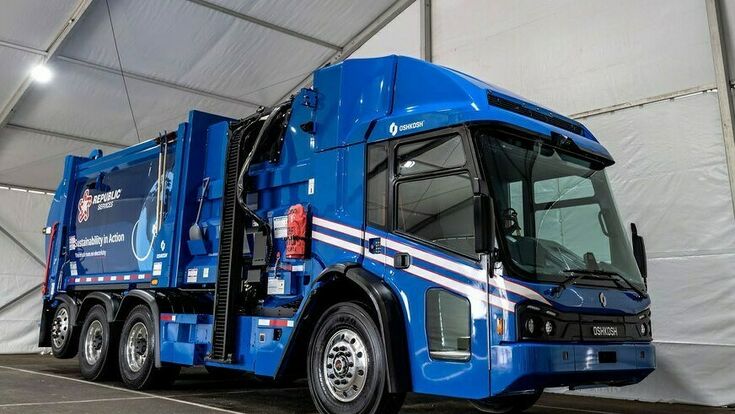 Republic Services, a leader in the environmental services industry, announced plans to significantly expand its electric truck fleet through a long-term agreement with Oshkosh Corporation. The company will begin operating two fully integrated electric recycling and garbage truck prototypes this fall and expects electric trucks to account for half of its new truck purchases over the next five years.
With 17,000 trucks, Republic operates the fifth largest vocational fleet in the US, with electric collection trucks currently operating in two states. The company has made the industry's largest commitment to fleet electrification through a multi-vendor strategy. Oshkosh's McNeilus business unit is one of Republic's long-time suppliers of recycling and refuse truck bodies.
E-Trucks ideal for Waste Collection
The recycling and waste collection business is well-suited to electric vehicles, as the trucks follow consistent routes and return to a base to recharge overnight. This new truck leverages Republic's leadership in environmental services and Oshkosh's experience with purpose-built heavy-duty electric vehicles, including fire trucks, air rescue and firefighting vehicles, defence vehicles, aerial work platforms and concrete placing vehicles.
Republic Services is putting sustainability into action through industry-leading commitments to drive circularity and decarbonisation. The company has set a goal to reduce absolute Scope 1 and 2 greenhouse gas emissions by 35% by 2030 and is the only US environmental services company to have its emissions reduction target approved by the Science Based Targets Initiative (SBTi).