Pollution
:
Marine littering starts on land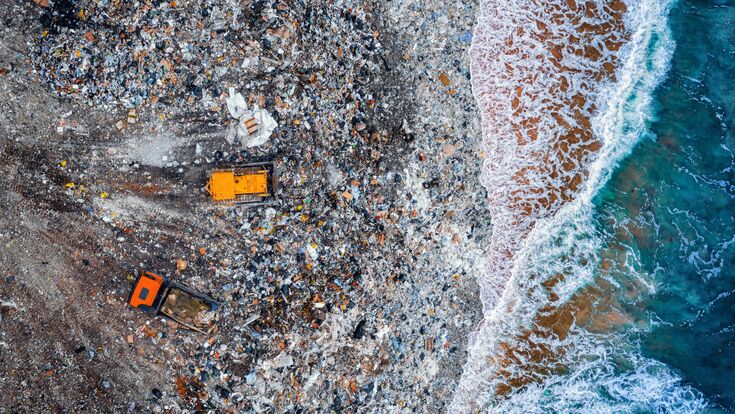 Up to 13 million metric tonnes of plastic waste end up in the oceans each and every year. Nobody seems surprised anymore to find plastic particles mixed in with the sand on the beach, or even plastic bottles gathering on the coasts. And the amount of plastic we use is continuously increasing – from disposable bottles to wrapped food and even microbeads in body washes. The problem: very little of it can be recycled or gets recycled.
According to the Breaking the Plastic Wave report by SYSTEMIQ and The Pew Charitable Trusts published in 2020, only about 10% of global plastic waste gets recycled. And if we fail to take radical action, there will be 29 million metric tonnes of plastic leakage into the oceans by 2040.
"Inadequate waste management on land is one of the largest contributors to marine litter," says Sigve Ånderå from Avfall Norge, the Norwegian waste management and recycling association, and Programme Director of CLOCC. The community- and network-driven programme was founded by Avfall Norge together with ISWA (the International Solid Waste Association) in 2018 after a call from Norad, the Norwegian Agency for Development Cooperation, offering to fund a development programme to reduce marine plastic pollution and microplastics.
"Today we have a global team consisting of members from Avfall Norge, ISWA and InSWA, which is the Indonesia Solid Waste Association," says Aditi Ramola, Technical Director at ISWA who is also responsible for CLOCC.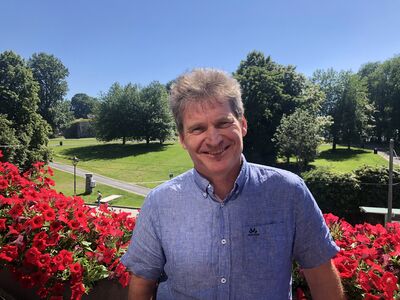 Plastic pollution is a global problem
There are many negative impacts of marine litter, starting from the obvious one of collection and handling to the more indirect effects on tourism and health. "There's still not enough research yet to actually know how dangerous it is for our health," says Aditi Ramola. "Maybe we are lucky and it's not that dangerous for us. But the plastic in the oceans definitely breaks down into microplastics, into nanoplastics. And those are eaten by fish and animals and it goes into the food chain."
As yet there is no global research on the economic impact of marine litter. Studies by the World Bank and a number of US institutions are already a decade old. But of course, the effects when looking at the collection and transport of waste as well as the impacts on tourism and health are undeniable.
Unfortunately, it is only human to try and find a culprit for this situation. "The old studies list China as one of the main polluters. But in the meantime, China has improved its waste management considerably and is probably no longer at the top of that list," says Ramola. Now Southeast Asia seems to be a hotspot. On the one hand, there are large populations; on the other, sound waste management is sorely lacking. "If there's not good waste management or solid waste management along the rivers, they end up carrying all the plastic or any kind of waste into the oceans," she explains. Even though India and Indonesia are the current hotspots, marine litter is a global problem. Coastal areas in Africa like Lagos and Accra are also particularly badly affected by plastic pollution. "But we don't need to go looking too far," adds Sigve Ånderå. "Even here in Norway, we do beach clean-ups every year and there is a lot of plastic waste, much of it from fishing gear but also all sorts of packaging plastics. So, some areas are more affected than others, but no areas are actually spared."
And we must not forget that a lot of waste that gets treated (or not) in Asia comes from the West. "I don't think any of us can point fingers at anyone else. We are all responsible. There are just some places with bigger populations, where there is more poverty. But at the end of the day, we are all in the same boat."
Inadequate waste management on land is one of the largest contributors to marine litter.
Sigve Ånderå, Programme Director of CLOCC
Working at the hotspot
CLOCC focuses its work on India and Indonesia. Aside from poor waste management, a lack of producer responsibility also seems to be a key reason for marine litter. "In Europe, we luckily have extended producer responsibility schemes especially for plastic and packaging. But in many countries in both Africa and Asia, they don't have producer responsibility schemes, or if they do, the implementation does not work," explains Ånderå.
"If there is no collection, people try to manage it on their own. And what we've seen through surveys is that they either burn it or dump it. And if they dump it, of course, the rain carries it over to the stream, which then becomes the river and so on," Aditi Ramola adds.
CLOCC is helping local authorities to develop their own waste management systems through training and support. "Unfortunately, we don't have the funds to go heavily into infrastructure, but we try to raise funds to at least get the system started and to develop financially sustainable models," says Sigve Ånderå. The funding is used as capital expenditure for the initial infrastructure or setting up the system. The goal of the project is to help municipalities establish a financially sustainable and self-sustaining system.
It's not hard for the CLOCC team to find authorities willing to cooperate. "Both in India and Indonesia, if we start at the top with the national government, there is a strong recognition of the problem. There is a strong push for change," says Ramola. "Also, when you talk to local authorities, there is an openness for cooperation. But of course, at the end of the day, local politicians need to be re-elected. Public services cost money. You need to have fees. So, it's a really long process."
A participatory approach
The CLOCC team approaches communities where there are leads that there is a problem in waste management as well as a willingness to change. "Since it's a Norwegian-funded programme, we approach the Embassy in the capital and they identify a municipality because they are usually in touch with at least the state governments," Aditi Ramola explains. "The unique thing about the CLOCC project is that it follows a very participatory approach. It's not like we go in and then start talking about solutions. Instead, we try to make it as participatory as possible so that the people who are the stakeholders, which is essentially everybody who produces waste or deals with waste or is managing it, has a say in how we design the systems and how we set up the logistics of it and so on."
So far, the team is working with the funding from Norad that they secured in 2018. Now that they want to get projects off the ground, they are looking for more funding, says Ånderå: "Apart from grant and donor funding, we want to try to make business models that could attract private investors."
With the UN recently declaring a healthy environment a basic human right, there is hope that more and more institutions as well as the private sector will be willing to invest in waste management systems. Additionally, the UN plastics treaty is being negotiated right now, shedding even more light on the topic of proper waste management.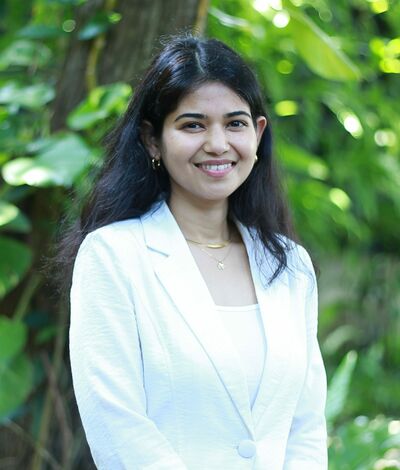 CLOCC is preparing a policy paper on how plastic waste management should be included, as well as innovative approaches like plastic credit systems. "We hope there will be more funding, not only because it's on the UN agenda, but more because there's so much more awareness that it got on the UN agenda," Ramola says. "It's kind of a ball that has been set rolling and it's going to make a difference, I hope."
But just "throwing money at the problem" is not the solution. Laws and regulations that are properly enforced and a working governance system are essential to solving the waste problem. "That's really at the core of our programme," says Ånderå. "We work with governance and governance issues even more than with actual funding issues. I think that could also be an important effect of the plastics treaty, that local and national governments need to have stronger obligations to play their part in the system. I think it will strengthen the governments' positions to actually enforce stronger regulations wherever it's needed."
Impacts of the pandemic
The pandemic also had an effect on the development of the CLOCC project, of course. "We started strong. We had our first training in September 2019 in Bali, and then we wanted to follow it up in February 2020. But then Covid hit and we had to move everything online and into a hybrid approach," Ramola says. "But having said that, I think we have still seen good changes. We've worked with cohorts, so we've taken a municipality, we've identified 60 to 70 participants, and we've been working with them to start working on waste master plans. Change is not happening as fast as we'd hoped, also because of the two-and-a-half-year Covid delays, but it does happen." So even with the pandemic, and with governments having to spend a lot on health with GDP falling everywhere, waste is still very much on the agenda, which is encouraging.
One big problem is the general lack of data in most parts of the world.
Aditi Ramola, ISWA, CLOCC
Data collection
Apart from the project in Bali, CLOCC is currently working on setting up a waste management system in Banyuwangi, a residential area in Java with approximately 1.5 million people. "One big problem is the general lack of data in most parts of the world. Eurostat collects good data in the 27 European Union countries, and we have good data in the US and other high-income countries. But otherwise we have little to work with," says Aditi Ramola. So the CLOCC team always starts with surveys to better assess the baseline situation. Through one such survey they found out that only about 22% of waste is collected by a formal waste collection system in Banyuwangi. Further research showed that about 40-50% of the waste generated is being burned and about 15% ends up in the waterways. CLOCC works together with UN-Habitat, and Delterra, who also work in that area, to close the data gap and also to freely exchange ideas and knowledge.
For now, CLOCC wants to concentrate on the countries they are currently working in. But given time – and resources – expanding to other countries might be the future.