Women in Waste Management
:
"The key to a fully circular economy is a transparent market and communication"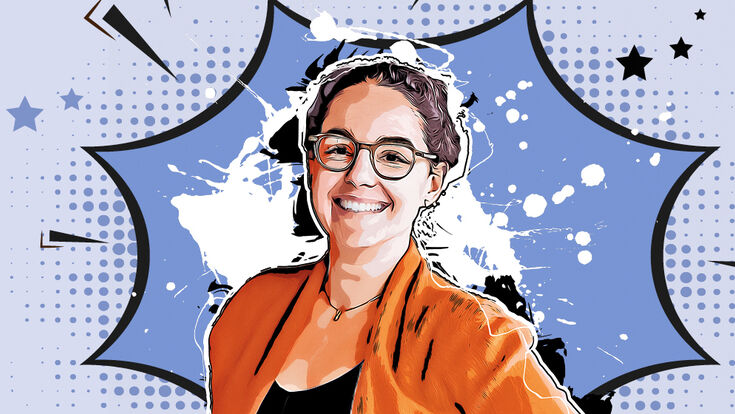 "Getting out of my comfort zone is something I thrive for. I don't like staying comfortable," says Lauriane Avril and five minutes of talking with her suffice to know: She definitely is telling the truth.
For almost two years now the French native is head of sustainability at leading European recycling company Renewi, which operates across five countries. A role she had not anticipated, when she started her career, as she says: "I had no master plan, and I certainly didn't know that twelve years after leaving school I would be thriving in the waste industry."
Especially as she has a master's degree in food science and technology and started out in the food industry in France. After some work experience, Lauriane had the opportunity to begin working for global big player Danone. "I think it is important to be open when driving your career," she says. "First, I was reluctant to work for a big company like Danone. But then they convinced me. They touched a lot of my inner values." She also loved the challenge, the complexity of her new job as she was working for the medical nutrition branch of the company. "Making yogurt is easy. But medical nutrition is super complex because you are talking about how to feed someone with a medical condition 100 percent with five portions a day." She moved on from research and development to operational transformation, which also meant relocating to the Netherlands. "Working for an international group opens your eyes to different ways of thinking," she says.
Like what you read? Subscribe to our newsletters!
Focusing on sustainability
The next opportunity arose with Danone setting up sustainability teams, one of which she joined. While most focused on energy savings, Lauriane chose water consumption: How can a company reduce water consumption, especially in places with water scarcity? Lauriane was sent to India, Thailand, and Iran amongst others.

"I was one of maybe three women on site and I was managing teams of men who knew their stuff," she remembers. "I said: The vision is this. And I need all of you to work together to get there. I will teach you all I know but I need your knowledge as well. And step by step I managed to gain the trust of all these people." She never tried to set herself apart: "I'm a team player. I used to play rugby as a student and there you learn you need the strength of everyone in the team to be able to achieve results." It has been her approach ever since.
Starting out in recycling
After a couple of years, she realized she was getting too comfortable in her role. "I had achieved quite a few milestones and I felt my next step coming. But I knew I could not go for a lesser role or an industry that does not resonate with my core values", she explains. "I'm curious so I kept my mind open to all different industries. And with a bit of luck and through my network – the current head of HR at Renewi was head of HR at Danone - I heard that Renewi were looking for a head of sustainability. And I got interested."
"The amount of time, energy, and dedication I give to my work is part of who I am. But I need to have the inner conviction that this is the right thing to do. And I'm sure that is what I get at Renewi," she adds pointing at Renewi's core values and sustainability strategy. "Renewi is one of the few companies whose business objective is actually a sustainability objective. And on top of that they also have a sustainability strategy," Lauriane explains. "What was interesting was, that in my first year at Renewi, I felt that the company was a bit too humble, and so I helped them understand that when we're working towards the circular economy, recycling waste and enabling carbon avoidance, we can be more clear about the fact that this is all part of slowing down climate change.'

She showed them that the sustainability strategy they had in place was the right one but also, where there are a few gaps. What is our duty as a company to do on top of what we are currently doing? That was the question she set out to find answers for.
Furthermore, she looks at all the current rules, regulations, and targets around sustainability and comes up with ideas on how to achieve them. She gets support from division managers who drive the sustainability goals in their divisions.
More Women in Waste Management: "We need true diversity. Not just in terms of gender." "As leaders we need to create an inclusive environment" "Waste is sexy!"
The future of the industry
Compared to other industries, the waste management sector needs to be much more aware of innovations, and new technical solutions, Lauriane says: "You need to continuously renew yourself in this sector. So, you have a single workforce that is quite resilient to changes."
According to the sustainability expert, the key to a fully circular economy is a transparent market and communication. "Much more communication and transparency between the waste generators and the next one in line are crucial to enable us to major steps toward full circularity", she says giving an example with the cooperation of Coolrec, the specialties subsidiary of Renewi that is processing WEEE, and toy manufacturer Playmobil. The latter is using recycled plastics provided by Coolrec for a special product line that the company is also marketing this way. "For me, this is a prime example of good communication and full transparency."

Collaboration and cooperation will, according to Lauriane, play an even bigger role for the sector in the future: "I really think we will operate differently in ten years' time and I'm curious to see it happen. We probably will have less waste and systems in place to work on a higher level, nevertheless, we still need important recycling solutions. But we might work differently with our competitors. We may be thinking of shared facilities in the future to handle waste more locally and avoid emissions for transporting waste." Companies already start working more closely together, she says, also enabled by regulators. Renewi's collaboration with Prezero in collecting commercial waste in Dutch cities comes to mind.
She would encourage women to work in the industry: "Any role, anywhere: When you think you can make an impact, go for it." As she said, you have to be open when driving your career: "If changing countries gives you more perspective, more possibilities to learn something new, then go for it. And if you don't like it, well, you come back."