Biomethane for bus fleet
:
Clean Energy to provide RNG to San Diego MTS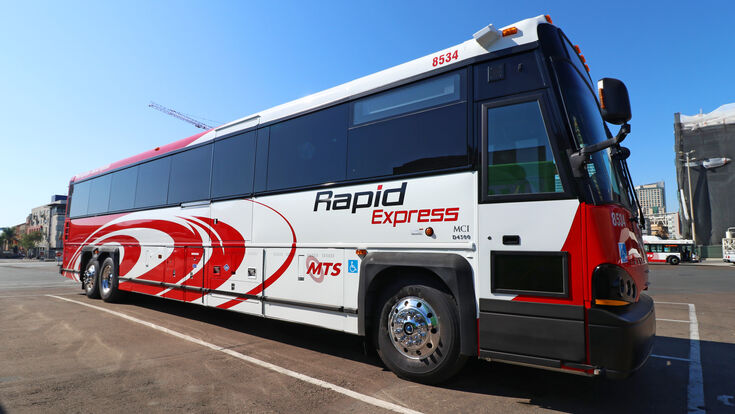 Clean Energy Fuels Corp., the largest provider of renewable natural gas (RNG) in the US, has been awarded a contract by San Diego Metropolitan Transit System (MTS), to provide an expected 86 million gallons of biomethane to operate its bus fleet.

"San Diego MTS was an early adopter of natural gas in the 1990s and has continued to seek cleaner and more economical fueling options," said Clean Energy Senior Vice President Chad Lindholm. "As a result of the use of RNG the people who live in the San Diego area will have less exposure to greenhouse gas emissions and cleaner air."

"The use of RNG is an important strategy for MTS while we work toward achieving our goal of zero emissions. This contract with Clean Energy will play key role as MTS continues transitioning to a more eco-friendly transit system," said MTS Chief Executive Officer Sharon Cooney.

MTS serves the San Diego metropolitan area with a fleet of 764 buses, of which 595 run on biomethane, that fuel at four private transit stations. The contract was awarded through competitive solicitation. By operating on RNG instead of diesel, it is anticipated that the fleet will reduce 73,972 metric tons of carbon dioxide—the equivalent of planting 1.2 million trees, taking 15, 939 gasoline cars off the road, or recycling 25,596 tons of landfill waste per year.
RNG Production
Clean Energy continues to make significant investments in the production of additional RNG sources and has partnered with two of the most sustainability-committed global energy companies, TotalEnergies and bp, to sign partnerships with dairy owners around the country.

The project at Del Rio Dairy in Texas, which is part of Clean Energy's join venture with TotalEnergies, is in final commissioning with manure introduced to the digester and its first gas injection is expected in the first quarter of this year. When operational, the manure from Del Rio's 8,000 milking cows is anticipated to produce more than a million gallons of RNG a year.

Construction at South Fork Dairy in Hart County, TX is expected to commence soon with an anticipated 2.6 million gallons of RNG to be produced annually once completed.

Construction at the first dairy projects through the joint venture with bp in Iowa, South Dakota and Minnesota are nearing completion. RNG is expected to begin to flow in the first quarter of 2023 with five total projects online by mid-year.
Furthermore Clean Energy will expand with new and existing costumers such as Filamar Energy Services, Denver International Airport, Jacksonville Transit, and Washington Metropolitan Area Transit Authority (WMTA)