Can recycling solve the problems fast fashion creates?
:
The EU wants to fight the deluge of textile waste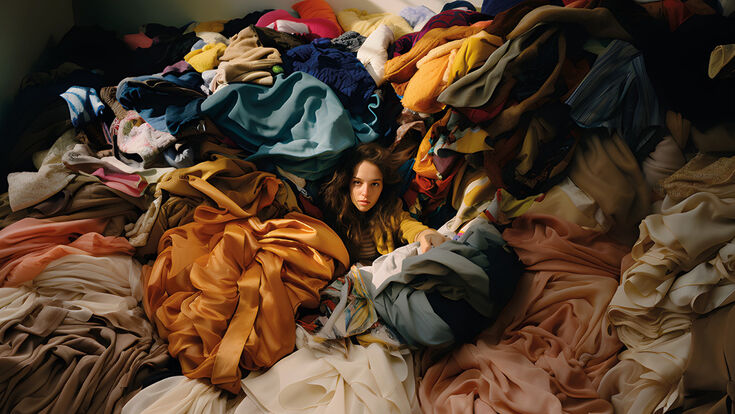 According to a report by the European Environment Agency (EEA) in 2020, on average, textile consumption in Europe had the fourth highest environmental and climate change impact from a global life cycle perspective. In terms of water and land use, it had the third highest impact, and in terms of raw material use and greenhouse gas emissions had the fifth highest impact.
Over the past decade, the price of clothing has declined relative to inflation, and each item is less used than in the past. So, every year, about 5.8 million tonnes of textiles are discarded in the EU, or about 11 kg per person, much of which ends up in landfills or incinerators. The EU27 have already agreed to ban the destruction of unsold textiles. With the proposed Ecodesign Regulation, they plan to minimise the amount of textile waste further.

In the "EU Action Plan on Sustainable and Circular Textiles", the European Commission describes their plans for textiles. According to the Commission, the strategy seeks to create a greener, more competitive sector more resilient to global shocks. So, the vision for textiles is:
Related article: Bye bye bye: Europe's problem with used textiles exports
All textile products on the EU market are durable, repairable, and recyclable, made mainly of recycled fibres, free of harmful substances and produced with respect for social rights and the environment.
"Fast fashion is out of fashion", and consumers will benefit from high-quality, affordable textiles for a more extended period of time.
Economic reuse and repair services are widely available.
The textile sector is competitive, resilient, and innovative, with producers taking responsibility for their products along the value chain, with adequate capacity for recycling and minimal incineration and landfilling.
The strategy sets out a series of measures for the future. The Commission will
Set design requirements for textiles to make them longer lasting, easier to repair and recyclable, as well as minimum recycled content requirements.
Introduce more explicit information and a digital product passport.
Reduce over-production and over-consumption and discourage the destruction of unsold or returned textiles.
Tackle the unintentional release of microplastics from synthetic textiles.
Combat greenwashing to empower consumers and raise awareness of sustainable fashion-
Introduce mandatory and harmonised extended producer responsibility rules for textiles in all Member States and encourage producers to design more sustainable products.
Restrict the export of textile waste and promote sustainable textiles globally.
Encourage circular business models, including the reuse and repair sector.
Encourage companies and Member States to support the objectives of the strategy.
Achieving circularity in textiles: No easy task
Including textiles in the regulation is vital because "changing the way textiles are designed is vital for enabling circularity of textiles, including longer use, reuse and recycling," says Lars Fogh Mortensen, Circular Economy, Consumption and Production expert at the European Environment Agency. "Shifting towards circular business models is crucial to reduce the environmental and climate change impacts of textiles. It saves raw materials, energy, and water and reduces land use, emissions, and waste. Implementing and scaling up circular business models requires technical, social, and business innovation as well as supporting policies, education, and changes in consumption patterns."
Nevertheless, achieving circularity in the textile industry is not an easy task. According to Mortensen, the key challenges include the following:

The amount of textiles on the market is increasing, and the quality is getting lower, making longer use and reuse a challenge.
Textiles often have mixed synthetic and natural fibres, making recycling challenging.
Recycling technology is not available on a large scale in most countries.
However, textile recycling is becoming a relevant factor with quite a few protagonists on the market. One is the "Swedish innovation platform for textile sorting" Siptex. It's the world's first automatic large-scale textile sorting plant. Waste Management World talked to Anna Vilén, Head of Communication for Siptex, about the project and requirements for high-quality textile recycling. Read the interview here!